Godiva Fest - Coventry - 14.4.07
feat: The Enemy / The Cribs / Noisettes / Maps / Ripps / Silent League / Hamara Bjemakan
By the time the local band that's hit the big time, The Enemy, take to the stage, the football chants are in full flow, along with the beer glasses and anything else that can be flung.
The rain has given way for the day and the crowds have flocked to the festival, with the band tent filled close to it's 2,000+ capacity. Whoever books the bands for this event frequently displays a prescience that should be transferred to having a go on the lottery. Previous years have included the Goldie Lookin Chain, and this year they have topped the bill with the Enemy, who are expected to go straight to number 1 when their album is released.
There's such a strong line up though, anyone of the line up could be on the way to bigger things in 12 months time. Cleverly using another local band to keep the familiarity factor going, the RIPPS, early on, the crowd in the tent is full of the younger end of the teenager spectrum. Featuring brothers, Patch (guitar and lead vocals), & Raul Lagunas (bass), the RIPPS seem to be a band everyone likes and thanks, from the Silent League (who thank them for loaning them a guitar) to the Noisettes, who acknowledge the great set they played. Songs about "Living on the Outside" strike a chord with the teenage angst present, appealing to the natural teenage rebellisnous. Keen to promote their native city of "Cov", they would love to see a Lady Godiva day "When all the women….". In the mean time, they will get everyone chanting and singing for the first of several times today
A haunting ethereal sound emerges as Silent League commence their set. There should be a bit more guitar in there, but the replacement one has failed and another one has a broken string. Eventually things settle down and the US based band produce a more delicate, considered set. Comparison with bands such as the Flaming Lips and the Magic Numbers come to mind, and the melodic sound of summer matches the appearance of the sun outside
Electronic never really went away, it just hid behind a bank of synths for a while before gently oozing out into peoples consciousness. The three front member of the MAPS each seem to have been keeping Korg in business, whilst occasionally strapping on a guitar or hitting a drum. After the energy of the RIPPS, their low-key understated sound seems to have caught the crowd unawares. By the time they have finished their set though, they have generated a round of (approving handclaps and cheers as their electronic noodling turns into something more brooding and substantial
Over at the ecothytmnclub tent, a Senegalese dance group - HAMARA BJEMAKAN -producing some of the most vibrant drum beats around. They have allied this to two dancers who embark on a form of extreme belly dancing that features body flips, acrobatics and other moves that appear so deceptively fluent anyone could do it. Except if anyone did try it, at least there is an ambulance on hand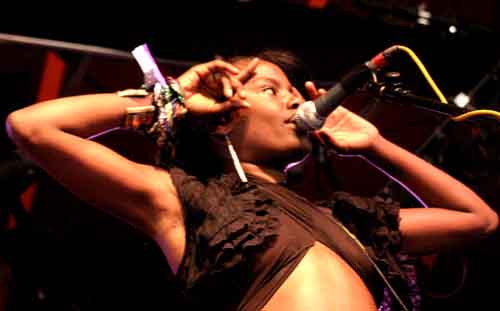 Shingai Shoniwa makes a basic error upon stepping up to the microphone "Hello Birmingham" Luckily fellow Noisette Dan Smith manages to step in quickly with the correct "Hello Coventry" That seems to the only error they make during a ferocious set that wins over a crowd that has now taken their place in readiness for the headline act that won't be on stage for another 2 hours The sound is fierce and crackling, and Shingai's voice is as strong and pristine as it ever has been, Novelties such as slicing a loaf of bread with her guitar strings whilst playing a song are put away for now.

It's going to be the last time the Cribs are out to play for a while as they finish their album, so tonight's mayhem can break out. By the time a shirtless and shoeless Jarman brother leaves the stage, the crowd have been whipped up into a frenzy. With the backing of Alex Kapranos as producer of their latest album, "Men's Needs, Women's Needs, Whatever" there sound is inevitable infectious and deceptively sing-a-along. People climb up the supporting ironworks to get a view such is the crush, but the applause is loud and long.

As The Enemy's Tom Clarke strides confidently to the microphone, the teenager surveys the sight with a mixture of bemusement and pride. He opens his arms wide in the manner of a modern day saviour, chest puffed out. The cheers are resounding, and only die down when he starts speaking. "Last year we played to handful of people as the same gig, and now look at it" he proclaims to more cheers. He thanks the Godiva organisers for contributing towards helping the youth of the city and then gets to work. With friends and family spilling around the edge of the stage, they launch into songs from their debut album "We live and die in these town" which will hit number one in the charts the next day. Actually, it's the arena launches into a recitation of their songs. The band haven't' yet outgrown their roots or been fazed but the attention, as Peaches Geldorf has found out to her chagrin. Tonight is a way of repaying all their fans for their encouragement and it's done with affection.

Words: Photos: Ged Camera - www.camera1.free-online.co.uk

*****************
Click here to leave your comments on the Message Board
(NB: The message board opens in a new window so please disable your pop-up blocker to view)
*****************