Goldfrapp - Manchester Academy - 8.10.05
Finally after five long years Goldfrapp have at last reached the pinnacle of their career by becoming bona-fide popstars after the general public wisely took notice of their sexually ambiguous electro tunes by giving them a hit single and best selling album with "Ooh La La" and "Supernature" respectively. Observing the sold out crowd at the Academy 1 I can see a mixed audience of disco dollies, lovey dovey couples (come on guys get a room why don't cha), students and surprisingly a few under 14s (perhaps fans of Rachel Stevens).
Alison Goldfrapp is dressed quite conservatively in a black outfit covered by a pink cape, a far cry from her air hostess and dominatrix look from previous tours. She looks a right bobby dazzler though with her golden locks and porcelain complexion making Alison an unusual glacial beauty. Opening with "Utopia" from their debut album "Felt Mountain" Alison reaches all the high notes with perfect poise with the violin player emoting just the right of atmospherics. So far so normal, but hang on - the weird and wonderful world of Goldfrapp is about to be unveiled. During the performance of "Train", a high energy, disco flavoured glam rock track, four dancers in bikinis cavort around (nothing unusual there apart from the fact that these little lovelies are wearing dog heads), an arty theatrical slant which still manages to be strangely erotic.
Although hardly an extrovert performer, Alison is now a lot more comfortable as the centre of attention. The light show is also dazzling with the stage lit beautifully. It's good to hear the older tracks like "Lovely Head", a reminder of the more orchestral side to Goldfrapp. The keyboard matches the shy and retiring Will Gregory (the other half of Goldfrapp) note for note and she's a lot prettier too. "Slide In" sees the dancer return, this time covered head to toe in what can only be described as latex. "Ride A White Horse" must be be Goldfrapps next single as it's a combination of techno and 80s style synths with lyrics about dancing at the disco rhymed with Winnebago is a dead cert for their first number 1.
The bass is high in the mix for the Glitter band, Kylie-esque blast that is "Ooh La La" which the crowd adore, although for me it's one of their most disappointing songs to date. For the encore Goldfrapp play a hat trick of songs stamped with quality throughout. Alison's has a quick costume change, her dancers and musicians are back with the saucy, domineering "Strict Machine", the Debbie Harry fixated "NO!" and the touching ballad "Black Cherry", the title track of their second album.
With a venue upgrade to the Apollo next February, Goldfrapp have finally broken into the mainstream but without jeopardizing their artistic vision. There aren't that many bands around today who can truthfully proclaim such a statement.
Nicholas Paul Godkin
*****************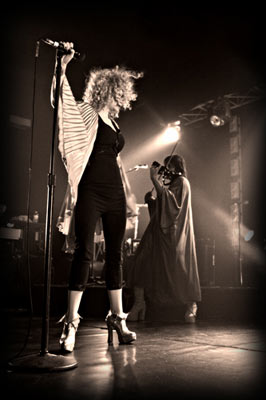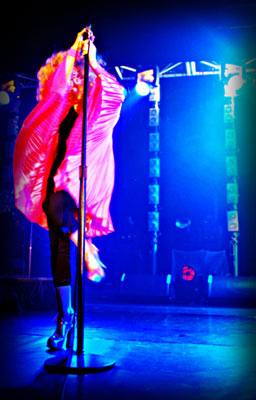 Click here to leave your Goldfrapp comments on the Message Board
(NB: The message board opens in a new window so please disable your pop-up blocker to view)
*****************