Goldie Lookin Chain - 53 Degrees Preston - 3.5.05
Goldie Lookin Chain are at a crossroads (that isn't a reference to Blazin Squad or the cult TV program, although im sure if you put the two together it would make essential viewing) in their career at the moment. The Welsh collective have scored a few hit singles, a top ten album and have even charmed the Yanks when they toured there recently. Radio 1 buffoon Chris Moyles even spoofed the "Guns Dont Kill People, Rappers Do" single with the most hits for a download song ever, which is bizarre as it's a pastiche of a send up.
I believe progress has been slow on the follow to "Greatest Hits", but the GLC have never had a sense of urgency, which is one of the reasons why these bong happy tykes are so popular and loveable. Seeing this eight strong crew live is a night you'll never forget. There's comedy set pieces, dodgy dancing, cheap and cheerful leisure wear, audience participation (or in other words taking the piss) and some of the most entertaining raps you'll hear in the confines of a provincial hall.
Emblazoned behind the So Stoned Crew are the words "SAFE AS F**K", not simple a catchphrase, but a code of conduct. With stage names like Maggot, Mike Balls and Adam Hussain how can you not join in the fun with such liberated ease. GLC aren't about the so called "Chav" society, they're about having a great laugh with your mates, wearing comfortable clothes and smoking more than a few large joints. What can be more street or urban than rapping in your own accent about the life you've lived in Newport.
Anyone who saw GLC on their last tour will be familiar with the set list and nonstop energy from start to finish. "Self Suicide" may sound like an emo tortured tune of despair by it's title, but it's actually an acutely observed song about how album sales rocket when a singers life is cut short. Of course it's in bad taste, but you can't deny it makes you laugh. Quite a few of the fans have raided the local charity shops to copy the look of the band and they should win prizes for their efforts.
The cartoon auto-eroticism of "Half Man Half Machine" is a belter. The purposefully hapless robotic dancing is worth the admission price alone. New songs come with alarming regularity like the Cheech and Chong flavoured "Short Term Memory" which describes how too much dope can literally turn you into, yes you've cottoned on to my way of thinking, a dope. "Brian Grazer And His Crazy Life" is a fast paced rapping warning about a couple who's missus is a few sandwiches short of a picnic.
The Maggot and Billy Webb have various songs dedicated to their notoriety and the way they bob and weave throughout each day. "Hormone Replacement Therapy" is a wicked analysis of gender confusion and identity with a chorus and verses which shall remain unprintable for the moment
The chants of GLC (who include two new members tonight) are deafening, but my ears are rescued when the boys return for "Your Mother's Got A Penis", a song that needs no introduction whatsoever. The cross between the Macc Lads and the Beastie Boys.
It could have all been so different. After a gig in Bristol, GLC's van broke down but thankfully for Preston, they've made it. Don't take too long with the second album, we're all desperate for it now.
Nicholas Paul Godkin
Photos: Karen McBride www.karenmcbride.com

*****************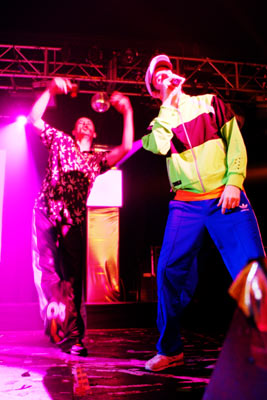 Click here to leave your Goldie Lookin Chain comments on the Message Board
(NB: The message board opens in a new window so please disable your pop-up blocker to view)
*****************