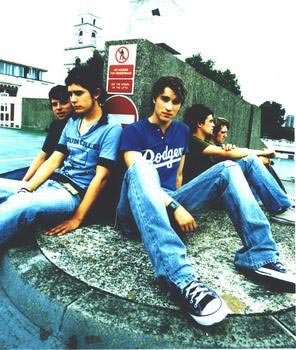 Headway
Guitars, drums, bass and an easy on the eye lead singer; are Headway the next pop rock luvvies or V2's most recent credible signing? Either way there's got to be some mileage from these five Nottingham bred enthusiastic chaps.
Headway's first track, Vital Signs, didn't exactly make waves for them in the music world, but their next release, scheduled for June, looks set to crush this.
In a noisy and slightly dingy room on Headway's latest venue tour on their path to music recognition, we get a quick low-down on exactly who this five piece are - with lead singer Dave Wright and bassist Dave Astbury.
So you guys are all from Nottingham?
David Astbury: Well that's the official line!
David Wright: Dave's from Derby… but he's not really according to the biog!
DA: I'm from a very small little place called Riddings and no one knows where it is so I just say Nottingham to avoid confusion - that's the easiest way.

You all look young and fresh faced… what's the age range in the band?
DW: Tom's the oldest at 27?
TOM: Officially or unofficially… I'm 27 … I'm honest nowadays about it!
DA: I'm 25, Johnny and Jo are 23.
DW: I'm the baby of the band at 22 – my 23rd is in May.

What were the feelings like when you got signed?
DA: Well as the story goes we were found and V2 signed us. It wasn't quite that magical. There was a lot of going backward and forward and compromising on the act and what we'd be about.

Ooh… do they pretty much let you get on with your own thing or do they have a lot of influence?
DW: We get a lot of leeway but at the same time everyone's got their opinion - we've had a couple of scrapes. I think that just the nature of it because they know what they need from their side and we know what we want… it's nothing that can't be sorted out! Best not say anymore, we wanna stay signed!

Okay then, so why the name Headway? Does it have a magical meaning?!
DW: We saw it on a poster and thought that sounds good!
DA: It think it was for a careers service or something like that around Nottingham.

What was your first taste of the music bug?
DA: I was always jamming with my mates when I was in school and I've been playing in bands ever since…
DW: My dad's been in bands all my life so predictably music was always around and although I tried to fight against it, eventually it just happen and I picked up an instrument

Why did you fight against it? The fighting wasn't that successful!
DW: I fought against the music thing for so long because I just didn't want to do the same as my dad. But I couldn't get away from the guitars lying around the house and when I first picked one up I couldn't fight it anymore. But I used to break strings at first and then just leave them laying back on the top hoping that my dad wouldn't notice! He must've known who broke them but I didn't know you could fix them at the time!

Your dad must be very proud of you then?
DW: He's coming to the gig tonight; he was always the first to come to all of our gigs and he is really proud and comes to as many gigs as he can.
Tom's dad is coming down tonight as well - for the first time ever seeing us live.

That must be a lot of pressure to know your families is in the audience, especially if they've not seen you perform before?
DA: It does feel more intense when people come and they haven't seen us before, but also they don't know what to expect so you've got nothing to lose.
DW: But when you're playing to people that you know, you feel like you've got more to prove and want to do them proud. I don't mind because it gives you more confidence when you see lots of faces you recognise but they'll probably be more critical than the average audience as well.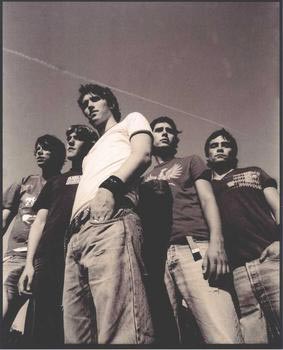 What were your first lot of gigs like?
DW: It was only really last summer when we started getting all the tours and really getting active.
The very first was alright. We knew most of the people that were there… in fact they'll be here heckling at us tonight! We've been supporting loads of local bands before we did our big shows so we knew a lot of people who'd go to those gigs so they knew what to expect… sometimes it'd be a really good gig and then the audience would go and tell people about it.
DA: We've had a few shows where they have been really amazing… we get on stage and we don't want to stop it's like some kind of email has gone round or something… People go wild!
DW: It's weird when that happens!

In previous reviews, you've been likened to Coldplay, what do you think of that?
DW: We're not like Coldplay or Travis and hate those comparisons. We're totally different and have a totally different sound. I know it's cliché, but we are Headway and that's us – that's it!
DA: Although to be compared to such a successful and talented band isn't a bad thing – it's just when journalists think we're wanting to capture that sound.

Do you feel the pressure of recent successes of other guitar bands?
DW: It is hard being what other people would think of as 'another guitar' band. But you're always going to be another something so no matter what music or who you are, you just can't win.

What would you have been doing if Headway had never found itself?
DA: I never really thought what I'd do because from an early age at school when we used to have a careers officer, I used to say "I wanna be a musician", but they'd said 'you've got to do something sensible like a journalist or something'.
I didn't want to do something sensible. Anyway, no job is stable now so that's what's great about being a musician –you don't expect it to be stable! I just thought I know what I want to do and just did it.
I got thrown out of sixth form for not doing any work and then went to Music College. Then you're playing all the time. Headway had been going by then and I went to go and see them play and they were taken away by me and asked if I wanted to join … obviously I said yes … I wasn't doing anything else at the time! I was just in Leeds just doing session bits and a bit of writing and not really doing any regular gigs. I knew that I'd say yes but I keep them sweating a bit for my answer!

What have you found hardest being in headway?
DA: Having to perform in empty rooms has been hard. When you go out there and give it your all and no one is hearing it or appreciating it and you just stand there like a bunch of lemons. That's tough. You feel like there's no point, but we know we need to start from there to move onward and upward!

What's the most memorable thing you've done so far as headway?
DW: The ZZ Top gigs in London were amazing. They just blew us away. And the festivals – to think that we'd be playing in front of that many people so soon was just amazing for us. We just kept looking at each other.

Are you still based in Nottingham then or has London pulled you?
DW: We're all still around Nottingham. But we don't live together! We're not like the monkeys or anything!

What are you looking forward to most in 2004?
DW: The next single coming out; which the record label keep putting back, but hopefully that will be out in June. The record label keep saying it's not the right time, but we think it is. Although they're the experts.

What is V2 really like to be signed to then?
DA: They're alright – as good as any other! They're just a record company you know, but out of all the labels we used to talk about being signed to, V2 was one of them, so we're happy being on here. They have artists who are reasonably credible and similar to us so we think they're in the right place to look out for us.

What do you think of your label mates then?
DA: I used to like the Stereophonics, but their newer tracks are just boring. It's like they've changed their style to become more commercial and to just sell more records, and just don't care about the music anymore.
DW: I don't mind some of Liberty X's stuff, as pop bands go they are okay. The girls are majorly fit!

Words: Donna Goodwin - donna@uksoul.co.uk
Photos: Andy Willshire
************
Headway will be playing a small tour around the UK
check out details on their website
www.headwaymusic.com
************
**********
Post your Headway reviews / comments on the Message Board
**********