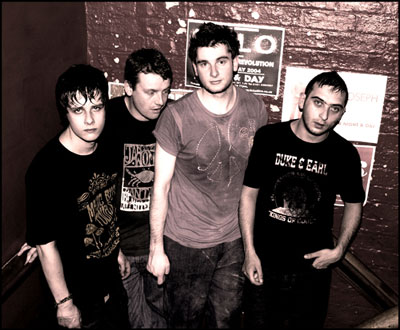 High Voltage - Manchester Roadhouse - 23.11.04
The Cardinals / The New Black
With just 5 gigs behind them Sheffield's The New Black have a hive of industry interest around them following a storming In the City gig in September. Very much of the zeitgeist they sound not unlike The Killers, The Departure and Interpol, re-treading the 80s bass lines and bringing in those disco beats over stark angular guitar riffs. A group of fashionistas at the front throw all the right moves and sing along to "She's Happy" and "Drop The Flame". Although it's clear great things are destined for the New Black you have to ask are the New Black, the same old black repackaged and resold as something new. Either way for a band in it's infancy you'll find few creating such a buzz.
Since signing a deal with B-Unique over the summer The Cardinals have been in the studio demoing tracks for their debut album and in true Cardinals they've just surpassed expectations and came back with a collection of songs that dwarf their previous efforts. Whereas previously "Hold On" and "Landslides" seemed like Manchester classics in the making they now don't even touch the heights they reach with "All Messed Up", a song which takes Johnny Marr's shimmering guitar lines and Joy Division bass lines and cross-pollinates them. "Welcome To Hell" is a restrained effort by the Cardinals standards, but it could just be the debut single and is one of those deceiving tracks that initially doesn't make an impact and then gnaws it's way in. "Take Control" slows the pace down a little and reminds us of former Nude Records signing Geneva, all choir boy vocals and dark melodies.
What makes the Cardinals so special is the individual characters and the bond between them. It's still easy to forget that the Cardinals had been creating a buzz in Manchester for 3 years before they signed the deal and they're testament to the fact that if there's something special it will eventually breakthrough regardless of prevailing fashions and trends. Nick Mallin's the sensitive singer songwriter who would probably be playing acoustic nights if it weren't for the fact that Rez takes these basic songs and makes them soar. A guitar player who uses more effects pedals that Matt Belamy from Muse, he can switch between tenderly picking those intricate guitar melodies out to stabbing his guitar into an inch of it's life. And then there's the E Brothers, the mad rhythm section of Joe Wilson and Lee Thompson who'd rather be in a club buzzing there tits off rather than watch another clichéd guitar band.
Ending on the aforementioned "Landslides" the Cardinals prove why they're going to be one of those classic Manchester bands. How many other bands could come back to their home turf, play a set predominantly of new songs and still blow everyone away.
Words: Alex McCann
Photos: Karen McBride www.karenmcbride.com
*****************
Post your High Voltage comments / reviews on the Message Board
(NB: The message board opens in a new window so please disable your pop-up blocker to view)
*****************