(Pic: The Bravery)
High Voltage @ Manchester Roadhouse - 29.11.04
The Bravery / Performance / Forward Russia
Forward Russia bring on the noise from the outset. A collision of disco and extremo creates a disco inferno, or Discremo as it will be known from this point on. If we didn't know what to make of them from the outset, it's reassuring that the lead singer isn't quite sure whether to dance or stand frozen with intensity as the noise around him clatters along. While the beats are probably the most simplistic you've heard since Meg White took up the sticks, the bass switches from thunderous hard-core riffs to light fluffy disco lines the Killers would give their right arm for. Whether you like them or not they demand your attention and we still can't make out whether this cross breed of Million Dead, Mogwai, Hundred Reasons and New Order is the work of genius or a bad dream.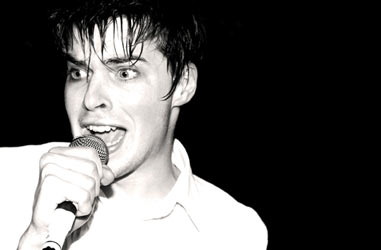 (Pic: Performance)

There's no doubt that Performance have been practising their robotic moves in the mirror since their very conception. Somewhere between the cold icy electronica of Ladytron and the pop perfection of the Human League, Performance offer little indication that they are children of the noughties. Unintentionally funny they're reminiscent of comedian Gary Le Strange, a cult comedian who parodies the New Romantic era, but occasionally they pull pure pop classics out of the bag such as on "Lost Youth" and "Love Life". With a few more songs like this Performance could just elevate themselves above being an 80s pastiche and turn into something genuinely special.

Despite being sold by the NME as the Killers meets the Strokes, New York's The Bravery are a revelation and offer much more than a cheap headline and lazy comparisons. Playing to a near sold out crowd on the final night of the UK Tour, the original date was rescheduled due to a request from Jools Holland despite the fact they have only 1 EP behind them in the UK. While the single "Unconditional" is certainly the most memorable track of the set, it's when the guitars are dropped low in the mix and the synths are omnipresent that the Bravery really excel. "Honest Mistake" steals the intro from New Order's "Blue Monday" while another track sounds strangely enough like a lost Pet Shop Boys ballad.

If it wasn't for the leather jackets The Bravery would be Morrissey's narcissistic wet dream with quiffs and an almost rockabilly aesthetic. Singer Sam Endicott looks so much like Morrissey the words "Martin Rossitter, this has been your life goodbye" roll off the tongue all too easily. The cheek bones are high, the crowd swoon and even in their infancy the Bravery look like iconic rock n roll stars they aspire to. It's seems that for once the hype is truly justified.

Another High Voltage and another set of bands that are set to divide the critics. Bring on the next one!!!

Words: Alex McCann
Photos: Karen McBride www.karenmcbride.com

*****************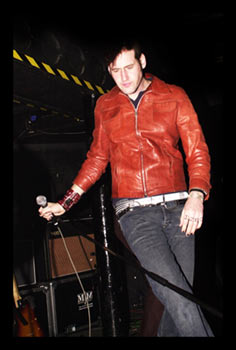 Post your High Voltage comments / reviews on the Message Board
(NB: The message board opens in a new window so please disable your pop-up blocker to view)
*****************