Hope Of The States / Razorlight - Academy 3 - 4.10.03
It's a case of chalk and cheese. Or in musical terms Radiohead and S Club 8. But as the old adage goes variety is the spice of life and therefore the fact we have Razorlight and Hope Of The States on the same bill should at least provide a challenging evening ahead if nothing else.
Razorlight are f*cking atrocious from the outset. A clear case of style over substance and one of those bands that the NME gets hard at the thought of. For sure, even the straightest of blokes might have felt a slight quiver down there when a band walks on stage that seem like Peter Fame Academy times four. All the different elements of the indie fashion bible are in place and they even boast an ex-Libertine amongst their ranks (something that we equate as being the noughties equivalent of ex-Menswear so hardly a compliment of the highest order). There's scraggily mop headed singer who you want to tie down and have your way with, the tall iconic Jesus lookalike on bass, the drummer who remains shirtless throughout and probably temps as a strippergram when the rent's short...and without fail there's the ugly one who gets the dreggs. For all the semi's on initial impressions, everything starts to subside when they play their first song. We thought the Libertines were the worst band we'd ever see in our lives, but these guys have got to be taking the piss.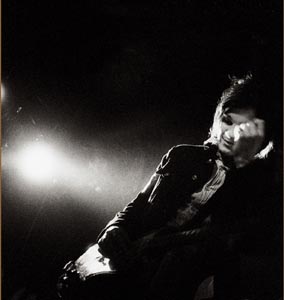 Similarly Hope Of The States struggle from the outset although it's through no real fault of their own. Last time we saw the band was supporting the Polyphonic Spree at the Academy 1 next door and it all just seemed so perfect. The epic grandeur of melodies jarring yet seeming like symphonies and then was the projections which conveyed the very emotions of the songs and took it too another level. In this smaller cupboard like venue it just fails by the scale of it all. "Enemies Friends", "George Washington" and "Black Dollar Bills" all stand out somehow like diamonds amongst the rubble, but tonight the military operation failed due to circumstance beyond their control. Still with a Top 40 hit behind them in the form of the aforementioned "Enemies Friends" which features the positive mantra of "Keep yr friends close. Yr enemies will not matter in the end" it seems that this lyrical passage of love may just send them on the way to the stages they truly deserve.
A mixed night with band seemingly attacking from alternative angles. While Razorlight seem to the Shame Of The States, the headliners certainly live up to their name if indeed crippled by circumstance.
Alex McCann
**********
Post your Hope Of The States reviews / comments on the Message Board
**********