Hundred Reasons / From Autumn to Ashes - Manchester Academy 2 - 18.1.08
Tonight's line-up is a somewhat strange mix of hardcore and alt-rock bands, primarily Surrey's supreme British rock five-piece, Hundred Reasons. Fresh from their recent support slot alongside Enter Shikari, the boys are in great shape to promote their latest, 12-track offering, "Quick the Word, Sharp the Action" after a disappointing decline in album sales since the days of the groundbreaking "Ideas Above Our Station".
Manchester locals, The Maple State, start the show with a pleasant set full of laid-back pop-punk with a slight synthy zing. Picture Taking Back Sunday mixed with The Postal Service and a little diazepam for good measure. A decent act and absolutely nothing like Flood of Red who are up next and bleed big-hitting electrified screamo into the ears of the audience. The band is hugely entertaining, but possibly a little too cliquey with their Shikarine breakdowns and sometimes shakey, but effective soprano singing.

(Pic: The Maple State)
It is about this time that the venue starts to fill out in anticipation for melodic hardcore legends a la Long Island, From Autumn to Ashes, who complete the hardcore bands' 50% share of tonight's bill and deliver an incredibly visceral and satisfying 45 minutes of pulling, pushing, chugging, raging, gorgeousness. This band is so believable and to some extent intimate, as you can see that frontman, Francis Mark really has something to say/roar. Aggressive but sensitive, grating but melodic, From Autumn to Ashes make a big impression and most certainly won the crowd over – those of them who weren't already wearing FATA tshirts.
Hundred Reasons kick off loud and proud, flying the flag high for their charming, British alt-rock as they showboat their new material and the necessary classics such as "Silver", "I'll find you" and "If I Could", which to be honest are better written and catchier numbers than their newest offerings. Material from their middle two albums, "Shatterproof…" and "Kill Your Own" is harder and faster than their debut "Ideas…" but is lacking in that signature foot-stomp value that made Hundred Reasons huge. Vocalist, Colin, bounds around on stage sporting his junkie chic and captivating left right and centre with his playful banter and light-hearted, boisterous acrobatics. The tracks from "Quick the Word, Sharp the Action" do hint at a return of Hundred Reasons' original song writing values and flirt with the notion of the band regaining their alt-rock crown – currently enjoyed by a certain Biffy Clyro. Their live show still has the excitement and prowess but is the material strong enough? Maybe it's a grower – anything could happen…
Words: Ben Herbert
Photos: Mark Forrer - www.markforrer.co.uk
*****************
Click here to leave your comments on the Message Board
(NB: The message board opens in a new window so please disable your pop-up blocker to view)
*****************
THE MAPLE STATE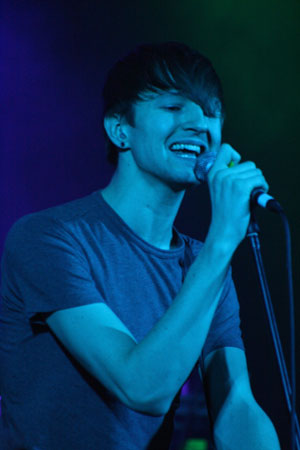 HUNDRED REASONS