Ian Broudie - Life Cafe Manchester - 12.1.05
Ian Broudie may forever be associated with "Three Lions", but it's his recent work in his role as producer for the likes of the Coral and The Zutons which will have the most longlasting impact. Taking the disparate influences of each band he helped them craft pop nuggets. As a pat on the back and returning the favour, musicians from both bands recently appeared on Broudie's solo album "Tales Told" which strips back the elaborate pop of the Lightning Seeds in favour of an acoustic flavour.
As the Designer Magazine review team couldn't make it down to cover the gig (Ed: We all had Mancunian Flu or something similar) we sent our photographer Shirlaine Forrest to capture a few photos of the camera shy Mr Broudie. So readers, this leaves it open to you to email us your reviews on the usual address and we'll post the best ones online with a full credit of course.
Words: Alex McCann
Photos: Shirlaine Forrest www.shirlainephotos.co.uk



*****************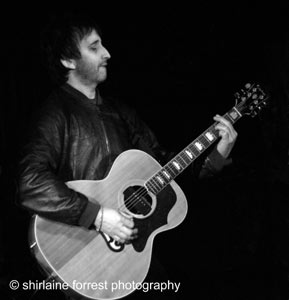 Also post your Ian Broudie comments / reviews on the Message Board
(NB: The message board opens in a new window so please disable your pop-up blocker to view)
*****************