Ian Brown - HMV Manchester - 13.9.04
Will Brown do any old Roses classics? Will Noel Gallagher appear? It's the two main questions revolving round the heads of Brown obsessive's who come complete with the obligatory manc swagger, Brown aping mop top and a disregard for most post Madchester bands. It's a strange event to witness. Security is tighter than Buckingham Palace (Ok, it isn't f**king hard to have tighter security than the Palace, but you know what we mean), the majority of the fans here are too young to have ever witnessed The Second Coming, never mind late 80s era Roses and yet they look back at those generation of bands with such fondness seeing it as the Golden Era of indie music and compared to such those boring f**kheads Keane and the Ordinary Boys those times were heaven sent.
As soon as Brown hits the stage he spots some familiar faces in the audience and the banter starts. There's no division of the audience and the stage and yet Brown in the ultimate icon. There's a mythology about him that Liam Gallagher just doesn't have. I mean what do we actually know about Ian Brown the man as opposed to Ian Brown, solo artist and ex singer of the Roses. There's a mystery there that's alluring and yet he's still a man of the people. Backed by just keyboards, drums and percussion (and later the addition of partner in crime Aziz adds mind-blowing riffs) he sets about delivering a short set of songs from his new album "Solarized". "Time Is Everything" has touches of Mexican brass piping away in the background while Brown's admittedly out of tune vocals bellow out over the sound system. "I'm gonna introduced you to a friend of mine, Noel Gallagher" he teases before cheekily adding "on tape". "Keep What Ya Got" on first listen plods along, but after several listens and the live outing tonight it's clear that it's gonna go down as one of his classic solo singles. Still it's not in the league of "F.E.A.R", the only pre-Solarized single that he plays tonight. When Aziz joins him on stage he adds his signature guitar motifs which bring in a slightly classical asian influence with the percussion adding a definite flavour which Brown hasn't really explored before. Ending with a bass heavy dub track that nearly wrecks the sound system it's one of those unforgettable gigs.
Short and sweet it was a set that proved that Brown is back stronger than ever before. His solo output has been at best patchy, but "Solarized" is his best release since the Stone Roses debut album. And when you consider this gig was an instore at HMV, the sound system blew away most venues in Manchester for deep bass and clarity. When Brown plays the Apollo in October it will be interesting to see whether he can take what we saw tonight and still keep our interest over an hour and half.
Alex McCann
**********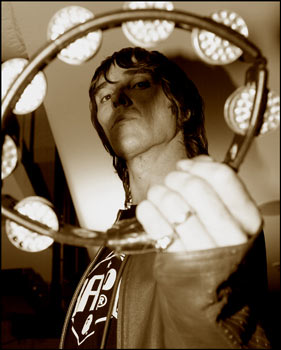 Post your Ian Brown reviews / comments on the Message Board
(NB: The message board opens in a pop up so please disable your pop up blocker to view)
**********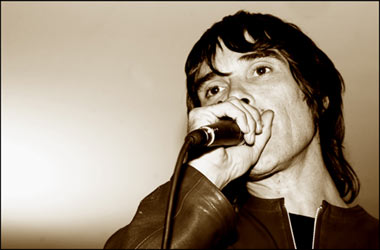 Ian Brown's "Solarized" is available at HMV instore or online
To purchase a copy
www.hmv.co.uk