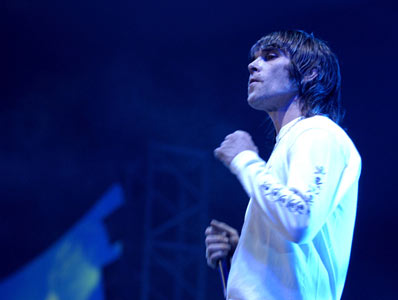 Ian Brown / Domino Bones / The Incredible Beat Box Band
Manchester MEN Arena - 03.12.05
They do say that in order to succeed in many things, what you need is a gimmick and they don't come anymore gimmicky than Bez, do they? I sat in my seat for at least half of the set from Domino Bones contemplating the reason for his inclusion, mainly due to the fact that they play a varied range of music from blues through to funk, indie and pop. Their sound is illuminated by the Kate Bush vocals of Monica Ward, but Bez boasting how many times he can say; "Yeeeaaahhh mmmaaannn", kind of detracted from their musical ability and broadness.
Gruff oriental beat boxing followed from the aptly named The Incredible Beat Box Band, incorporating three energetic rappers who included a mix of 'Fools Gold' in their bombastic set; to tease the crowd about what might follow. A lot of the rapping was done in Japanese or by using non-verbal sounds, some similar to blowing a raspberry that seemed to pass the crowd by at times. However, their spirit and enthusiasm showed them to be a promising outfit with potential. For tonight, the surprise element seemed to work.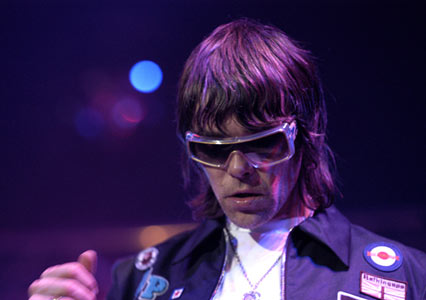 A street magician who has rumoured to have fooled David Blaine burned away the minutes before Ian Brown came on. However, it seemed like he was saving his A material, as he merely produced a prolonged card-trick that baffled the volunteer, but failed to stem the repetitive chants for the final act of the evening.
A small fish was thrown to Stone Roses devotees with a snippet from; 'Elizabeth My Dear' and then a pit rumbling rendition of 'I Wanna Be Adored', ensuring that Ian Brown was heroically received. He took no time in paying tribute to his former idol; George Best by starting off a few famed dedicatory chants that made half of Manchester as pleased as punch. The monkey man then plunged into an hour long main set that included solo material only, inclusive of the raw and mysteriously biological 'If Dolphins Were Monkeys'. Guest guitarists entered and left the scene like extras in a panto, as Brown was determined to give his solo material new life. This consisted mainly of numbers from his recent best of album; 'The Greatest'.
A funky and marching trumpet intro signalled the underrated; 'The Sweet Fantastic' that then took off slightly from its customary maudlin bluesy feel, as Brownie put vigour and spirit into his material, almost as though he was trying to make a name for himself all over again. The sombre 'Time Is My Everything' saw a usually bouncing pit swaying like trees in a breeze. The main man made it clear that a packed house didn't mean that people can't dance, by providing a solution for those with little room and nimbly demonstrating the "Shoulder Shuffle".
An encore inclusive of fan favourites 'Waterfall', the rousing and anthemic 'Made Of Stone' and 'She Bangs The Drums', culminated in the chillingly performed 'F.E.AR.', much to the delight of a nostalgic crowd.

Words: David Adair
Photos: Shirlaine Forrest - www.shirlainephotos.co.uk

*****************
Click here to leave your Ian Browncomments on the Message Board
(NB: The message board opens in a new window so please disable your pop-up blocker to view)
*****************