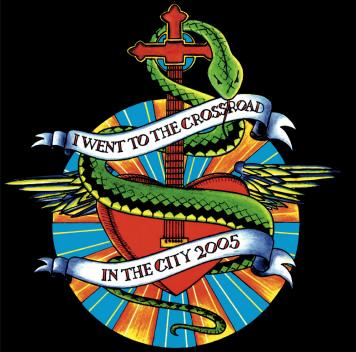 IN THE CITY 2005
The Designer Magazine Review
THE EXORSISTERS - Satan's Hollow - Friday
Last years opening ITC band providing a sprinkling of Sound Of Music inspired hip hop pop. This year the Exorsisters brought f**ked up sleazy rock n roll to a world of fey indie boys. Part New York Dolls, part The Murderdolls these sisters clamber up the walls of Satan's Hollow shouting "You Slag" as they rampage through the likes of "Kill Barbie" and "Mannikin". Its electrifying rock n roll, but they need to find a world that is suited to them. With the right support slots this band could truly soar!!!

SUPERSONIC WINDS OF NEPTUNE - Chips @ Charlies - Friday
Supersonic Winds Of Neptune pimped their way onto the Chips At ITC night at the last minute, but you wouldn't know it for the amount of people out in force for this raggle taggle crew of gangsters and gypsies. While the Scissor Sisters plunder 70s Elton and cabaret acts, SWON look to 80s hair metal. Team America style army fatigues, flesh pipes and dragged up queens come together as a glorious celebration of freaks and outsiders. The fact that their tunes are huge radio friendly hits such as "Crazy For Love" and "Into Your Hole" go to show this band are going to be either a massive international success or one glorious mess of mascara and blusher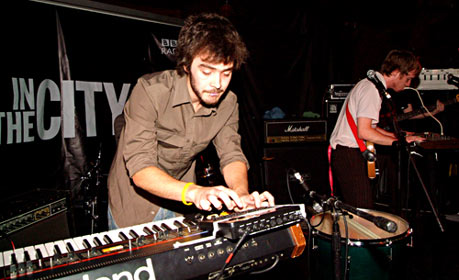 FREE REPEATER - Late Room - Saturday
The Free Repeater we meet in the flesh are a very different proposition than the band we hear on record. Their recorded demos are polished into an inch of their life's, but there's something human about the band which sets them apart from the current zeitgeist for the 80s revival of the Bravery and the Killers. The live shows see them as musical alchemists doing as they like, but building glorious pop tunes out of random keyboard squelches and f**ked up rhythms. It's pop music, but not as we know it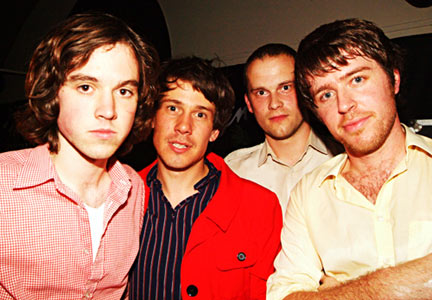 NEW SHAPES - 14 Lloyd Street - Saturday
Once in a while you witness a band so perfect that it's impossible not to fall in love with them immediately. New Shapes have tunes so undeniably catchy that they render the entire careers of Kaiser Chiefs and Razorlight redundant. It's dumb pop music about girls and going out, but all the best rock n roll tunes have always been dumb pop from the Beatles to Oasis and Blur. "You've Got Me Running Round" and "A Song About A Girl" are life-affirming songs that speak out to a whole generation. Give it a year - the public will love em, NME will have built em up to knock em down and their ridiculously young bassist will more than likely have won Popjustice's Most Inappropriately Fanciable Male


DARTZ - 14 Lloyd Street - Saturday
If the Blue Peter team made a sonic time capsule for Ant & Dec's b*stard offspring to dig up in 60 years time, they'd discover a band like Dartz. Somehow managing to blend together screamo shouting, punk funk beats, loose jazzy bass lines and terrorist saxophone players they shout out situationist slogans such as "It's not a crime to have an opinion…it's time to teach me to dance". The fact that their drummer Phillip Dartz is the real star of the show goes to underline that they do it differently in Teeside. Dartz are proof that you can chuck everything into the pot and it still comes out sounding magnificently.
NEAT PEOPLE - Late Room - Saturday
If you just look at it on paper everything's mapped out for Neat People. Radio play by the likes of Zane Lowe and Lamacq and the sound of Blur and XTC = Kaiser Chiefs style success story of 2006. While their success it assured there's something a little too pleasant and twee to really take it to our hearts. The tunes are nigh on perfect, in fact that's the bands problem - it's all a little too perfect!!!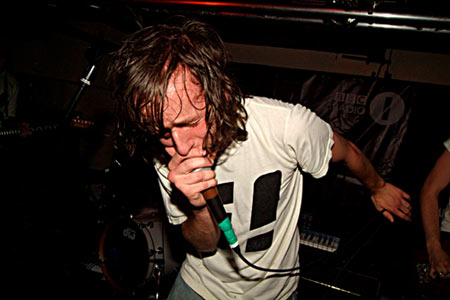 FORWARD RUSSIA - 14 Lloyd Street - Saturday
Designer Magazine first witnessed Forward Russia supporting the Bravery this time last year on their debut British Tour. Not dissimilar to where Dartz are coming from musically they take the hardcore vocals of bands such as Million Dead and Hundred Reasons and then spin the disco records for one of the most energetic bands of the weekend so far. Choosing to eschew the tradition of songtitles they simply give their song numbers in the order they were written, which makes it nigh on impossible to review. I'm sure this was their intentions so next time your at one of their gigs shout random numbers and watch each band member go off an tangent with different songs…the problem is this band are so messed up it would probably sound right as well!!
MISTY'S BIG ADVENTURE - Dry Bar - Saturday
Either it's too late, I've had too many drugs or Misty's Big Adventure really are what you get when you splice the Zutons with the Mighty Boosh!!! There really is no excuse for a band that has a multicoloured freakoid with 100 hands stitched to him and it really shouldn't work, but this band are right for exactly the same reason the Magic Roundabout was right. The kids just think it's an amusing romp in the vein of Teletubbies and the adults are in on the drugged up acid vision. As they sing "You need two brains to take it all in" over nursery rhyme pop you realise that Grandmaster Gareth's world is how we all should be living…. and props up to Erotic Volvo!!!

REAL ONES - Life Café - Sunday
In The City has been partly responsible for the success of many bands - Oasis, Darkness, Coldplay to name a few - but I never thought we'd see the day when they uncovered a band with a potential Xmas Number 1 single. Real Ones hail from Norway and write modern day folk songs ala the Pogues and the Levellers, without any of the worthiness of the later. "Ballad Of An Old Man" is the aforementioned Xmas Number 1 record and should you find your parents singing a long to this in a couple of months remember where you heard it first. The sounds of Bob Dylan fronting an unwritten follow up to Lennon's "Imagine" with a full on choir bolstering up the chorus. The album is full of classic songs like "She's Got Me Good" and "The Long Sentence" which will spread through by word of mouth and go on shock the media who will largely ignore them because they don't have the right haircuts.
ORPHAN BOY - Dry Bar - Sunday
Spitting out lyrics about "loud mouth A&R" and "made to fit the MTV Parade" bands in their first song "The Great British Sitcom", Orphan Boy set themselves apart from the rest of bands playing ITC ready to get on their knees in front of an A&R man to bag themselves them all that important deal. If Orphan Boy take a major label deal it will be on their own terms following in the tradition of Strummer and the Clash. They talk about growing up in the small provinces of Cleethorpes and the characters that inhabit them…. it's the gritty reality mixed with a large dose of Northern humour. Their calling card "Orphan Boy" sets them up for "Got Plenty" and the closing blast of "Chav Disco". Doherty it's time to move over and give up Babyshambles as a bad mistake - the new boys are in town!!!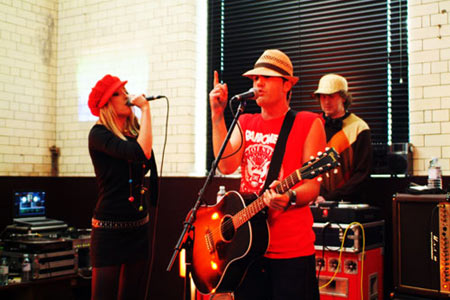 DEAR ESKIIMO - Islington Mill - Sunday
It was last years ITC slot that saw Dear Eskiimo sign a 5 album deal with Mercury Records, but since them you'd be forgiven for thinking they'd quietly crept away while no-one was looking. A low-key release on label My Dad Records has set them up for a plethora of positive reviews that have taken the label aback for what is essentially an indie release at this stage.
The sets essentially the same one we saw last year. The Outkast pilfering "Don't Wanna Feel", the moody atmospherics of "Patience" and what now seems to be a Ziggy-fied version of "Jack And Jill". What's different now if the performance has been taken to a new level where it's not just a group of people playing at being popstars, it's now 3 people who were born to be on stage. Katie looks iconic, Jules has gone on a fitness regime and taken off about 10 years and Simon has grown in confidence rocking his heading to the beat.
A welcome break from skinny boys with guitars and prove that Britain can still make great quirky pop music.
GOOD SHOES - Late Room - Sunday
Good Shoes. Strictly average music. Despite seemingly being tipped by every fashionista on the block the fact that Good Shoes sound like every single band played by Steve Lamacq circa 1993 goes to show just how needed the Britpop explosion was back in the mid 90s. Angular riffs, flaky vocals that when done well can sound like the most essential band ever, but when they don't have any memorable tunes in a 30 minute set it's time to give them up as a bad mistake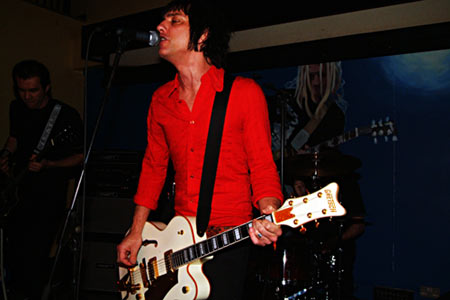 VANLUSTBADER - Walkabout - Sunday
A couple of years ago Designer Magazine tipped an unknown Aussie band called Spencer Tracy. They had it all - the looks, the tunes, the attitude - and went back to Australia and promptly did f**k all. Sadly after tonight's performance the same fate may be met by Vanbustlader who throw it all away by not bothering to play the best songs they have. "Scorcher" is the bands best song by a mile, but it's absent from the set, and while "Communique" and "Here We Go Again" tick every box, the band are selling themselves short by relying on too many fillers. Like Ryan Adams they seem to be of the train of thought that if they release more records some of it will stick, but they need to start thinking less is more. They've got a great EP ready; 6 months down the line they've got a great album in them if a label will give them that chance.

MYSTERY JETS - M2 - Sunday
It's a venue that normally turns people away on a Friday and Saturday night for wearing all black and charges ridiculous prices for bottles of beer, but these niggles aside the venue works as an indie venue, I'm surprised gigs aren't booked here more regularly.
The Mystery Jets are a curious proposition fronted by 2 stunning guys (another publication dubbed them the Future Jet's it's ok to fancy…. or in retrospect was that Maximo Park) and their dad who looks like an old school children's TV presenter that probably smoked spliffs with Tony Hart and Sandy Tozfig. It's this mix that sometimes gets in the way of the music and although "You Can't Fool Me Dennis" is a classic lost single you wonder whether the chaotic mix of sound is too much for some. Car bells, pan lids and just about every instrument you can't think of are played alongside the usual mix of guitars and keys and it's misses the mark as much as it hit's it.
For the time being the jury's out on the Mystery Jets.

THE GHEARS - Bar 38 - Monday
The award for the most misleading demo of ITC goes to The Ghears. Like Brigade, who they played gigs with previously, the band come across as a lightweight indie guitar band on CD - assimilating their influences from the likes of My Bloody Valentine and Velvet Underground and writing catchy 3 minute pop songs. The live shows feature neither pop songs or influences from the aforementioned bands, but instead deliver and altogether different beast. Intense stares, guitars wrung into an inch of their life and vocals that are commanding and demand attention from the outset. One for fans of bands like Strangelove and dark gothic bands we wouldn't dare to mention at Designer Magazine

LUCKY SOUL - Squares - Monday
All the best bands follow their own route and it's why Lucky Soul will make it regardless of whether they sign to an indie or major label following ITC. They are not at the name temptingly suggests influenced by Richard Ashcroft and the Verve, but instead they riffle through every great Motown and Phil Spector record ever made and re-write them for the noughties.
Looking like they've stepped off the set of Ready Steady Go they play the staples of their set "One Kiss Don't Make A Summer" and "Give Me Love". Impossible to dislike; impossible to ignore and damn near perfect. It's hard not to imagine this band walking away and unleashing one of the albums of 2006.
THE PEDESTRIANS - M2 - Monday
The Pedestrians have racked up an impressive lineage of support slots including the Cribs, The Others and half the bands peddling their wares on the London scene. It doesn't come higher than the prestigious slot they played a few days ago with Babyshambles at a packed out Academy 1. The fact that they're Manchester born and bred makes this even more impressive.
After about 6 months playing the circuit they still lack that killer song to break them through to the next level, but what they have is an amazing potential that's yet to be delivered on. A mix between the Jam and The Stones with a rough and ready approach to songwriting, that's based around a groove and a feeling as much as the hook. Liam Manton used to front the much-touted Manchester band 50Leaves and the Pedestrians are proof that he's well on his way to becoming a cult figure or rock n roll star.
If the Pedestrians are to truly succeed what they need to do is build on the opportunities that have been thrown their way. With the support slots they've played the band should be playing to four times as many people, but you feel the band are too out of it to take care of business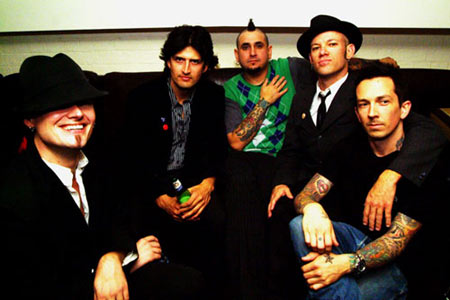 ORSON - 14 Lloyd Street - Monday
Orson are prove that when the American's do something they do it bigger and better. Described as "the missing link between the Rolling Stones and Scissor Sisters" by Mojo they manage to pack out the venue with assorted fans and A&R who've found out about this band through word of mouth alone. Despite the fact ITC is touted as an unsigned showcase you get the feeling this band already have a deal waiting in the wings - it's just too stylised and perfect to suggest anything else. Like fellow Yanks Scissor Sisters and The Bravery it would be easy to deride them as all style and no substance if it wasn't for the fact the tunes were so damn catchy. It's AOR radio friendly rock, their singers got to be the coolest bald guy in music since the Edge. Welcome to the world of the bald and the beautiful!!!
THE CAZALS - Walkabout - Monday
The Cazals seem to be boomeranging back to the Aussie's at every occasion they can. A few months ago they played a gig with Karl Kennedy from Neighbours and now they're playing an Aussie Theme Pub in Manchester. Strewth, they might as well just chuck some sangers on the Barbie and be done with it.
Like the Pedestrians, the band also supported Babyshambles on Friday night at the Academy. In frontman Phil Cazal they have a man who shuffles across the stage like Bruce Forsythe doing the Cha Cha Slide and has the sort of moustache you'd associate with a Victorian Dandy. Their guitarist Daniel Gallagher is the nephew of Irish legend Rory Gallagher and the mysteriously names Luca C is a one-man f**k machine set out to deflower your daughters.
"Poor Innocent Boys" is an ironic statement as they're completely the opposite and "Beat Me To The Bone", their debut single is a classic. Bands such as the Rakes and The Cazal's may be lumped in with the London-centric Doherty scene, but they're both a league above the tabloid fodder of Babyshambles!!!
IVORY - 14 Lloyd Street - Monday
Ivory was one of the highlights of last years ITC where he played a fringe gig at Po Na Na's and an ITC Urban gig at M2. This year he's been invited back to the main event with new management, a new sound and the image of sonic terrorists. Starting off as a duo at school, Ebony and Ivory, he went solo as he reached his late teens and set off on a ragga / rock / rap mash-up. Infectious, poppy and about 12 months ahead of what Lady Sovereign is releasing now. Nowadays he's darker, has dropped the guitars and is more focused about where he's going. British through and through he's avoided rhyming about chip shops and going out for a pint of stella and takes on darker paths, one liners and dark electro punk not dissimilar to "Fat Of The Land" era Prodigy. Whether the UK will catch up with just yet remains to be seen, but in America alongside Lil' Jon and Crunk the yanks are gonna love this guy. Expect him to blow soon!!!

THE OTTERS - Bedlam - Monday
The Otters more than any band that played ITC all weekend sum up the real spirit of the event. Coming out of nowhere (well Welwyn Garden City to be exact) they used to headline over The Subways when the Subways were a Nirvana covers band and feature Mark Astronaut, frontman of the anarcho punk band that John Peel used to play regularly. So we're in Bedlam, a venue normally home to fire dancing strippers, at an Attitude is Everything gig to campaign for better access to gigs for people with disabilities watching a band of 17 / 18 years olds fronted by a 52 year old punk.
It's noisy, uncompromising and a real reason to get excited about the future of the music industry. The Otters are the anti-thesis to everything around at the moment - the corporate bollocks of the emo rock / punk pop filling Kerrang each week. If more bands got into music because it excited them rather than thinking about sales and celebrity bullshit then the world would be a better place. Thank f**k for The Otters!!!

Words: Alex McCann
Photos: Karen McBride (except SWON by Alex McCann) - www.karenmcbride.com

*****************
What were you highlights of In The City 2005
Post your comments on the Designer Magazine Message Board here
*****************

THE REST OF OUR ITC 2005 COVERAGE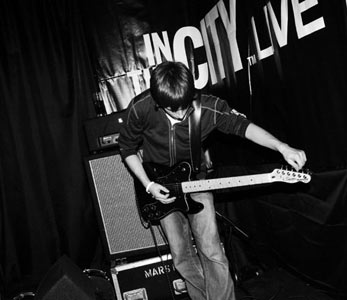 THE KAREN MCBRIDE PHOTO GALLERY
Karen's photo's have been featured in the ITC Delegates directory for the past few years. Here she delivers an exclusive gallery of the panels and the bands on and off stage for Designer Magazine. Click Here for the full gallery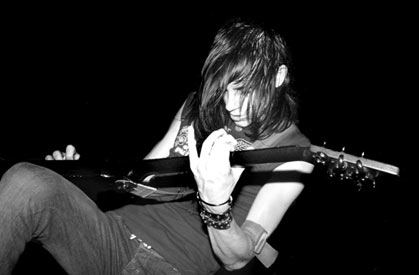 THE SHIRLAINE FORREST PHOTO GALLERY
Shirlaine has been working for Designer Magazine for the past year and works for Manilla PR and Inaudible Magazine amongst other publications. Her work has been recently published in Heat and Total Guitar Magazine. Click here for the gallery



THE GED CAMERA REVIEWS
Ged Camera is a regular fixture on the Manchester Unsigned scene. If theres's an unsigned band you can guarantee he's photographed and reviewed them. Click below for Ged's reviews and photos for each day of ITC
Saturday Reviews
Sunday Reviews
Monday Reviews