In The City 2006 Preview
In The City has an illustrious history of breaking bands such as Oasis, Muse, Coldplay through to the likes of The Darkness and Orson more recently, but if there's one thing we've learnt over the years it that the fringe events provide as much of a showcase as the main event. As ever Break In The City provides the perfect counterpart to the main event with many up and coming bands playing across the city being better than many of those on the official list.
Designer Magazine has listened to the 700 bands playing over the weekend in Manchester and selected the best for you, those unmissable gigs you really have to be at. Check out who the rest of the country will be listening to in 2007!!!

Regarding the stage times below please check with the band direct as they are correct at the time of going to press but ITC is chaotic and times can change slightly on the day of the gig
FRIDAY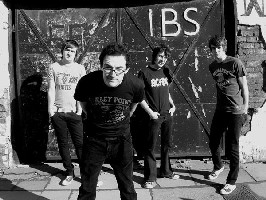 4ft Soldiers @ Night & Day (stage time - 10.45pm)
Sometimes you know a band instinctively will capture the ears of the nation and for 4ft Soldiers that time is just around the corner. Designer Magazine first witnessed the 4ft Soldiers supporting Test Icicles on their debut UK tour and since then they've played for a whose who of the British rock scene including the notorious Towers Of London, brit boyband rockers Laruso and in a bizarre twist they nearly deafened The Feeling who asked them politely to turn their amps down, which they did only to flick the V's and turn it back up louder than before.
In 2 months time the band will be blasting out of movie theatres across the country as they soundtrack the final scene in the forthcoming Dirty Sanchez with their single in waiting "Get Laid" and with rumours suggesting that several big names went for the soundtrack and got rejected it all bodes well for the Warrington four piece. The simple fact is that it could have been either of 4ft Soldiers tunes that were selected for the soundtrack because never before has a band been primed for international success with a collection of songs that manages somehow to slice rockabilly, primal punk rock and tunes so big that The Killers wouldn't need to start fights with Fall Out Boy for column inches. (Designer Magazine - Jul 2006)
SATURDAY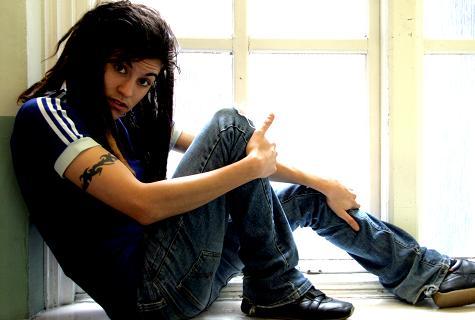 Karima Francis @ Green Room (stage time - 2.30pm)
Designer Magazine saw Karima Francis at this years Cohesion Live festival. Well we say saw her. Karima was watching Lou Rhodes at the time was striking enough that when we were glancing through the In The City listings we immediately recognised this strikingly indiviual character that could just be one of Manchester's hottest exports. Recently we've become bored of the likes of Stephen Fretwell and Liam Frost but female singer songwriters such as Karima Francis and Lucy & The Caterpiller are proving that the girls are where its at. Musically it's highly emotive reminding us of Tracy Chapman or even a female Leonard Cohen and is about as far away from KT Tunstall as you can imagine. This is a must see gig!!!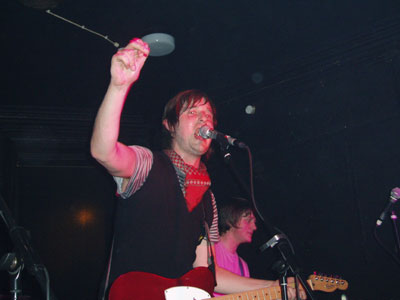 The Jakpot @ Night & Day (stage time - 10.30pm)
The Jakpot are one of the few out of town bands to find themselves accepted by the insular Sheffield scene. It testament to the arsenal of songs that the Jakpot have that they've been able to build up an army of Black Jaks that travel with them from their hometown of Manchester and oldham all around the country and are more loyal than The Others 856 stage diving shebang. After supporting Reverend And The Makers a few weeks ago in Sheffield the band are back on home turf for a sold out single launch for "Too Much Time".
With songs about not leaving a girl because you havent got a job or borrowing money of yer mam to take a girl out to see your favourite band there's similarities in their lyrical subject matter to that of the Monkeys, but it delivered with some real northern humour that litters Coronation Street, The Royle Family and back to Shelagh Delaney's "The Taste Of Honey". Each song is a humourous monologue from start to finish encompassing humour, tragedy and the whole range of emotions and its only the music which punctuates this 100mph scattergun lyrical genius Matt Watkins. (Designer Mag - June 2006)

Envy & Other Sins @ Night & Day (stage time - 9.00pm)
Designer Magazine had heard the name creeping through for a while, but it was last year at In The City when an A&R guy from Mercury Records told us about their series of club night based around getting Supergrass' Gaz Coombes on the decks. He succombed after about the 3rd month of nights and its easy to see why. The Kinks are a starting place with rough around the edge pop melodies and there's a hint of the archness of Franz Ferdinand, but most of all Envy & Other Sins sound like nothing on the contemporary music scene. This band deserve you're attention more than any other band as part of the Night & Day / TCBLive Club Fandango weekend shebang and with the aformentioned Jakpot and the Noisettes on the same bill why would you look anywhere else. Be there!!!
http://www.myspace.com/envyandothersins

SUNDAY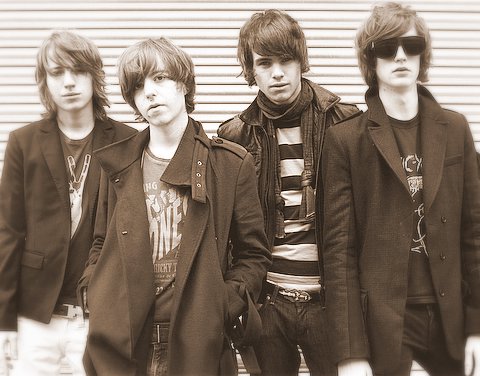 Blondelle @ Dry Bar (stage time - 6.35pm)
Designer Magazine isnt sure exactly how old Blondelle are but they look too young for Kate Moss or Fearne Cotton to sleep with. Taught and angular Blondelle could quite easily fit in the current zeitgeist, where they differ from the rest of the current crop is the sheer quality of the songs. The likes of "Wonder" and "The English Way" are better than anything Pete Doherty or Alex Turner have penned while "With No Money" shows a growing a maturity. Blondelle have the looks, the songs and enough attitude to be one of the biggest bands of 2007
www.myspace.com/blondelleband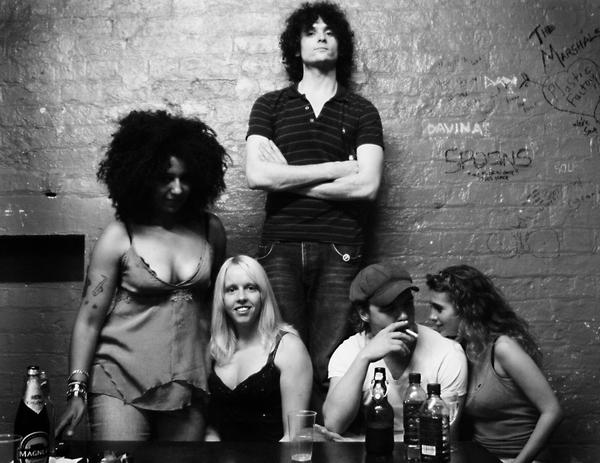 Shepherds Pi @ Walkabout (stage time - 6.50pm)
"SHEPHERDS PI are a musical melange of every band you've fallen in love with over the past 2 years. The witty lyricism of Alex Turner and Mike Skinner, the knack for a pop hook like The Kooks, the joy you felt when you first witnessed The Magic Numbers or The Polyphonic Spree. Based around the vocal talents of Rupert Hill, the rapping bass player Sam Stockman and the lush harmonies of Ms Hazeldine. At the back on the tubthumper Claire Russell creates a symmetry that alligns them as the indie Abba (or a better looking Magic Numbers for those too cool for school)......"
www.myspace.com/shepherdspi



The Drainpipes @ Satans Hollow (stage time: 7.20pm)
The Drainpipes are one of this weekends highlights with their rock n roll attitude not seen since the Pistols. Doherty has nothing on this band for rock n roll rebellion In the past 12 months they've been banned from Night & Day and Manchester Roadhouse and the ongoing controversy ensues. Musically there's no doubt the Drainpipes wouldnt have existed if it wasnt for The Libertines, but rather than imitate Doherty and Barat they sound closer to the primal sound of the Pistols mixed with the hooks of early Oasis. For those wondering what the alternative is to save pedestrian nice boys - this band are it!!!
www.myspace.com/thedrainpipes



Pop Noir @ One Central Street (stage time: 8.00pm)
While the likes of The Killers and Interpol looked to Manchester for inspiration Pop Noir were dreaming of days in California. They dreamed every night and eventually they moved there taking their influences of Joy Division and sprinkling it with sunshine pop. The McGarry Brothers (Joe and Luke) look not dissimilar to Marc Bolan or the one in Sparks who doesnt look like Hitler, their dad used to design record sleeeves for Joy Division and Jilted John amongst others and the rich musical history is apparent. For a duo their sound is remarkably full mixing up early synth sounds, drum machines and post-punk guitars.
www.myspace.com/popnoir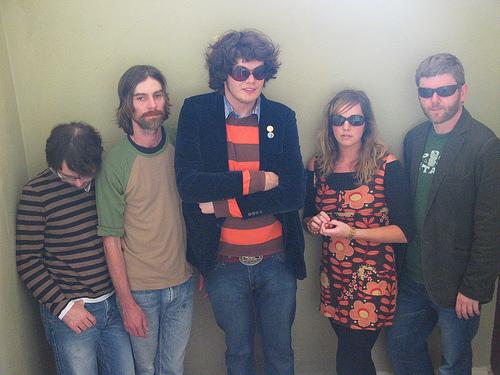 The Neon Hearts @ TBC
We'll hold our hands up on this one as between the time they were selected for In The City the band have gone on and signed a deal with EMI. But this band are far too good to leave out of our In The City preview selection with a sound that takes from Dylan and Neil Young in equal measure but are reassuringly pop. Too look at they remind us of Dawn Of The Replicants with an uncovential looking frontman but a forthcoming tour with Tapes'n'Tapes should set them up for a great start to 2007.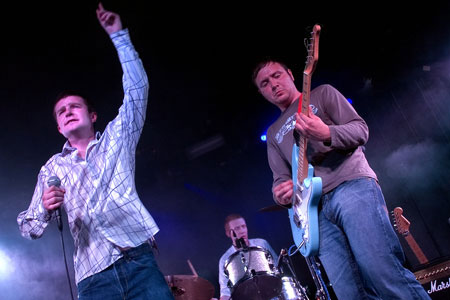 The Young Offenders Institute @ Walkabout (stage time - 8.55pm)
The Young Offenders Institute come across like a musical version of Shameless. Working class boys who would do anything for their ma, but would just as easily peddle drugs out primary school gates and break your knee caps if you dob em in. Much has been made of the comparisons with the Happy Mondays. I mean, for f**ks sake Tony Wilson's even in the audience tonight, no doubt regaling the boys with time he went to Cambridge. While it's clear they probably blew up pigeons and spent enough money on weed to fund a 3rd world country, they're more steeped in the rock classicism of Oasis than the Mondays eclectic acid fried dance vibes. (Designer Magazine - Jan 2006)
www.youngoffendersinstitute.com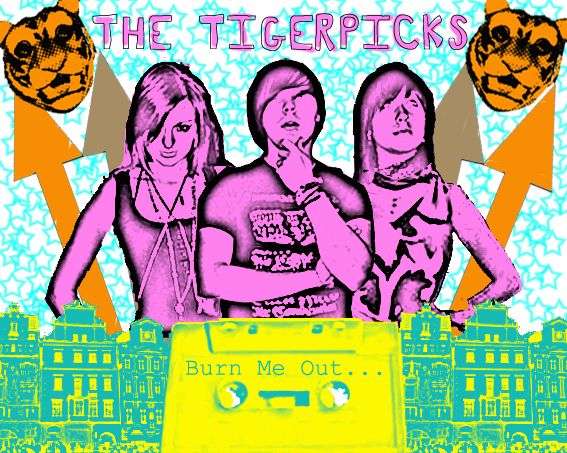 The Tigerpicks @ Satans Hollow (stage time - 10.40pm)
The Tigerpicks played their first ever gig for Designer Magazine as part of our In The City Preview on Sept 26th and a week later the NME were frothing at the mouth calling them "The Rapture + Bis x the sound robots make when they die divided by disco drug abuse = this genius racket". Since then gigs in Manchester and Liverpool have been sell outs and promoters around the country in far flung places such as Hull and Chester are booking them up. Imagine a cross between Yeah Yeah Yeahs, Peaches and Robots in Disguise and you get this electro pop sensation!!!
MONDAY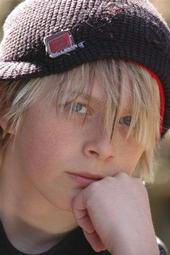 Outrage @ Satans Hollow (stage time - 7.20pm)
Not many bands come into a In The City show having played to over 30,000 people a few weeks previous supporting Mcfly, but it's where Outrage find themselves at this Break In The City show for an intimate 400 people. Fronted by13yr old Chez Davis and backed by his older brother Louis on the kit Outrage are regular fixtures in Top Of The Pops magazine and have fans in James Bourne and Mcfly. The band are a teenage adrenelin rush that would sit side by side with Lil Chris or early Busted and getting onto the Myspace phenomena early they now attract over 5000 plays a day and have over 20000 friends on there.
www.myspace.com/outragemusic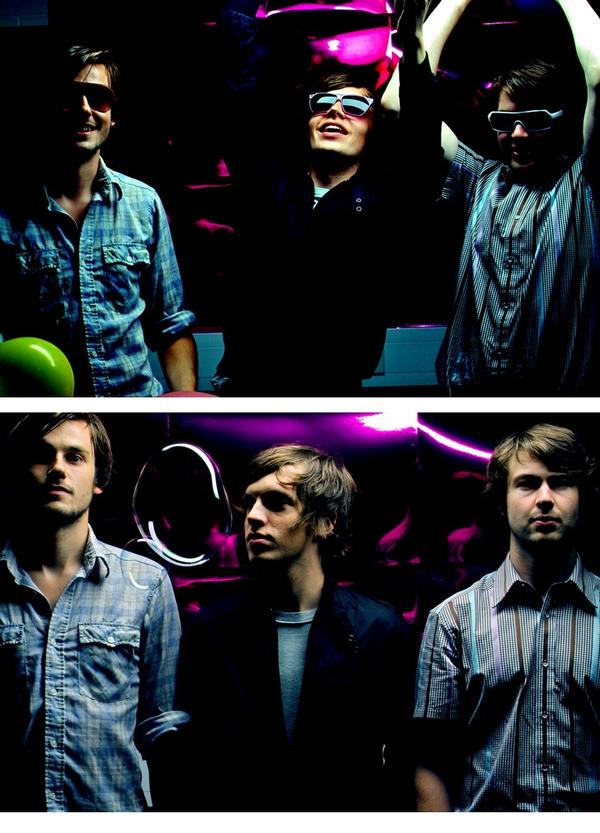 Friendly Fires @ Square Bar (stage time - 7.45pm)
In our personal opinion Friendly Fires aren't half a good a band as Milke tomorrow night, although they definately share similar influences and are one of the hotly tipped bands of the weekend. Perhaps its telling that their best song is a reworking of Frankie Knuckles "Your Love" but there's potential here to take what Test Icicles did and bring it right into the mainstream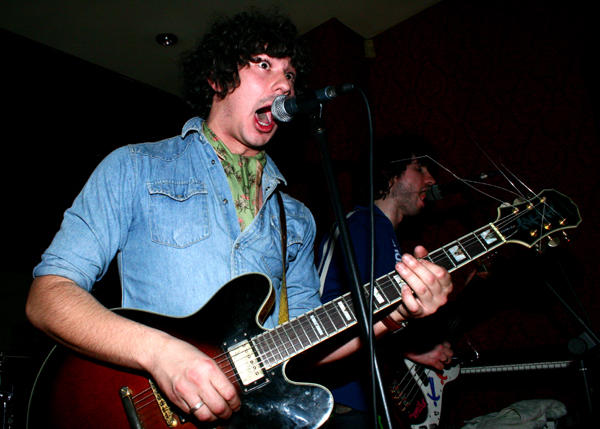 Jack Afro @ Cellar Vie (stage time - 9.30pm)
If I was Louis Walsh i'd probably describe this band as "five cool funky lads from Leeds" going by the name alone. Im not Louise Walsh though. Jack Afro are following in the Bishops tradition of aping the sound of the early Beatles material. Throw in Ray Davies knack for telling a story and you have Jack Afro. Take a look at the video for "Take Me Home" on their myspace and you'll see and hear everything you need to about Jack Afro - its a simple band that needs little in way of explanation
www.myspace.com/jackafro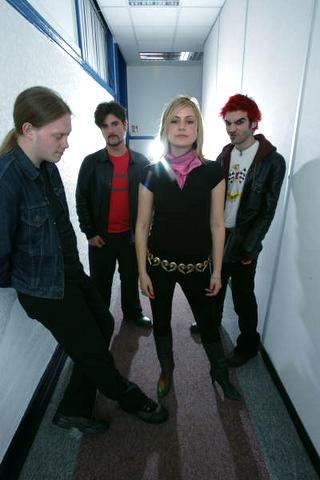 RYNA @ Walkabout (stage time - 10.20pm)
Last time RYNA played a gig they barely had enough material to last 20 minutes. It wasn't that they had writers block or lack of material, it was just the fact they strip out anything unneccessary in the writing process. 1 minute long intros - out. Extended guitar solos - out. Essentially RYNA are a punk band who have a instintive love of Motown which creates tight melodies and tort abrasive guitars. New track "Bootgrip" is a perfect example of this and a complement to their first fruits "Plastic Hands" and "Ghosts". With those initial nerves gone the band have a confidence, Caroline flails along like a female Morrissey, Alf's a mad f*ck with bright red hair and Beards bought a new jacket just for the occassion and hides behind a mop of floppy hair. With many looking to Beards past with the Marion reformation dates perhaps those in the know are more interested in the future with RYNA and what a promising future it is. (Designer Magazine - June 2006)
TUESDAY


Squire @ Teasers (stage time - 8.15pm)
Designer Magazine has tipped 2 great Aussie bands for In The City (Spencer Tracy / Vanbustlader) previously who sadly havent managed to break through just year despite being classic rock bands. We're hoping that with Squire we'll be third time lucky as their hybrid of Ride and The Stone Roses certainly produces a sonic assault. At the same time though they could quite easily cross barriers in the same way that We Are Scientists have, but despite "Everybody's Talking" and "Basic Existence" groove based riffs its the midtempo ballad "Gimme Feeling" that could be the breakthrough for them. Squire arent the finished goods yet but this band are definately one for development
www.myspace.com/squireband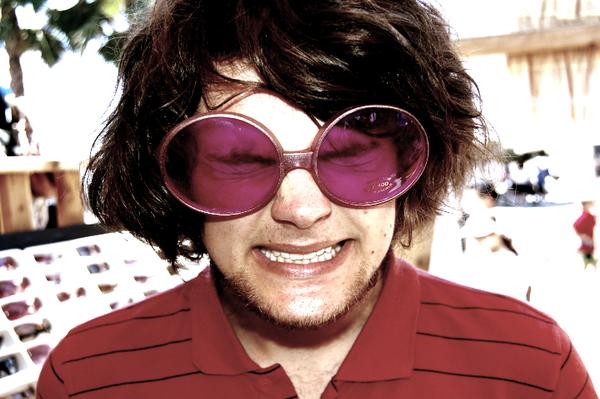 Paul Steel @ Late Room (stage time - 10pm)
Each year at In The City there's one guaranteed artist that will break through (see The Darkness, Orson in previous years) and smash records and this year that artist is Paul Steel. Our initial notes on first listen made comparisons to Elvis Costello, The Beach Boys and Get Cape Wear Cape Fly, but to really grasp a full understanding of Paul Steel this is a rare occassion where you have to log off myspace and listen to the CD as a finished product. "Honkin On My Crack Pipe" and "In a Coma" are good indicators of his direction but the full spleandour has to be heard in the 27 minute pop symphony April & I which is released as one of single on Wall Of Sound later this year. Expect a major label signing by the end of the In The City weekend
www.myspace.com/paulsteel



Driving By Night @ Cellar Vie (stage time - 11.15pm)
Hailing from Ireland comparisons with Snow Patrol are inevitable for Driving By Night, but Designer Magazine also noted shared influences with Orson and also Manchester band Longview. Back home the band have already supported bands such as Keane, The Arctic Monkeys and The Futureheads and a UK tour with similar bands would set them on the right path. The band are never going to be a critics band, but you sense they could slide up the slipstream to become a band of the people with such heartwrenching anthems as "In Denial"
www.myspace.com/drivingbynight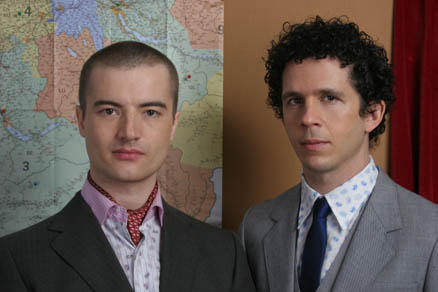 Milke @ Baby Grand (stage time - 11.30pm)
The dance seen has been dormant for years now with places such as Ibiza trying to grab a slice of the alternative with Babyshambles shows. But Milke could be the biggest dance success story since Mylo last year and their demos have been played on the Designer Magazine stereo more than any other band this year. Strangely we hear Hall & Oates influence all over the songs but with the break producer Friendly bringing it bang up to date with a contemporary production. Anyway, stop reading this desciption click on the link below and dance
*****************
What do you think of our In The City selections
Click here to leave your comments on the Message Board
(NB: The message board opens in a new window so please disable your pop-up blocker to view)
*****************
---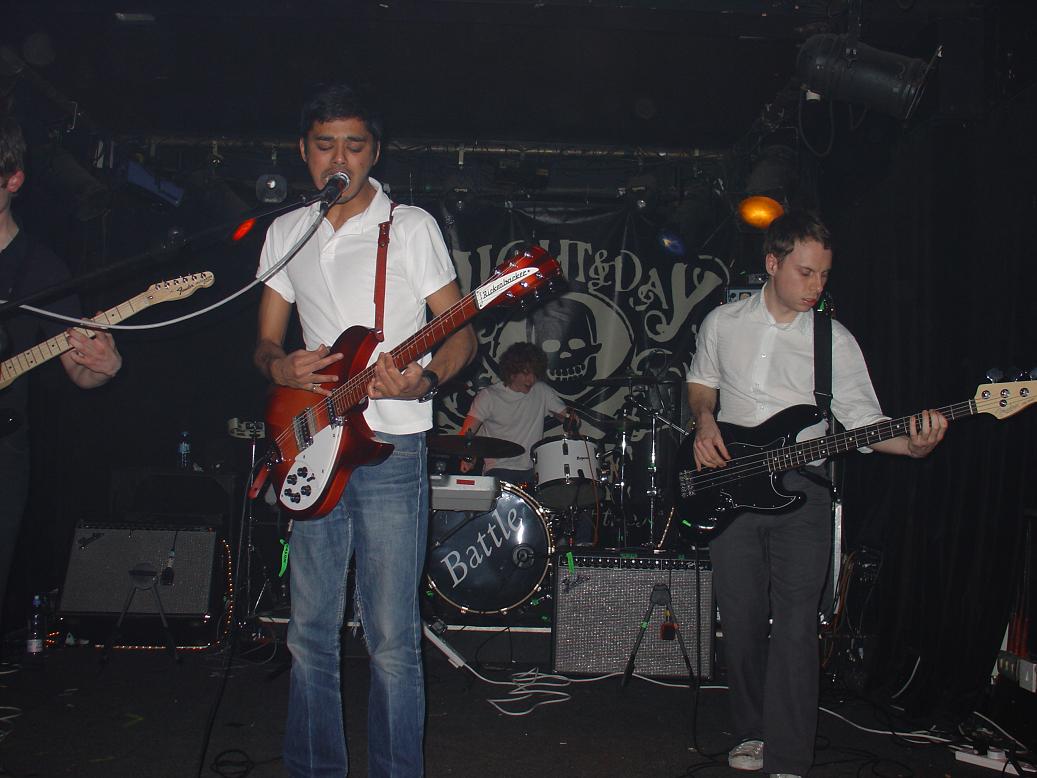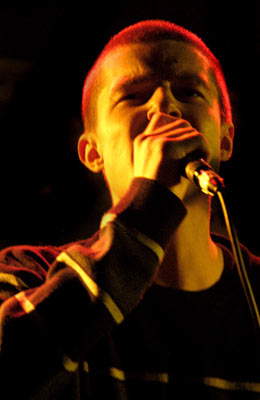 BEST OF THE REST
NIGHT & DAY CAFE
Another great selection from the Club Fandango team including Noisettes, The Hot Puppies, The Maple State, Dykeenies, Seafood, Dead Disco, Hows Your Pop, Lucy & The Caterpiller and many more through out the weekend. More info at www.nightnday.org

DRY BAR
VMan takes over 3 stages at the venue to bring you The Others, Brigade, Johnny Panic, The Children, Infight, Young Offenders Institute, Haven, Otra Mano and many more. More info at www.vmanevents.co.uk

MANCHESTER 235
Jay Taylor from Night & Days new venue teams up with Break In The City and XFM for some bigger name bands such as The View, Peaches Geldoff, Larrikin Love, Tiny Dancers, Battle, Vega4, Ali Love. More info at www.xfmmanchester.co.uk



*****************
What do you think of our In The City selections
Click here to leave your comments on the Message Board
(NB: The message board opens in a new window so please disable your pop-up blocker to view)
*****************