Ivory
After spending years on the same pirate radio stations that So Solid Crew came through on Ivory has started to look further a field. Fresh from his storming appearances at the Carling Weekend Ivory came up to Manchester for not one appearance, but four over the period of 2 weeks. Designer Magazine caught up with him during the first two as part of the In The City Music Conference where he took the word urban and twisted it into a new meaning. Ripping up the template he mixes garage beats with punk rock and even throws in a few camp waistcoats that Jake Scissor Sisters would sell his mother for. Welcome to the world of Ivory!!!
Q: To start with lets just look at the media pre-conception or image of Ivory. The tag line "the indie flavoured urban artist". What do you think of it?
A: Or the indie flavoured garage MC, yeah man, it's quite funny innit. It's difficult for me because it's hard to look at yourself from the outside. I just do what comes naturally. The music reflects what I like. I don't know whether indie is the right word or garage is the right word, but garage was my background. MC-ing wise I did a lot of pirate radio stations in London and started on the same station that So Solid started on. At the same time I enjoy dance music and underground music like jungle and hardcore. That was the scene that I was in, but then I like Red Hot Chili Peppers. Indie garage MC could be a fair assessment cos I haven't found anything else that gives me leeway to do this or that.

Q: Where does the name Ivory come from? What's the story?
A: When I was younger and at college I was there with my best friend. He was this massive black guy and it was this joke. Little me Snow White and him...it was Ebony and Ivory. And we used to MC together as Ebony and Ivory, but he's doing other things now so it's just little Ivory.

Q: It's natural to change from MC-ing over jungle or garage music and even rap-rock music's two a penny. But the UK garage / rock fusion is rare. When did you come up with the idea to fuse the two?
A: When I was doing raves and pirate radio stations I just got bored of MC-ing over tracks that I didn't like. When you're MC-ing over another DJ you have no control what the DJ buys and what he's gonna spin. It just annoyed me cos there weren't enough tunes I liked to spit on and so I got in the studio with my producer Jason and we just started working on tracks. It wouldn't just be garage cos I wasn't just a garage MC so i'd take any tempo. I like music with guitars in it as well so the punk spirit kinda comes through. I mix it up all the time. Even if I went into the studio with the idea of doing a straight up garage track it wouldn't come out like that.

Q: I guess that mix comes from where you grew up in Brixton.
A: You hear a lot of stuff about crime in Brixton, but on a personal level I feel like I've experienced a lot and i'm a more open minded person for living around so many different people. Just like the music I've been around a lot of different people in my time. I live in London. I live in a multicultural area. I live in Brixton and you can't help but be around a lot of different people so that's good if different people can relate to it. The whole idea of a white guy growing in a black area sounds like a bit of a cliché. If you think who's come from Brixton you think of the Stereo MC's and I keep seeing that guy (Rob Birch) around and i'm like should I ask him to be on a track. He just walks round and looks spaced out and it's like yeah man.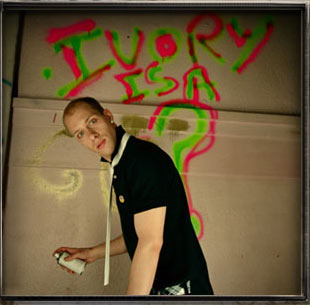 Q: And so many MC's are uptight or aggressive and you just come on stage and lighten the place up man
A: I just like to enjoy it you know. At the end of the day the hard work has been done in the studio and thinking about the track, so when you're performing it you're not gonna enjoy it so why get on stage. And I don't do as much sport anymore as I should, so it's a physical outlet or else I get a bit of pent up aggression. Yeah, I like it. I like to sweat.

Q: When I saw you last night if you take the indie garage thing away I was also noticing a camp Scissor Sisters thang going on
A: A little camp Scissor Sisters thing....you're talking about the jacket. I've got some wicked jackets. I only managed to bring that one up this weekend, but you should check out some of the other ones. I just like things that amuse me. It's my style and I enjoy it yer know so why not wear it. The thing is anyone can walk around the street in a nice jumper, so I just wear things that really turn me on and the jacket's seem to do it. I've actually got coat and tails as well, that's a good one. But they're all my favourites baby, yeah man, I like them all.

Q: You know how to charm people don't ya
A: Woah, I'm not like that mate (laughs). Some people think i'm charming, but yer know some people might think i'm an asshole. I just hope I represent the music well.

Q: You and 50 Cent both played the Carling Weekend and while Fiddy got bottle you always appeal to the indie kids. Why do you think you can make that connection? If 50 Cent chucked guitars over his tracks do you think he'd have blown everyone away?
A: I don't know. I just try to be honest with it. I like guitars and it's not just because guitars are cool or because I'm a white guy so I have to have guitars. I've done tracks without them, but I prefer them with em. I'm playing with D12 this week so it will be interesting to see how it goes with guitars. Do you think they'll be afraid of the guitars? I might just do an acoustic set yer know. I guess the fact that I can go and do D12 and then do MC Solaar is a good thing.

Q: And after these support slots it's a headline tour of the UK. What can we expect from the full on Ivory experience?
A: I'm looking forward to a full tour because then it's all about you and you can do the production exactly how you want. We did a cover version of "Live And Let Die" once, a drum and bass version of "Live And Let Die". On the full tour you might get to see that.
********
"Blaze A Trail" is out now in all good record shops
For more info
www.ivoryonline.net
*********
*****************
Post your Ivory comments / reviews on the Message Board
(NB: The message board opens in a new window so please disable your pop-up blocker to view)
*****************