(Pic: Johnny Panic)
Johnny Panic - Manchester Roadhouse - 9.12.04
Kaiser Chiefs - Night & Day Cafe - 9.12.04
Two very different bands in two different venues with two very different paths ahead of them.
First up, Johnny Panic, a band we first witnessed on Kerrang's eclectic New British Rock tour with the Ga Ga's and Hurricane Party. Dressed head to toe in army fatigue's and war paint creating a look that's part Holy Bible ear Manics and is only juxtaposed by the fact the band look so harmless it's as if they've raided the fancy dress box and are taking part in some live re-enactment with guitars replacing toy guns. Vocalist Rob Solly is a cheeky cockney who you can imagine is a former child actor in Grange Hill kicking about with Zamo and Sean McGuire. "Do you know the biggest killer of young men is themselves", "there's no such thing as a good dealer" he announces before "Burn Your Youth" and "Chemical Girlfriend" respectively as if he's fronting a Just Say No campaign for a better life.
Like the Manics, their frontman sets to be overlooked by the dual talents of guitarist Matt James and bassist Nash Francis. With cheekbones that could cut diamonds, James is set to be one of 2005's rock heartthrobs, while Francis provides a bit of grit looking like an even more dishevelled Johnny Rotten. Musically the band take props from their heroes the Manics while mixing it with old school indie bands such as My Vitriol and early Feeder. While the slower tracks can at times meander the uptempo gems such as "Automatic Healer" and "Hurt" look set to break the band out of the toilet circuit and on to a bigger stage.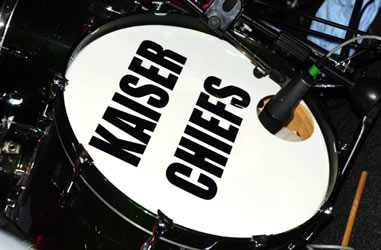 The Kaiser Chiefs are in an enviable position with the indie anthem "I Predict A Riot" giving them a head start for the NME tour in 2005, but after seeing the band live you have to question whether they've shot their load a little too quickly. Walking into the Night & Day in the middle of the band's set after they started far too early we head straight into that single, yeah that single that they'll forever try to live up to over the next 12 months. New / old single "Oh My God" plods along, but doesn't really go anywhere and the rest of the set flies by on the energy from the stage rather than the actual tunes themselves. To look at The Kaiser Chiefs is like looking at a raggle taggle bunch of Levellers fans maniacally bashing away at tambourines and creating the sort of atmosphere last seen in backstreet Irish pubs, but 5 minutes after we walk out of the venue there isn't one tune lodged in the old grey matter. Still by this time next year will any of this matter. The good ship NME will have turned a nation of millions onto this band who opened up the legendary opening slot ala Franz Ferdinand and Coldplay.
So there we have it. Two bands with two different paths in front of them. The Kaiser Chiefs will go onto huge success and while Johnny Panic won't quite reach that level of success we know deep down that they will be the ones releasing the better album.
Words: Alex McCann
Photos: Karen McBride www.karenmcbride.com
*****************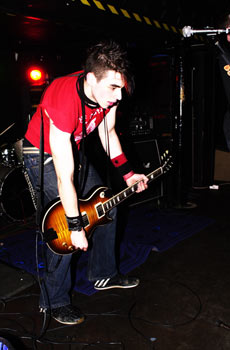 (Pic: Johnny Panic)
Post your Johnny Panic and Kaiser Chiefs comments / reviews on the Message Board
(NB: The message board opens in a new window so please disable your pop-up blocker to view)
*****************