Junior Senior
Junior Senior are a breathe of fresh air and the most anarchic eclectic pop act since Daphne & Celeste took over the world. Growing up in Denmark, a country where musical culture stretches as far as a steady diet of Europop and Radiohead wannabe's, the band listened to 50s Rock & Roll, 60s Soul & Motown and 70s Punk and put it in a blender. The result is "D-D-Don't Stop The Beat" which features the smash hit single "Move Your Feet" is already one of the contenders for Album Of The Year. We caught up with Junior Senior to find out if they're ready for international stardom.
Q: "Move Your Feet" - straight in at Number 4 with your debut single and then appearing on TOTP's. Is this just all your dreams come true?
Senior: It is a dream come true, but it's really strange because the last few months have been going really fast. When I woke up this morning I had a real adrenaline rush, but it comes in small portions because you can't ever take it all in. We've dreamed of this all our life's and especially coming from Denmark where the UK and the US markets are definitely the hardest to break. If you do break them you appreciate it even more.

Q: Are you getting used to being proper Popstars yet?
Junior: Of course not, it's still very new to us. We got Top Of The Pops on the TV in 93 and 94 (we don't have it anymore), but I used to watch it all the time. I never thought all this would happen because I remember Pulp and Blur on TOTP and they were my heroes at the time - so I could never imagine that I would be there myself.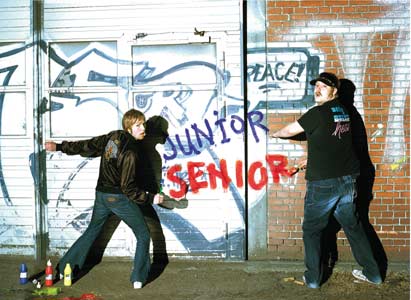 Q: We've heard just how bad some of the music coming out of Denmark is - how did Junior Senior come to existence in such a musical waste ground?
Senior: I suppose you've heard of Aqua and stuff like that and even though they don't exist anymore I suppose a lot of music in Denmark is what you would think of as Europop. But there are some good alternative bands like The Raveonettes and Mew.
I think the inspiration for the album was as varied as 50s Rock & Roll through to 60 Soul and Motown and 70s Punk. When we started out we were really bored with the whole Jeff Buckley and Radiohead thing and in Denmark every band is just trying to copy that sound. I think it was part of the reaction against that and we always try to look forward - we couldn't even find music like this if we looked, so in the end we had to make it ourselves.
Junior: When we started this band we decided to incorporate everything we like. We didn't want to be a rock & roll band who also liked country or hip hop - we wanted to do everything at the same time if it was possible.

Q: Junior Senior are just like this Cartoon leaping out of the page. Before we leave we have to ask where did you take your props from?
Senior: It's definitely not styled or premeditated - it's just what we wear and the way we look. The reason why we called ourselves Junior Senior because we knew people were going to pointing our looks out.
**********
"D-D-Don't Stop The Beat" is out now on Mercury Records
Junior Senior tour the UK in May
For more info
www.juniorsenior.com
**********
**********
Post your Junior Senior reviews / comments on the Message Board
**********