Kanye West - MEN Arena - 16.2.06
The breadth of Kanye's appeal lies in the fact that indie stars such as The Coral and Starsailor have come to check out the sounds of the hottest man in hip-hop right now. Conversely Rio Ferdinand (who's planning to launch a Hip-Hop Idol style TV Show), Wayne Rooney and Colleen McLoughlin have hired a box. For f**ks sake Coleen's even managed to shop for some Agent Provocateur before tonight's show, which she proceeds to parade around the venue for the tabloid sharks.
As Kanye will insist mid way through tonight's show, "No pop shit, no political shit - just some pure hip-hop", a man of endless contradictions that it's hard to know the real Kanye. Production wise he offers some of the most overtly commercial hip-hop of recent years with tracks like "Diamonds From Sierra Leone" which he starts tonight's show with, but at the same time here is a man who would prefer to surround himself with a full orchestra and one lone DJ rather than a pack of braggadocios MC's for him to share the limelight with and hide his own weaknesses as a rapper.
New song "Impossible", a real bashment percussion heavy track that sound like an African folk song set to beats. It only lasts for about 30 seconds, but it's proof that behind the ego and the overblown Brits performances alleged to have cost £150,000 to stage, that ultimately he's all about the music. Whether it's the perfectionist in him or his overblown ego that leads him to blame the sound and technical staff throughout tonight's show is not clear, but it doesn't go down well with the UK audience who take more receptively to more humble performers rather than diva strops.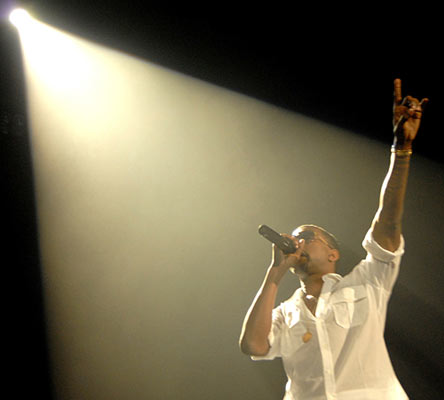 There's a bizarre atmosphere that surrounds the arena tonight. When Kanye drops the tunes such as "Jesus Walks" from "College Dropout" or "Gold Digger", "Touch The Sky" and "Crack Music" from "The Late Registration" the crowd go wild. When he opens his mouth in between tracks the crowd boo and jeer and when he makes an elongated speech for 5 minutes about how he's "always been denigrated for being the greatest" its signs of a god complex more worrying than that of Michael Jackson's Brit Awards Performance. If Jarvis Cocker was here you could put money on it that he'd do more than wiggle his arse this time.
Musically Kanye was flawless and there aren't many hip-hop artists who'd bring a full orchestra on tour and drop in Annie Lennox, A-ha, Michael Jackson and Prince to the mix, but when Kanye does it he still holds that credibility. Whether the 20,000 will be back next time after the attitude problems remains to be seen
Alex McCann
Photos: Shirlaine Forrest www.shirlainephotos.co.uk

*****************
Click here to leave your Kanye West comments on the Message Board
(NB: The message board opens in a new window so please disable your pop-up blocker to view)
*****************