Kerrang New British Rock Tour - Gullivers - 8.10.04
The Ga Gas / Johnny Panic / Hurricane Party
The Ga Gas are the sort of band you could imagine snorting coke off Thai ladyboys and f**king amputee dwarfs. Sleazy to the core you can never imagine the Ga Gas doing something as normal as having a cup of tea. They're the sort of band that leaves a gig, ends up chopping lines up all night at the hotel room, grabbing 2 hours shut eye on the coach to the next venue before realizing that they might as well just spend their last fiver on four pack of special brew to get them through the gig. When frontman Tommy walks through the the venue it's perfectly rock n roll - the shades are in place (regardless of the fact its pitch dark) and the hat tops of the look as if he's our very own British Axl Rose. Playing much the same set as they've played on previous support slots with Kelly Osbourne and Andrew WK, the Kerrang Tour places them in the bizarre situation of playing the smallest gigs of their career on their first tour since they signed to Sanctuary Records. A bizarre experience to say the least, but they play a blinder with a set comprising of highlights "Replica", "Jessica" and "Real World". When the Ga Gas eventually get the widespread recognition they deserve they're going to give teenage girls the best night of their lives and their fathers the biggest nightmare they've ever known.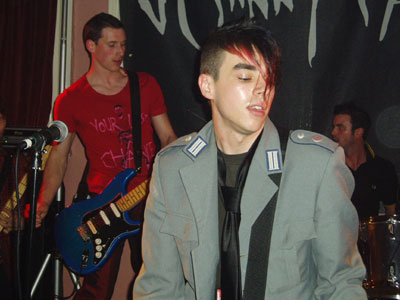 Johnny Panic's set ends in chaos with bassist Nash Francis stumbling into the audience and going tits up. At the same time frontman Rob Solly managed to pull down the bands backdrop engulfing the drummer in the process. Taking their name from the Sylvia Plath's "Johnny Panic And The Bible Of Dreams" they rip through a set which takes in "Winona" and "Automatics Healer" and climaxes with "Burn The Youth", a song before which Solly talks of Ian Curtis and Kurt Cobain and reminds us that the worlds biggest killer of young males is themselves. Daubed with slogans and army fatigues its easy to draw comparisons with the political agit-rock of the Manics, but Johnny Panic are a little less obvious in their political agenda. They're a band who don't want to push ideas in your face, they just want to remind you that its ok to sit down once in a while and think about the world from a different viewpoint.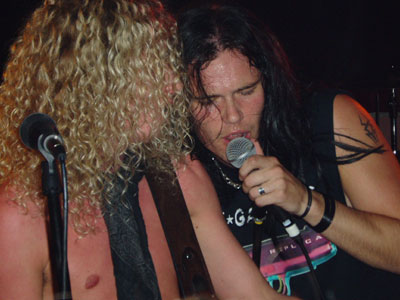 If you thought the Darkness were a one-off then think again. Introducing Hurricane Party, a band who have an unashamed passion for 80s metal right down to the poodle haircuts. Recently playing with everyone from Status Quo and Skid Row to bizarrely enough Nickelback (officially the most boring band on planet rock) they've set themselves as the serious anti-dote to Justin Hawkin and co. Taking in influences from AC/DC, Led Zep, Aerosmith and Whitesnake the likes of "Big Rock Show", "Crown Of Thorns" and "Killer" are fast becoming modern day classic rock songs. The latter featuring the type of guitar riff not seen since Daley Thompson sold out to a Lucozade advert and kick-started the idea that athlete's will forever earn more in adverts than they ever will in their chosen sport. With a few more support slots like the Quo it can't be long before Hurricane Party break out of the toilet circuit and start playing the theatres and arenas like they're obviously playing out in their heads
Words & Pictures: Alex McCann
*****************
Post your comments / reviews on the Message Board
(NB: The message board opens in a new window so please disable your pop-up blocker to view)
*****************
Kerrang New Rock Tour Photo Gallery