(Pic: Coheerd & Cambria)
Kerrang Tour 2008 – Manchester Academy 1 – 1.2.08
Tonight's KERRANG TOUR show was always going to be a sell-out, with a superbly strong line up of already well established acts; CIRCA SURIVE, FIGHTSTAR, MADINA LAKE and COHEED AND CAMBRIA. Their ever growing popularity reflected in the queues of people ready and waiting for the early doors of 6.45pm, with some having even been at the venue since midday!
Unfortunately, due to problems with my guest list, I missed openers CIRCA SURVIVE (and disappointingly for me, they were the band I was most looking forward to seeing). The band are the least high-profile on tonight's bill (with FIGHTSTAR and COHEED already having headlined tonight's venue in previous years) but having witnessed them live recently it is only a matter of time before their original and energetic brand of technical alt-rock becomes discovered by the masses.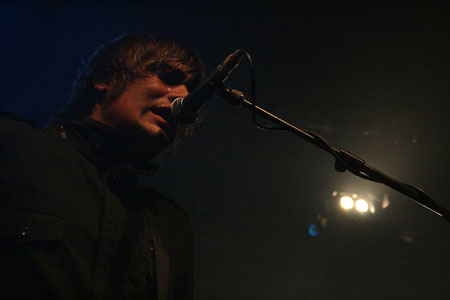 (Pic: Fightstar)

Surprisingly, second on tonight's American dominated bill are only Brit-act FIGHTSTAR. The band who recently released their incredible second album 'One Day Son This Will All Be Yours' rip onto the stage with tremendous energy and a back catalogue of tracks that everyone seems to know and love. The band have certainly progressed from their inception with their new album tracks being more musically varied, including 'Deathcar' – one of their heaviest tracks to date and current single 'Floods' showcasing frontman Charlie Simpson's piano playing abilities. The band close with track from their first EP, 'Palahniuk's Laughter' and leave with the audience wanting more and sufficiently warmed up for the rest of tonight's acts.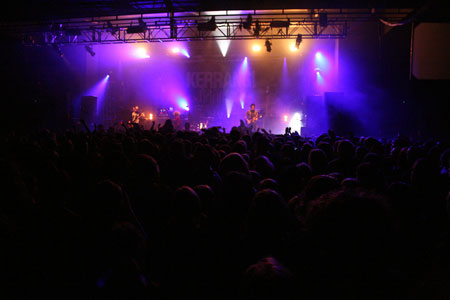 Next up are MADINA LAKE who have recently shot to mass success with recent support slots with Paramore and Anberlin and an appearance at the Give it a Name festival in 2007. There is a large majority of tonight's crowd looking forward to tonight's set and the band leave little room for disappointment as they explode onto the stage, utilising every inch of it with as much energy as a 4 year old who has eaten too many yellow sweets, with lead singer even jumping to the floor for a more intimate encounter with the hordes of screaming fans. It was to my surprise to learn that Madina's front man had been diagnosed with a rather serious throat infection only a few days previously and it is clear that the band are dedicated their art, still loving every second on stage.

Headliners tonight COHEED AND CAMBRIA have a lot to follow, many of the younger members in tonight's crowd were obviously here to see Madina Lake, but the band hit the stage with new album track 'No World For Tommorow' with an epic style that is impossible to ignore. The bands sound, much like their records, is huge and technically impressive but a lot of the subtleties in the records are lost in the live performance. That's not to say its not a good show, every Coheed fan is standing around smiling, singing along to every high pitched lyric and as the band kick into a cover song a roar of applause arises at the realisation of the band they are covering is Iron Maiden. The band continue to play "Feathers" and "Running Free", both from their recent album release "No World For Tommorow" and finish with obvious favourite "In Keeping Secrets…". The band then leave the stage briefly before being chanted back to return to play encore "Welcome Home", a triumphant return to Manchester for an excellent and talented band.

Word& Photos: Mark Forrer - www.markforrer.co.uk

*****************
Click here to leave your comments on the Message Board
(NB: The message board opens in a new window so please disable your pop-up blocker to view)
*****************

MADINA LAKE - GALLERY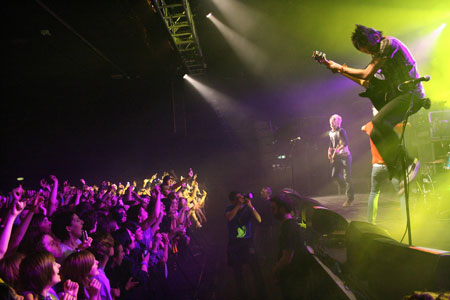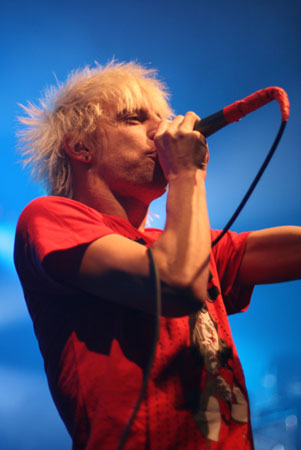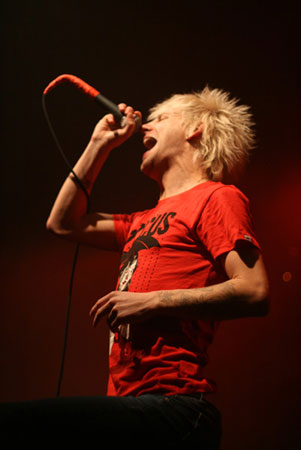 FIGHTSTAR - GALLERY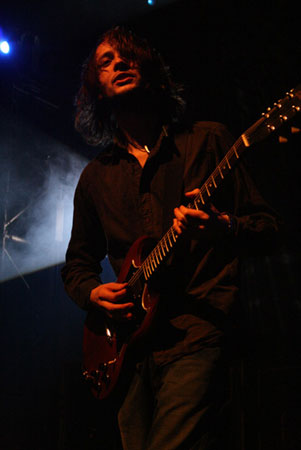 COHEED & CAMBRIA