Kill The Young - Night & Day Cafe - 18.7.05
"Kill The Young". A great band name that immediately catches one's attention, but is that an expression being made by Tom Gorman (bassist, age 23) about his brother, and vocalist Tom (21)? Or is it a similar feeling that Tom has about the 3rd member, and brother, of this threesome, Oliver (18, drums)? So, the "Kings of Leon" are all family members and they seem
to be doing all right without killing each other (yet), what about the Gorman family?
Well, none of them have beards, and as is the inpatient nature of youth, they don't intend on spending much time dawdling about; their 3 minute bursts of pop punk are infused with a vitality and drive that has their crowd of followers moving enthusiastically to their call.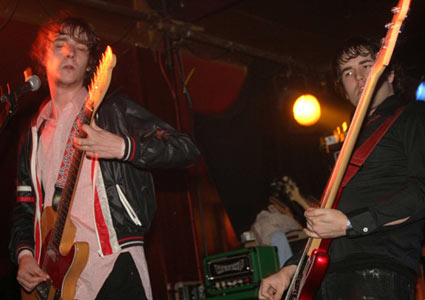 Far from being perceived as surly, disaffected youths, they have a smiling, dare I say happy, demeanour that's all to frequently missing from the "serious business" of rock'n'roll. Between songs Tom & Dylan ask the crowd to move up & fill the space in front of the stage, which they do, knowing that they will shortly be entertained with bright choruses and skin thumping beats that contain the power of a "Foo Fighters" number.
Based around Congleton in Stockport, they've played in bands long enough to have built up material that will last a set, not merely two songs plus a list of fillers. Lyrics are not about revolution and overthrow, but more familiar topics as "Addiction" (in whatever form it may take), or that perennial feeling that "We need to get out of here"
On this showing, a stay of execution is deserved
Ged Camera
*****************
Click here to leave your Kill The Young comments on the Message Board
(NB: The message board opens in a new window so please disable your pop-up blocker to view)
*****************