Designer Magazine Xmas Shopping Guide 2004
Lakeland Limited has served the UK's shoppers for over 40 Years starting as a humble family business packing plastics bags into packs of 100. Now in the noughties it's one of the largest home ware and kitchenware retailers in the UK so where better to look for Designer Magazine's Xmas Shopping Guide 2004. With 3 catalogues - Practical Presents, Christmas at Home and Christmas Gifts - we scoured the combined pages to deliver what we feel are the best of the low to mid price range goods on offer, although by no means take this as a full representation of the Lakeland Range. With gifts on offer from less than £5 what we tried to do was show the affordable side of the catalogue although obviously with a deep wallet you can also buy more luxury items for the whole family. Taking a quick look through the "Top 10 Best Selling Products" section of the Lakeland's website give a clear indication of the range on offer.
For the Designer Magazine Xmas Shopping Guide 2004 we've split our Xmas Selections into two clear categories - Household and Food Items (NB: Many items from last years catalogue are still available. Check out our recommendations from last years guide by clicking here and then cross check reference numbers with the 2004 Catalogue)
HOUSEHOLD ITEMS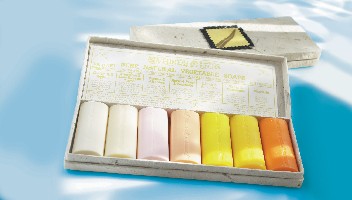 Natural Fruity Soaps
Made in Australia the Natural Vegetable Soap collection features 7 different bars which would make an ideal gift for your mother, girlfriend or a relative. Coming in Goats Milk and Yoghurt; Grapefruit and Lime blossom; boronia and aloe vera; Apricot and calomile; Lemon and cucumber; mango and macadamia; mandarin fragrances they offer a different edge to the normal processed fragrances you can see in the high street (Ref: 7554)
Jewel Soap Garnet
A present which can go hand in hand with the Natural Fruity Soaps. A work of art in itself rather than just being a bar of soap the description featured with the bar is "a rich cranberry red filled with peach and orange colours, embellished with pure cosmetic gold and fragranced with cheery almond to remind you of the glorious smells of christmas baking". It was more than enough to convince us here at Designer Magazine and it should be more than enough to convince you. At only £3.95 it's a bargain (Ref: 40087)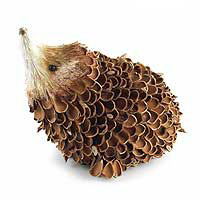 Harriet Hedgehog
Just looking at the picture above you'll see exactly why you have to own a Harriet Hedgehog. Perfect on a rustic fireplace or simply for an animal lover (or friend with spiky hair) the actual hedgehog itself is deceiveingly larger than the picture suggests. Made out of natural wood and nut shells and costing just £3.95 it's certainly much better value than similar fluffy gifts you'd get in your local card outlet. (Ref: 40029)
Soups (Book)
The compilers of this Soup Recipe book, Grace Mulligan and Dilwen Phillips, explain that "Anyone who can chop vegetable, can make fabulous soups!" which may go to prove that those left over vegetables and stock cube concoctions my mother used to dream up may have actually been classed as soups rather than downright lazy (joke). Developed alongside the Women's Institute they offer traditional favourites as well as new ideas. For the woman (or man) who enjoys spending time dreaming up new ideas in the kitchen this would make a perfect stocking filler at £7.95 (Ref: 1821)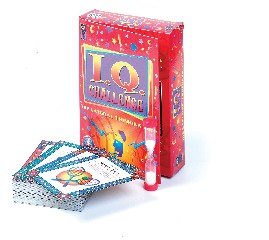 IQ Challenge
If you're anything like my family come the time following your Christmas meal the Scrabble Board or Connect 4 will come out and after a few games you'll drift off because the millionth repeat of Jaws is more alluring. Be bored no more as the IQ Challenge features over 100 lateral thinking puzzles to fry your brain. Play alone, against friends or in teams these puzzles will frustrate and annoy, but once you beat the challenge and get on the wavelength you'll be addicted. You can't beat spending a tenner for a whole heap of fun. (Ref: 40099)

FOOD ITEMS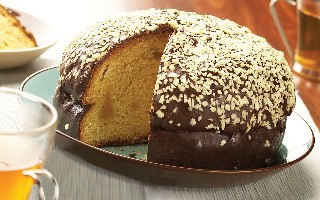 Chocolate Panettone
We would say that the Chocolate Panettone is a taste of authentic Italy were it not for the fact that it's only available for Lakeland Customers and isn't actually available in Italy. It is however Made In Italy and it's the sort of cake that the phrase looks good enough to eat was made for. Deceiving calorific and so light that you're tempted to take another slice, but if Xmas isn't the time for indulging in such a luxurious delight than when can you. (Ref: 8570)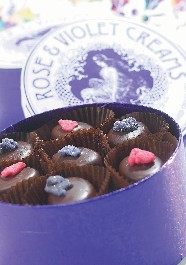 Rose & Violet Creams
As luxurious as Ferrero Rocher, this is one box of chocolates you'll be saving for the special guests over the festive period. With hand dipped rose and violet petals decorating the 22 dark chocolates with matching fondant centres. The question of the season is not who's going to have your last Rolo, but who indeed will be getting your last Rose & Violet Cream. Myself, i'm keeping it - they're simply too nice to give away.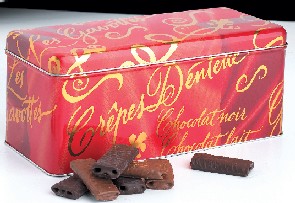 Crepes Dentelle de Bretagne
About ten minutes walk from where the Designer Magazine offices are based there used to be a French restaurant that charged extortionate amounts for similar crepes. What follows in restaurants usually makes its way to the general public and Loc Maria bring an authentic taste of France with the Crepes Dentelle de Bretagne (aka as Brittany to Euro-sceptics). £11.95 will buy you a pack of 72 (Ref: 6226)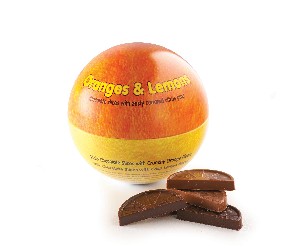 Oranges & Lemons Chocolate Segments
Our favourite old skool chocolate bar is the Terry Chocolate Orange. Our favourite nu-skool bar is the Lemon flavoured Kit Kat. It's a very very lose comparison, but if you take those as your basis add some rich dark chocolate, throw in some candied orange and lemon you essentially get Lakeland's Chocolate Segments. Like the Chocolate Panettone this range is exclusive to Lakeland. (Ref: 40115)

Words: Alex McCann





***************
To order items from the Lakeland range simply log onto
www.lakelandlimited.com
Alternatively phone your order in on 015394 88100 any day of the week
***************

*****************
Post your comments / reviews about the Lakeland Range on the Message Board
(NB: The message board opens in a new window so please disable your pop-up blocker to view)
*****************