Lee Rocker - The Mill Preston - 15.7.05
You've got to hand it to rockabilly fans. Dressed up to the nines in fifties clothes with due attention paid to immaculate grooming (the quiffs look amazing, the sideburns would make Elvis proud and that's just the women), but seriously these guys and girls know the definition of style and are genuinely passionate about the music they love. The reason for this particular clientele is the arrival of Lee Rocker, the stand up bass player from the Stray Cats who has his own band. As well as twanging his instrument like a seasoned pro, Lee also takes lead vocals with his band and while he's know Brian Setzer he ain't half bad and can carry a tune with confidence and flair.
The stocky frontman has a new album out called "Curse Of Rockabilly" with many tracks off it played tonight with his talented array of musicians. More hard edged and bluesier than you'd imagine Lee Rocker still hasn't forgotten his rockabilly roots. A slower, slightly countryish version of The Stray Cats "Rock This Town" is given a new lease of life with this alternative arrangement. "Bulletproof", a original Lee Rocker song, pleases the crowd but doesn't have the instant memorable hooks and melodies of his day jobbing band.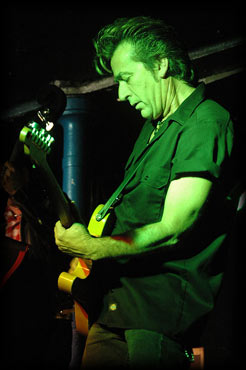 A song about his car (from the 50s) is an absolute corker though simply entitled "She's Done" which sees the band in their element with rock'n'roll guitar, Keith Moon style drumming and a chorus which delights with it's rumbustious energy. A ballad for Carl Perkins "Blue Suede's Night" is touching and quite magical while "Downtown Train" was written with Slim Jim Phantom, the mighty drummer from the Stray Cats.
"Memphis" is a love letter to the home of country music while "Stray Cat Strut" needs no introduction whatsoever, an instant crowd pleaser, a rockabilly classic which is in a league of it's own.
Lee obviously loves the buzz and reaction of a live audience and the Preston posse are in no doubt feeling the vibe and enjoying a rare visit from the ace bass Stray Cat. A cover of "That's Alright Mama" and "Blue Moon" carries on the nostalgic mood in a set which features a wide range of musical styles with the spirit of rockabilly never far behind.
Words: Nicholas Paul Godkin
Live Photos: Drew Harrison (drewharrison3@hotmail.com)
*****************
Click here to leave your Lee Rocker comments on the Message Board
(NB: The message board opens in a new window so please disable your pop-up blocker to view)
*****************