LEEDS FESTIVAL 2006
Carling Festival Leeds - Friday 25th October
Mastadon are the first bands of Leeds and although there aren't hordes of people swarming around it's not a bad turn out for much hyped, but barely heard metal heads from Atlanta Georgia. The screaming vocals from the bearded frontman are one hell of a wake-up call with ferocious growling adding to the prog metal jamming sessions. Mastadon are excellent showmen but the tunes just don't gel properly despite the duelling guitars and the influence of SOAD and Metallica do wonders for songs like "Circle Of Psyche Squad". For even the hardened rock fan Mastodon are on a little too early to inspire the mosh and they leave me a little cold with self indulgent muso rock tendencies that are too overwrought.
London boy Switches on the Carling Stage are much more to my liking. Imagine Blur jamming with Elastica with a smidgen of Bolan and Bowie and a healthy helping of pop melodies and punk attitude. "Drama Queen" and "Lay Down The Law" are both addictively memorable. Lead guitarist and singer Matt is a confident glam loving indie boy who doesn't dip too far into King Adora's closet while his three band mates look like any anonymous session musicians but play with passion. "Snakes And Ladders" evokes the spirit of T Rex and if anyone doesn't come away with a natural feeling of euphoria then they need their ears and eyes testing. With just a 30 minute set I leave wanting more with their songs imbedded in my head. With a support slot for Graham Coxon on tour turn yourself onto Switches.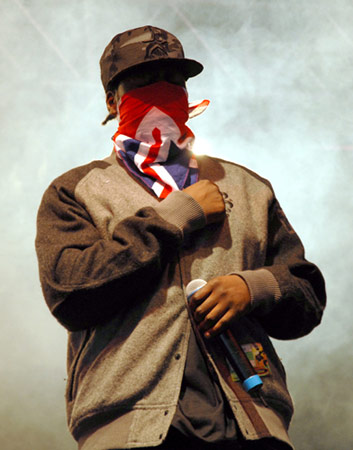 Mobo nominated Sway is brash, bold and British with his scatter-gun rap delivery and his ability to work an crowd his speciality. Commercial and proud of it, but hardly a revolutionary. Sway raps along to "We Will Rock You" but so did boy band 5ive many years before. Go Figure. Sway has bravado but his material lets him down and rapping over Dead Prez's "Hip-Hop" is an obvious highlight, but when we chooses to sample Blur's "Parklife" you get the feeling that Chuck D has no reason to feel threatened by Sway. The banter with the DJ feels natural and he certainly has a strong connection with the crowd but I find him disappointing and under-whelming. For more edgy hip hop I suggest you seek out the saviour of the urban scene, the one and only Plan B.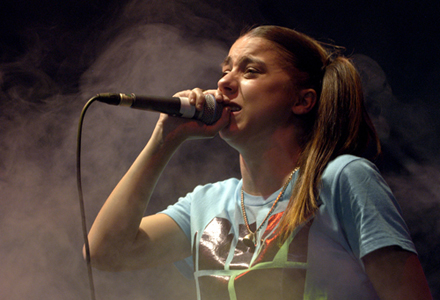 Staying in the dance tent and by this point everyone is packed in like sardines for the arrival of the mini-me Melanie C, MC Lady Sovereign. Her vocal may be gruff but this girl is street tough with a full backing band Sovereign comes into her own like a cyclone of hyper energetic raw talent. "9 to 5" is a bonafide hit and who needs the Ordinary Boy anyway. "My Hoodie" strikes a chord with anyone who's been chastised by society for their choice of fashion accessory. She's a lady in charge, in control and the fans are skanking in appreciation. After spending so long in America under the tutelage of Missy Elliot it's a privilege to welcome her back to dear old blighty.

Most of the fans attending this festival were probably still in short trousers when Slayer first arrived all those years ago. It may have just started raining, but that isn't going to deter the old skool hardcore fanbase from worshipping these gods of rock on the main stage. The bass sounds like thunder, the vocals scream out for mercy while the guitars are played at 100 mph and the drums bashed around so violently that it's a wonder they remain intact. This is music for manly men covered in tattoos full of testosterone and taut emotions. Forget emo, even screamo - this is something above and beyond all that. Slayers album "Christ Illusion" is out now and it's typical Slayer. The young kids on the block could learn a lot from these masters of mayhem who blast through their set like an army of four on a mission of metal madness.

Festival favourites Placebo are on the main stage just before headliners Pearl Jam. Wearing a smart waistcoat, shirt, tie and jeans. Brian Molko is no longer the sulky, stroppy goth of yesteryear, although the make up remains but with a severely short Bad Lads Army haircut. Now a five piece with extra guitarist and keyboard player, Placebo begin with tracks off their new album "Meds", which is fine if you're a hardened fan, but to a festival crowd it's a bit of a non-starter. We want some hits to sing along to and dance in that uniquely British way to songs we actually know. By the time these arrive most people have lost interest and have ventured off elsewhere. A request of "Special K" by some insistent fanatic is ignored but the lads do play "Every You Every Me" with a perverse unsettling follow up of Kate Bush's "Running Up That Hill" which was odd rather than
enjoyable. Things looks up when Placebo encore with their most popular song to date "Nancy Boy" which has Austrian bass giant Stefan twang his instrument in the most ambiguous manner imaginable. A patchy set then that started shakily then turned itself around with a greatest hits finale.


Carling Leeds Festival - Saturday 26th August
The Towers of London are an unusual choice ot kick off day two of the festival on the wide open spaces of the main stage. These self proclaimed party animals are much better suited to the dingier sweatier dives of the toilet circuit where the intimacy of the full force of their dangerous aura can be truly appreciated. Still the Towers make the most of a more expansive crowd. Unapologetic, profane and outrageously attired it's no wonder Bravo have made a TV documentary about their japes and scrapes with chavs. Before they arrive an air raid siren is heard as though Towers Of London have declared war on music. Donny Tourette and his four hombre's spit snarl and sneer throughout with "F**k It Up" and "Air Guitar". Only a cover of Lynyrd Skinners "Freebird" wrong foots and ultimately baffles everyone.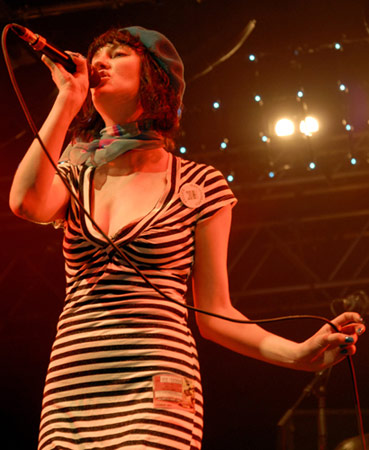 Designer Magazine is all for some girly kitsch unorthodox pop, but the Long Blondes on the Radio 1 stage disappoint us severely. The image and bouncier than a britpop party is appreciated but this band are overrated and over hyped. With the exception of their recent single "Weekend Without Makeup" the songs simply don't jump out and Kate Jacksons voice is flat and monotonous and no amount of 50s rock & roll, jingle jangle guitars and exciting stage presence can disguise that. Apparently the Long Blondes are part of a scene known primarily as New Yorkshire (they're from Sheffield), but to us they're more old nonsense.

Being a star of the silver screen it's easy to forget that Ice T is a much respected rapper, MC and lead singer of rock band Body Count who tonight blow the roof off the Lock Up stage. The musicians kick up a fuss on stage with a hard unforgiving wall of sound, loud enough to wake the dead. Then Ice T dramatically walks on with a white, scary Jason mask circa Friday
13th. When he faces the crowd, he whips it off, turns to the crowd and lets rip with a few tracks of their new album "Murder 4 Hire". It's been nine years since their last album and the fans are making the most of the return of South Central LA's prodigal sons. When a pantomime horse walks across the stage Bodycount are as surprise as we are. No explanation is given and we
remain non the wiser. There's an anti-Bush song about war, but when vintage material is performed everyone goes ape shit. "Body Count" is the first song the band ever recorded back in 1991 and fifteen years later its impact about gangland murder is even more relevant. "KKK Bitch" is more humorous while "Cop Killer" has everyone chanting "F**k The Police" as the guitars wail in sonic agony. His 13 year old son joins him for Body Counts cover of "Hey Joe" with respect due to the later lamented Jim Hendrix.

Headlining tonight are former Mercury Music Prize winners Franz Ferdinand. Their arty rock and string of hit singles should satisfy any festival crowd with ease. Alex Kapranos looks dapper (as always) and seems so at home on stage no matter what the size of the crowd is and the keyboard player adds a bit of Inspiral Carpets style psychedelic to the bands dynamic. It has to be said that throughout their career Franz Ferdinand have always been funkier live than on CD and if there's a problem its that the band play their singles too early on in their set leaving the album tracks off their latest release "You Could Have It So Much Better" until the end. Still "Do you Wanna" and a song dedicated to all the fans, "Take Me Out" are hits you want to hear. The catchiest song ever with a homo-erotic subtext is "Michael", my own particular favourite. Franz even play a few bars of the Falls "Hit The North". Also going down well is this "This Fire", yet another winner for the legions of fans. After 90 minutes it's all over but it's hard not to be charmed so sweetly by such a great bunch of tunes.


Carling Leeds Festival - Sunday 27th August
What do you get if you have the angular punk prowess of The Futureheads, the vocal intonation of Robert Smith and the tightly reigned funk factor of the Arctic Monkeys? The answer my curious compardre is South Londons The Maccabees, who chance would have it are playing on the Carling Stage this very day. These lads look very young, probably best described as fresh faced. The songs whizz by quickly in a short succinct blasts as demonstrated on "Happy Faces". Leader of the Maccabees is Orlando Weeks who apart from being a great singer, dances with such inhibited splendour that you admire his veracity even more. "Latchmere" is a brilliant slice of life song and they even manage to name check scalextric.

At the comedy and cabaret tent is none other than ex-popworld presenter Simon Amstell who's about to perform stand up. While this man is a host on TV with his ad libs, sarcastic jibes and ability to belittle the fragile egos of those in the music industry, he struggles to transfer his humour successfully to a live crowd. Routines about racism, picking a suit for Elton John's wedding, the homeless and his Jewish roots are so middle class in tone and contact. When a heckler shouts "where's the comedy?" you can only agree with him. Never has the term don't give up your day job seem so relevant.

Back at The Carling Stage im just back in time to see the Noisettes, a punk funk rock trio from London. Striking singer Shingai Shoniwa looks like a rock goddess with her Karen O-esque outfit. Dan Smith on guitar goes for the Vivienne Westwood look and the hairiest drummer on earth Jamie Morrison completes the line up. "Catch Your Name", their recent single is well received while "Capture The Spirit" is dedicated to all the girls out there. If you haven't seen the Noisettes then it's high time you did. They're the best kept secret in rock, well for the time being.

A little later on in the same tent three young nubile girls walk on like a trio of starlets from The OC. I later discover these beautiful ladies aren't actresses but musicians from sunny LA and are in a band called The Like. Think an indie Bangles or a teenage Wilson Philips or perhaps a poppier Donnas. These chicks really can play and sing with harmonies arranged
seemingly effortlessly. They're sweet, yet edgy, not afraid to rock with an unusually deep but engaging lead vocal.

Around me are chavs, boozers, smokers, scallies and rowdy behaviour. No the annual Leeds riots haven't started early at the festival. It's the Arctic Monkeys time on the main stage and there's no room to dance unless you're way back near the entrance. Never before has one band packed out the whole mass of land in front in the main stage. As has become a regular occurrence "I Bet You Look Good On The Dancefloor". The fans go crazy, after all it's the tune for many that started it all. The rain then starts, in fact it's torrential clusterf*ck of rain and amazingly the crowd remains. New bass player Nick O'Malley fits so well into the group that it feels like he's always been a part of the band and that's no reflection on founding member
Andy Nicolson.

"Leave before The Lights Come On" is a non album track and new single which is just as good as anything on their debut and sets us up for the eagerly awaited follow up. Talented as he is, frontman, Alex Turner is free of charisma, charm or stage presence and throughout his surly demeanour starts to jar. Mr T informs us that this will be the Arctic Monkeys last gig of the
year so we'd best make the most of it and we do. Hard to fault and easy to like The Arctic Monkeys go from strength to strength. Here's to another successful year ahead.

Nicholas Paul Godkin
Photos: Shirlaine Forrest www.shirlainephotos.co.uk

*****************
Click here to leave your Leeds Festival comments on the Message Board
(NB: The message board opens in a new window so please disable your pop-up blocker to view)
*****************

PHOTOGALLERY

Shirlaine Forrest was there on the Radio 1 / NME Tent to capture all the best bands from the weekend for Designer Magazine and here's a selection of The Vines, Primal Scream, The Raconteurs and various others

THE KOOKS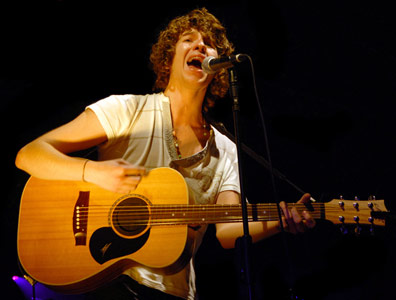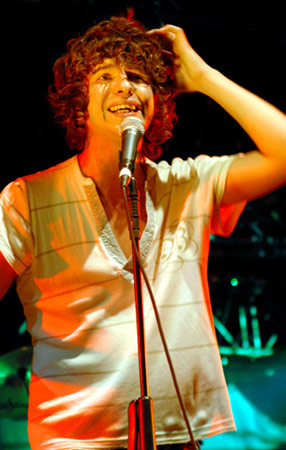 JET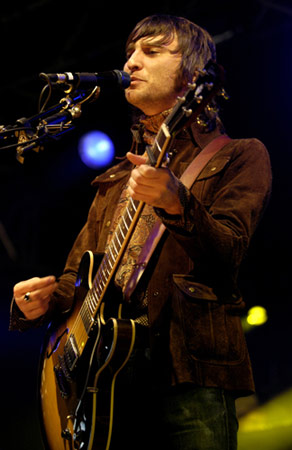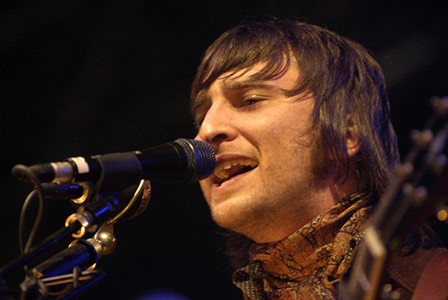 Gogol Bordello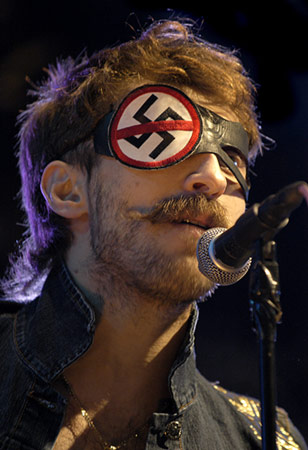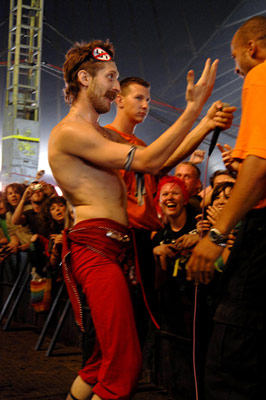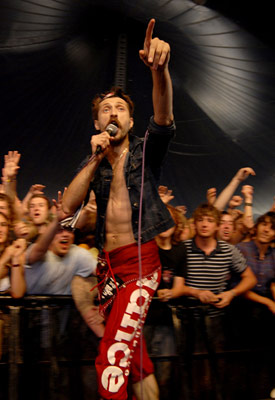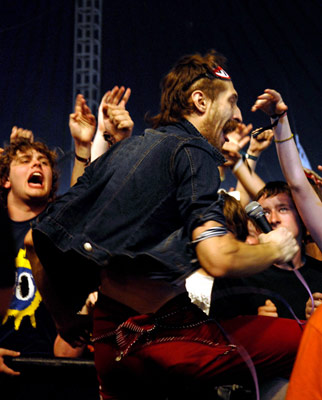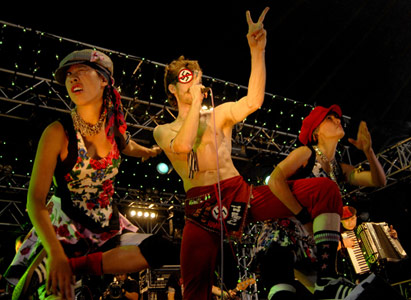 BOY KILL BOY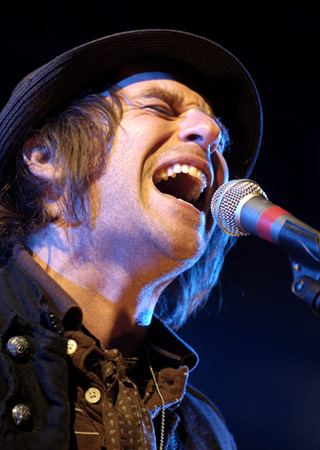 BODYCOUNT FT ICE T
BE YOUR OWN PET

THE AUTOMATIC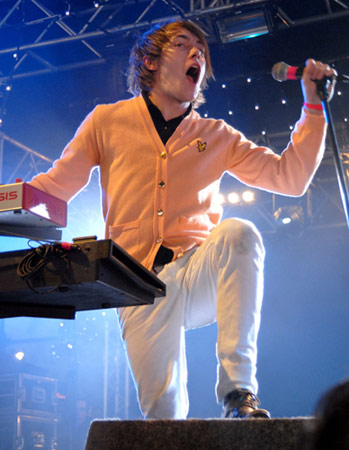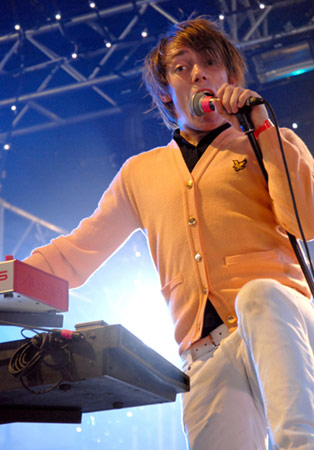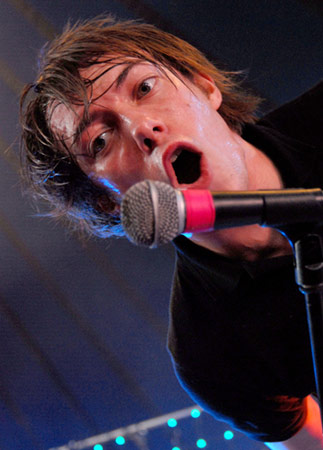 PRIMAL SCREAM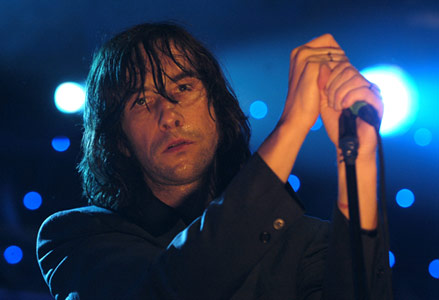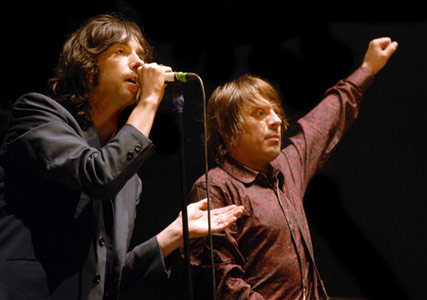 PLAN B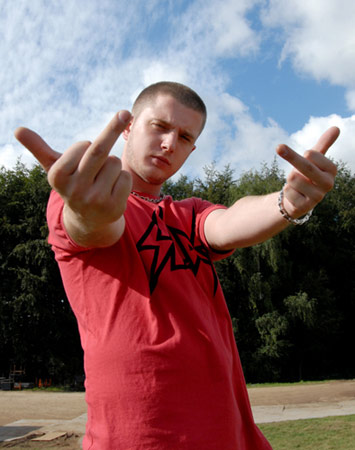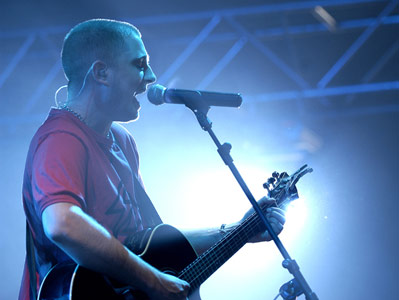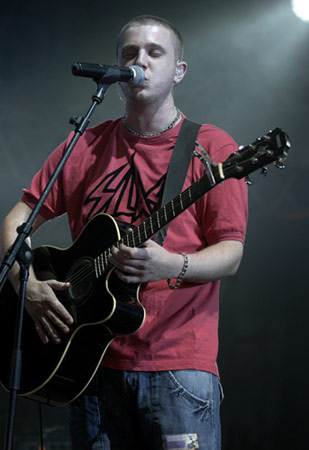 PEACHES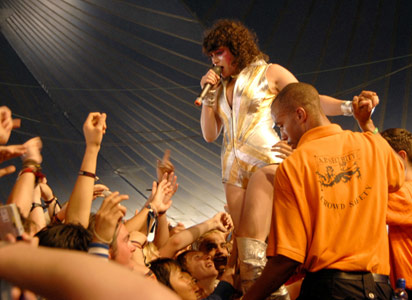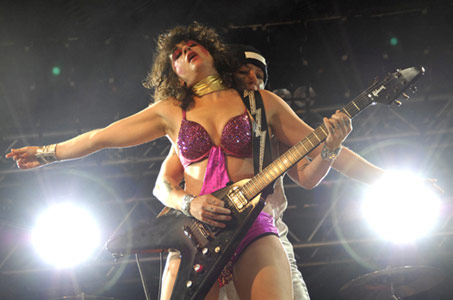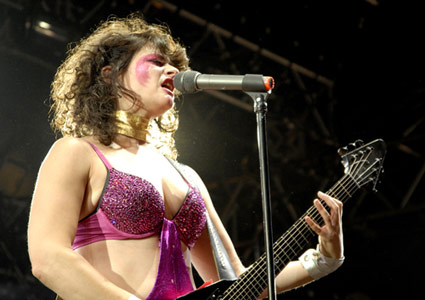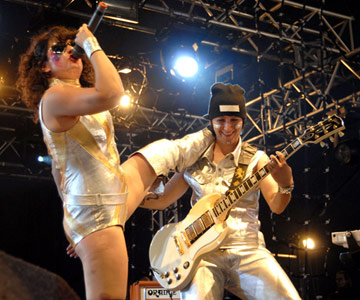 MAXIMO PARK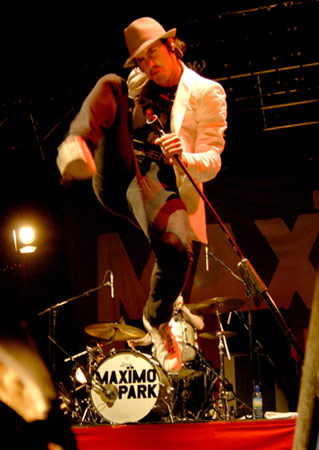 THE VINES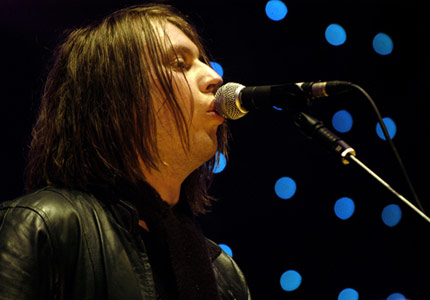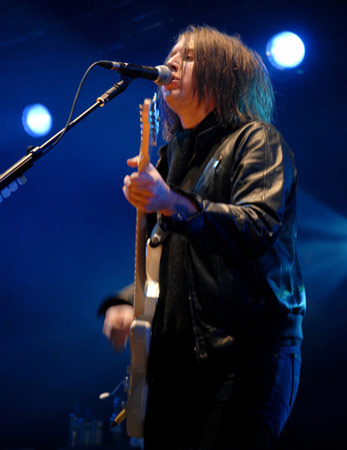 THE RAKES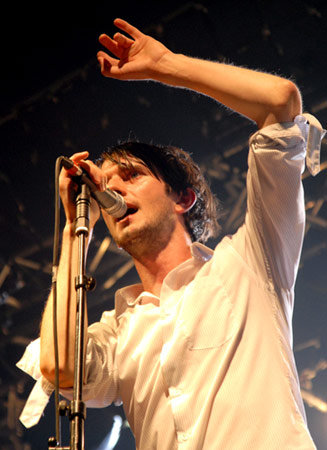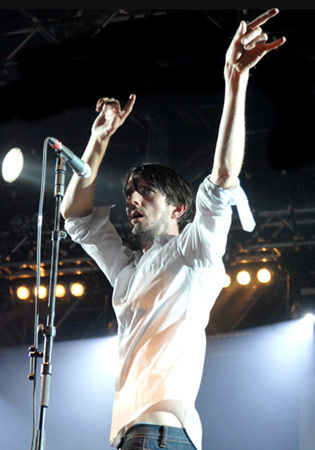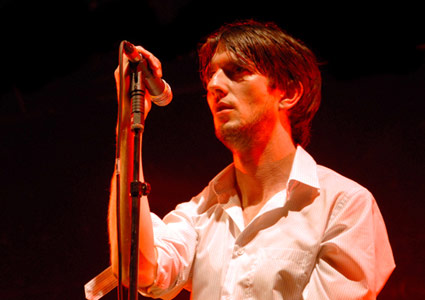 THE RACONTEURS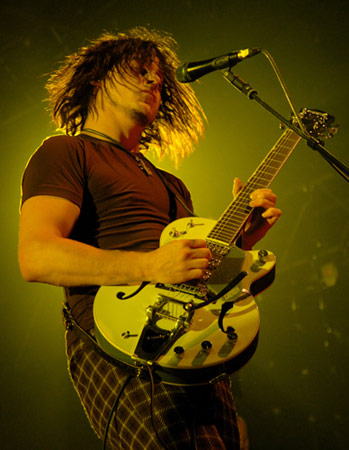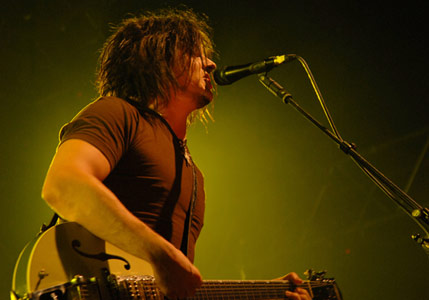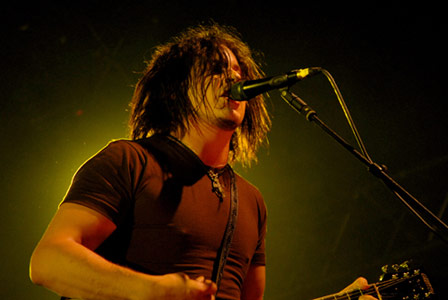 *****************
Click here to leave your Leeds Festival comments on the Message Board
(NB: The message board opens in a new window so please disable your pop-up blocker to view)
*****************