Lil Chris - Club Academy Manchester - 13.12.06
The last Manchester gig for Lil Chris was barely half full and disappointing album sales indicated that the idea of a one man (boy) Busted had been a hideously misconceived marketing meeting gone too far. After tonight though with a disparate audience of young kids and old punks rammed to capacity each discussing the musical merits of the album maybe Lil Chris will be around longer than we initially expected.
It doesn't really matter that the majority of people are too young here to spot the reference points of The Undertones (Checkin It Out), The Buzzcocks (Gettin Enough) and Elvis Costello (Turn It Up). Whereas Busted took the reference points of literally Blink 182 and a handful of pop-punk bands the writers behind Lil Chris have looked to the classics and while some people may say they verge on the pastiche it's opening up a whole new world of music to the kids and in truth it's probably more vital than most of the stale alternative music scene.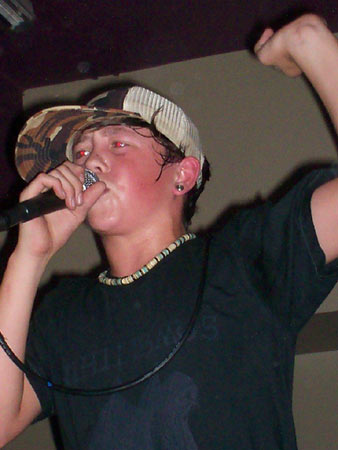 Unbelievably Designer Magazine didn't realize Chris was 16 until a couple of days ago when we read it in a local paper. For all we're looking at on stage the elfish rocker could be all of 12 and we're not sure whether the teenage girls down the front are screaming out of lust or the sheer ridiculousness of it all. A cover of Justin Timberlake's "Sexy Back" seems as wrong as it was for JoJo a couple of years ago to be talking about being "Not That kinda Girl", but musically it works as Lil Chris' backing band although looking like jobbing session musicians who'd rather have made it on their own back are competent at recreating the classic clatter of Timberlands original production.

The problem lies for Lil Chris is where else is there to go after this one perfect pop album. Sure there's enough classic songs to ramraid and rearrange and right now he's probably the most vibrant male popstar we've got, but what happens when he grows up and loses the "Lil" ala Lil Bow Wow and simply becomes another faded child star. Here's hoping the management team are already planning for the time when Lil Chris grows out of just being ickle Lil Chris

Alex McCann
Photos: Lisa Gresty

*****************
Click here to leave your comments on the Message Board
(NB: The message board opens in a new window so please disable your pop-up blocker to view)
*****************