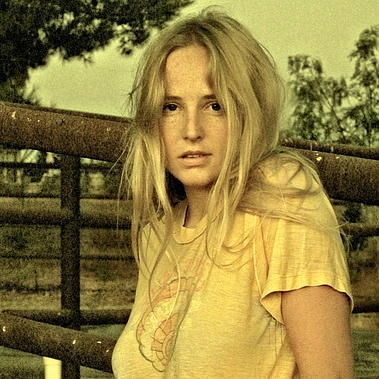 Lissie - Manchester Academy 2 - 27.10.10
When Karen Anne, lead singer and guitarist of tonight's support band Ramona, takes to the stage, I can't help but be reminded of Debbie Harry. Seeing as Lissie's gig is completely sold out and Manchester Academy 2 is absolutely packed, I'm relegated to the back of the venue and am watching Ramona through the gaps in between the two very tall people in front of me. And from this position, Karen Anne looks and sounds both uncannily like the Blondie singer, particularly in the way she dances around the stage belting out catchy choruses, backed by a solid wall of bass-driven, three-chord pop rock and guitar riffs worthy of 90s wonderful riot grrrls Bikini Kill. Comparisons to other great female-fronted bands aside, tonight Ramona do create a sound all of their own, and facing a crowd of people who are here for headliner Lissie and Lissie only, they do a splendid job of warming up the audience, particularly with closer 'Steve McQueen', an upbeat, über-cool palm-muted number reminiscent of old-school The Runaways.
Then Lissie and her band emerge, and Academy 2 positively erupts. Hailing from Illinois and christened Lissie Maurus, the singer-songwriter-guitarist cuts a diminutive figure on stage, but she possesses an astoundingly powerful voice, which is tonight practically note-perfect throughout. Kicking off with 'Wedding Bells', an achingly beautiful rendition of the Hank Williams' song (I'm arguing that it's superior to the original), myself and seemingly everyone in the audience are instantly enamoured. Lissie's country-tinged music should not be to my taste at all, but after hearing Courtney Love rave about her on Later With Jools Holland earlier this year, and then hearing Lissie's performance of 'Oh Mississippi' on the same programme, I was smitten by her voice and her incredibly personal, often biographical lyrics, as well as her endearing Southern charm.
In Manchester tonight she is a tour de force, playing a selection of her finest songs from her debut album, this year's 'Catching A Tiger', as well as a couple from the EP 'Why You Runnin'', complete with some carefully selected covers. Her banter with the audience is absolutely adorable, especially when she expresses her surprise and appreciation for the fact that tonight's gig has completely sold out, and has been so for a while. She makes a point of introducing her backing band, guitarist Eric, bass player Lewis and Stuart on drums, all of whom are faultless, and the male backing vocals compliment Lissie's feminine tone beautifully. Highlights of the set include 'When I'm Alone' (a definitive crowd-pleaser, which Lissie encourages us to sing along to, which I do, loudly), 'Here Before', a song which perfectly displays the singer's smoky voice, showing some hints of old jazz singer Julie London's sexy charm, and 'Bully', another favourite, belted out in fine style. 'Little Lovin'' is a chance to indulge in a more subtle version of stompin' and hollerin' country and western-inspired rock with a positively electric climax, which is always nice.
Single 'Cuckoo', an audience favourite, is practically a pop song, which is in no way a derogatory thing; if anything, it proves the range of genres Lissie's music spans. From bluesy opener 'Wedding Bells' to the almost gospel-like 'Oh Mississippi', there are arguably not all that many performers who develop such a massively loyal fanbase with an album and an EP full of country, blues, pop, folk, and who knows what else. It's a credit to the musician's lovely voice, incredible stage presence and passionate performances that she is managing to sell out venues up and down the country (even without a live version of her fantastic cover of Lady Gaga's 'Bad Romance', which, I won't lie, I was a bit disappointed about). However, as Lissie closes with a haunting rendition of 'Oh Mississippi' and a cover of Kid Cudi's 'Pursuit Of Happiness', I can't imagine a more fitting end to a perfect gig. Lissie is definitely one to be keeping an eye on from now on, because, as big as she is already, I'm sure that she's soon going to be huge.
Words: Ashley-Jane West

© 2000-2010
Designer Magazine unless otherwise stated.

All Interviews by Alex McCann unless otherwise stated
NB: Please seek permission before using any articles within this site
Contact us: designermagazine@hotmail.com