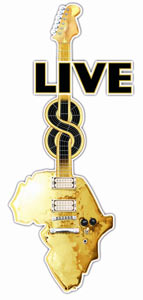 LIVE 8
Rock n roll stars have had a history of trying to change the world or highlight the plight of others less fortunate. In the sixties it was Bob Dylan singing protest after protest song and Marvin Gaye questioning "What's Going On?" In the seventies the punk revolution inspired the Rock Against Racism series of gigs and more recently bands as varied as REM, System Of A Down and Dixie Chicks have made known their opposition to the Iraq War.
Live Aid - The History
In the 90s it took one man's vision, Bob Geldof, who had watched in horror the footage the BBC broadcast of the famine and poverty in Africa. It was something that Geldof simply couldn't walk away from and then just carry on being an apolitical rockstar. Determination and hustling his way through organising Live Aid he infamously announced to the world a stellar line-up without confirming half of them and ingeniously informed them that is was up to them to tell the world if they couldn't play.
Looking back to some it was a great televisual moment shared by friends and family. To others it was a concert featuring the cream of British musicians (U2, David Bowie, Queen) and American talent (The Beach Boys, Run DMC, Madonna). To the people of Africa the help and aid that the Live Aid provided was monumental. Thousands of lives were saved and communities were rebuilt, but in the long-term the help could only act as a band-aid.
Live 8 - Making Poverty History
The Live 8 Events were sparked by Geldof's recent visit to Africa where he discovered the very real horror that 20 years later people were still living in abject poverty. This time the rallying cry of "We want your f**king money" was replaced by "We Want You" in order to put pressure on the 8 most powerful people in the world prior to the G8 Summit Gleneagles, Scotland.
With 10 events running simultaneously around the world in London, Philadelphia, Berlin, Rome, Paris, Tokyo, Moscow, Barrie, Johannesburg and an all African line-up at the Eden Project it was time where we put aside cultural differences to Make Poverty History. Linking up all the concerts Will Smith greeted each nation and emphasised why we were all watching
"Every 3 seconds a child in Africa dies. That's someone's son, someone's daughter"
Looking around Hyde Park in the midst of 150,000 people with the sunken faces as every 3 seconds they click and hear the haunting refrain of "Dead" is the most moving and disturbing sights your correspondent has ever witnessed. If you were one of the 3 billion people who watched the coverage around the globe it's easier to detach yourself from the issues and walk away from the shocking images and films that are played between each of the bands. In person, the mood is elevated above being just a concert, and none more so than the film highlighting an African's diet. While the western world eats plentiful amounts each night, often throwing away, or worrying about the Atkins Diet or the GI Diet or Low-Carb Diet we're reminded of the daily hunger of the African people:

· Leather is boiled until it infused in water - it's what they call soup!!!
· Clay is mixed with butter - it is what they know as cake!!!
· If soup or cake is not available the mother will boil stones in a pot while the children look on. When they ask when the food will be ready she calmly tells them soon…and does so until they fall asleep of hunger. They suffer the same hunger each and every night
As U2's Bono would say later on "8 people in a room on a golf course. We're here to make them know this is their chance to Make Poverty History"

Live 8 - Hyde Park - The Concert
It was a line-up that the likes of Blur's Damon Albarn had criticised for not being multi-cultural enough, but when Paul McCartney and U2 started the show with "Sgt Peppers Lonely Hearts Club" the cynicism faded away. Arguably the two most well known bands in the world coming together for a cause they truly believe in. Musically it stood up to expectations and within hours it the track was to break records as the most downloaded song ever in history. U2's blistering double whammy of "Beautiful Day" and "Vertigo" cleared the way for "One", a universal anthem for hope.
Chris Martin has been one of the most vocal musicians for the Make Poverty History campaign, but during Coldplay's set it was ex-Verve frontman Richard Ashcroft who stole the show on a duet of "Bittersweet Symphony". The band eschewed their British breakthrough hit "Yellow" in favour of the internationally renowned "In My Place" and "Fix You".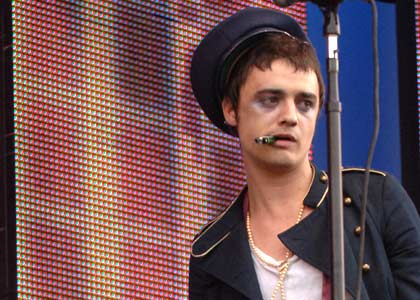 Elton John camped it up through "Saturday Night's Alright For Fighting" and "The Bitch Is Back" before bringing the iconic Pete Doherty on stage for a rough and ready version of T-Rex's "Children of The Revolution". Barely standing, Doherty flailed around the stage incoherently mumbling half-remembered lyrics. A shambolic dangerous, even inappropriate performance, but alongside the likes of Keane, The Stereophonic and Snow Patrol there was one man that proved the show was not just a safe journey through middle England.
Annie Lennox may not have been one of the immediately obvious choices for the line-up, but when the haunting ballad "Why" was played alongside images of young children born with HIV there wasn't a dry eye in the audience.
Legends don't come more highly regarded than the Queen Of Pop, Madonna. After Elton John's recent disparaging comments about her lip synching she came out fighting with 3 of her greatest hits (Like A Prayer, Music and Ray Of Light) which she sang live and managed to still put on a great pop show for her brief 15 minute set.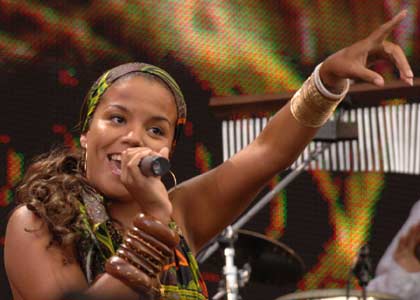 Despite the Philadelphia line-up boasting an impress array of black artists including Stevie Wonder, Alicia Keys, Jay Z and Destiny's Child, the UK concerts only featured Snoop Dogg, Ms Dynamite and the mixed race Mariah Carey. While the former two added an essential dynamic to the event with Ms Dynamite delivering one of the most powerful speeches of the event ("We are a nation that has tortured and killed the Third World for centuries. If there's a debt to be paid, surely we're the ones who owe it), Mariah Carey lived up to her diva reputation at the most inappropriate times. When children are starving surely any sensible person would realise it's not the time to introduce your personal masseuse and water carrier.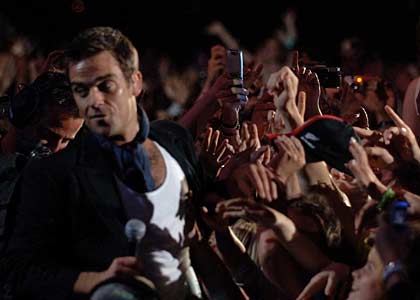 With the event over-running by nearly 3 hours, tube stations closed down at midnight and the people stranded in the centre of London people needed something special to keep them riveted after 10 hours in the sun. He may have been the most "lightweight" artist on the bill, but Robbie Williams certainly knows how entertain the crowd and after Mariah it was exactly what we needed. The ghost of Freddie Mercury lived on as Robbie walked his way through "We Will Rock You" with effortless ease before launching into an electric romp of "Let Me Entertain You". No stranger to large crowds, his own Knebworth gigs came close to matching the spectacle of Live 8, he is everything we should hate about our popstar - an ego bigger than mars, self-absorbed, variety show joker - but he has that vulnerable look that lets him get away with it.
The Who and Pink Floyd are polar opposites, but they both put on storming shows in adversity. Pete Townsend's last foray into column inches was for all the wrong reason. This year the reason all eyes are on him for guitar heroics that outshine any contemporary guitar player on the bill today (and that includes Guns'n'Roses / Velvet Revolver axe-man Slash). With just 2 songs to prove themselves the old members of the audience get to relive their youth and they also win over a new generation of fans. The very idea of Pink Floyd playing for just 15 minutes after 24 years apart seems one of the most ridiculous ideas ever born, but this is what Live 8 was all about - the endless possibilities not just for this moment, but the future. Feuds between Dave Gilmour and Roger Waters were put aside for the night as they played tribute to Syd Barrett with tracks such as "Wish You Were Here", "Money" and "Comfortably Numb"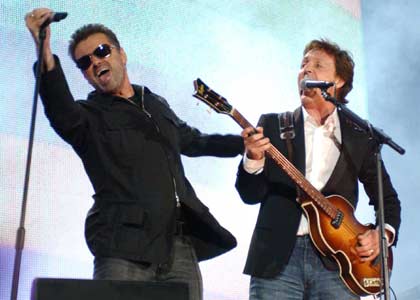 The show ended as it has started with Paul McCartney. With a host of Beatles songs to choose from he chose "Get Back", a touching plaintive "The Long & Winding Road", "Helter Skelter" and "Drive My Car" of which he was joined by George Michael. There was only one song that could truly end it the event and that was "Hey Jude" during which Bob Geldof, The Who, Pink Floyd, Mariah Carey and Annie Lennox joined the 150,000-member crowd to sing off the final message to the G8 leaders.
THE FUTURE
By the time this article goes to press the wheels will hopefully be set in motion by the G8 Leaders. It's going to be a long journey and signs of change will not be seen for years, decades and generations. Like Birham Woldu famously because a symbol of hope after the money raised from the original Live Aid managed to save her life when she was 10 minutes from dying, there will be signs that the world is making a real effort to Make Poverty History
Words: Alex McCann
LIVE 8 - THE FACTS
HOW MANY PEOPLE ARE DYING?
· 3000 People die every day of a mosquito bite - we can fix that
· 9000 People die every day from a disease like Aids - we've got drugs that can help that
· One in four African children die before the age of five
· Every three seconds a child dies from hunger, malaria or TB
UNKNOWN FACTS
· Most African countries have paid back what they borrowed
· For every $1 we give in aid, we take back $2 in unfair trade

For more info:
www.makepovertyhistory.org
www.live8live.com
******************
Were you at Live 8? Did you watch Live 8 on TV?
Who were your highlights of the day?
Do you believe the concerts will change things long term for Africa?
POST YOUR COMMENTS ON THE DESIGNER MAGAZINE MESSAGE BOARD
*******************