Lostprophets - Manchester Apollo - 20.11.04
Lostprophets are in a strange sense of flux at the moment where the dual pop / rock continuum got f**ked up in the blender to the point where only the band truly know who they are. If you'd seen the Prophets on one of their countless TV appearances you'd have a witnessed a band softened around the edges and morphing into the skinny tie look of the Strokes et all. Tonight though what they delivered was a rock tour de force that proved without doubt that despite the aesthetic grandeur at the heart of the Prophets is just a great rock band.
Arriving amid a blackout inducing light show reminiscent of Close Encounters, Ian Watkins stands tall at the back of the stage fist clenched. A gothic descending piano motif underpins the atmosphere as the slow build up until "Ride" kicks in. Swiftly followed by "Godzilla" it wasn't until "Shinobi Vs Dragon Ninja" that things really livened up. One of those songs ingrained in the heart of any rock fan under the age of 25 and alongside "The Fake Sound Of Progress" the Prophets calling cards. Some bands falter under the stress of touring but with the Prophets in that enviable position of being just one step away from headlining the Arena's you get the feeling that their dreams are just a grasp away and they're giving their all until it's realized.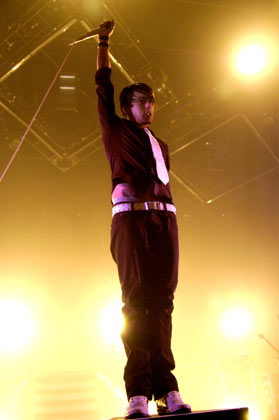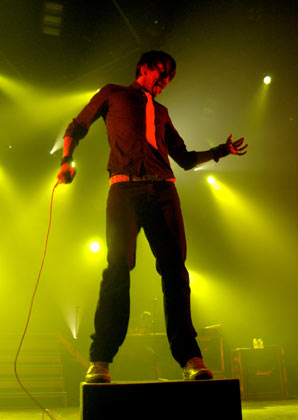 Watkins treads a fine line between effortless cool and effortless fool in the same way that Simon Le Bon does. His accent morphing in and out of the American-Welsh twang which many have criticized him for, but with Watkins it's all just about a good show. The rest of the band are starting to come into their own as well with Jaime loosely tagged as keyboard player, but probably more appropriately the Bez of the group running around the stage and bringing the vibes as well as occasional vocals.

Clearly tired of playing the debut album, it's the new songs that take centre stage. "Goodbye Tonight", "Last Summer", "Last Train, "Start Something" and "Burn Burn" naturally shine, but the album tracks add the hard-core screamo which it was clear some fans hadn't expected. With just 14 songs the set was maybe a little too short and there are questions as to why they didn't play some older material or even the covers versions of "Cry Me A River", "Sweet Dreams (My LA Ex" or "Reptilia". It's all fades into significance though when you consider that Lostprophets have just raised the bar and put on the best british rock show since Muse last toured. Just wait till the Arena beckons next year!!!

Words: Alex McCann
Photos: Shirlaine Forrest www.shirlainephotos.co.uk

*****************

Post your Lostprophets comments / reviews on the Message Board
(NB: The message board opens in a new window so please disable your pop-up blocker to view)
*****************