Lostprophets / Kids In Glass Houses - Manchester Apollo - 3.7.06
A matter of hours before Kids In Glass Houses take to the stage Designer Magazine is chatting to Lostprophets guitarist Lee Gaze who suggests there are members of Lostprophets who'd like to set up the UK's answer to Fuelled By Ramen and support some of the local talent that the British rock press ignores in favour of our American cousins. It's a nigh on certainty that the time this label eventually happens that Kids In Glass Houses will be signed to it, if in the meantime a plethora of labels haven't come knocking at their door before hand.
To date the band have only played to a couple of hundred people a night that have discovered the band through word of mouth and their exhilarating live shows that have become a thing of legend. In a few days they'll have played to over 15,000 people across 3 shows with the prophets and in the days leading up to this review going to press their Myspace account is buzzing with repeated plays and new friend additions. Now just step back and remember that this is a band without a manager who wouldn't know what a street team was if it was spelt out in bi-lingual roadsigns and have got where they are because of great songs and the fact the Prophets believe they're going to go all the way.
"Me Me Me", the lead song from the bands forthcoming EP sounds a little like the Prophets themselves, but could quite easily saddle next to The Automatic as a modern indie-dance crossover. More importantly it's got a unique sense of British quaintness at the same time as having huge tunes that could sell more than the likes of All American Rejects and anything the US can throw our way. "Easy Tiger" has a driving beat backed by lush Beach Boys harmonies last seen when Silver Sun and the Montrose Avenue were harmonizing their way across the country. As their influences state on their website it's sunshine, barbecues, ben and Jerry's and venga raves - what more could you ask for in your favourite rock band!!

Pic: Kids In Glass Houses
The boundaries are obscured between what makes a brilliant pop band and what makes a brilliant rock band and 2006 was the year that Lordi smashed eurocheese on Eurovision and that Rock School was watched by as many people as X Factor. More importantly it was the year that Panic! At The Disco, Head Automatica and Men Women and Children embraced pure pop, but the pivotal moment surely was when Lostprophets went straight into number 1 in the album charts a few days previous to this gig.
Naturally being their first tour in 2 years there's a tremendous sense of anticipation for this tour of glory. For those who have been there since the early days of "Shinobi Dragon Ninja" this is their musical equivalent of United picking up the treble and while a few stragglers have left the fold complaining that Ian Watkins dancing has become worse than Simon Le Bon's and they've become far too commercial (yadda yadda the same scenester bullsh*t) there's the undeniable fact that Lostprophets rock harder than most despite their overtly pop leanings.
With the Prophets so ingrained in the subconscious at times its hard to remember what are the old songs and what are the new tracks because "Fake Sound Of Progress" still seems amazingly fresh after all these years. It's easy to forget at the time they were slated at a nu-metal band that would disappear as soon as the scene did, but all these years later they're stronger than ever and the tunes have survived the test of time. Similarly newer tracks such as "New Transmission" and "Town Called Hypocrisy" although harder edged tonight are as much drawing on their old influences such as Duran Duran and the odd cheesy Bon Jovi moment as if they are trying to fit into the current zeitgeist of 80s synth rock.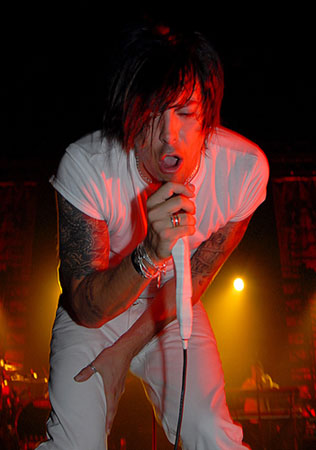 It's recent single "Rooftops" that really stands out as the highlight and with each successive album fans will be looking for a successor that's unlikely to come. At the same time as being derivative it's just a well written tune that has tapped into the subconscious as a big dumb rock ballad with a chorus which stands out from the very first time you hear it. One of the highlights of the recent Give It A Name festival where they debuted the track in Manchester this is probably not only the best tune Lostprophets have written but one of the best tracks of this decade.
A small minority think Lostprophets are too damn sexy for their own good and walked away from the band after the first album. It's their loss as tonight the band put on their career defining show which shows just how far the band have moved on from those early tours.
Alex McCann
Photos: Shirlaine Forrest www.shirlainephotos.co.uk
*****************
Click here to leave your Lostprophets / Kids In Glass Houses comments on the Message Board
(NB: The message board opens in a new window so please disable your pop-up blocker to view)
*****************
---
Tickets for Kids In Glass Houses @ Star & Garter cost just £5.50 plus booking fee
(We've chose wegottickets.com to sell the tickets through as they only charge 55p booking fee rather than nearly £2 like ticketline)
Only 100 tickets have been put on sale. To Buy Tickets click the flyer above or here
*****************
Click here to leave your Lostprophets comments on the Message Board
(NB: The message board opens in a new window so please disable your pop-up blocker to view)
*****************

---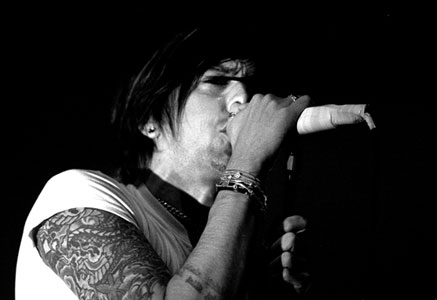 LOSTPROPHETS & KIDS IN GLASS HOUSES PHOTO GALLERY
---