Mark Owen
We've had some pop shockers in the past at Designer Magazine from Damage claiming they were going to collaborate with Starsailor through to Busted savouring the sounds of Elbow and Granddaddy. With Mark Owen though he has previous form with a great indie pop album in the shape of "Green Man", so when he states that his demos for his forthcoming second solo album sounded like early versions of the Darkness and the Flaming Lips it's easy to believe him. Add in the fact that he's been working with Ian McCulloch, Bernard Butler, Arthur Baker, indie also-rans Voy and Roni Sizes drummer and all it makes sense. We caught up with Mark for a chat about the end of the world, suicide, parent advisory stickers and the usual pop chatter.
Q: The single "Four Minute Warning", a song about the end of the world. Your usual lyrical subjects in pop than Mark?
A: I'm good about that kind of stuff really. My last single "Clementine" was about suicide and this is about the end of the world - I need to get some happiness in my life!!! It is about the end of the world and that's where the idea of the song started from, but for me it's on a few different levels. It's also about time and the fact that when people hear the song I wanted them to think about what they were doing and whether they are making the most of it. The nice thing about the people in the song is that they're all living their dream or doing exactly what they want to do.
It's a down subject, but it's quite a positive song. There's a nice though in the fact that if there was four minutes left everything would become very equal and there would be no barriers amongst people. Everybody would be in the same situation whether that's a rich lawyer somewhere or the bloke outside his office begging for money - everybody would knows that that would be it and I kind of like that thought really.

Q: An old hippy notion then?
A: Well I suppose it is a little bit, but more realistic I think than hippy. I think at the same time people would be smashing windows, robbing telly's and setting fire to things as well but it wouldn't really matter I suppose.

Q: When you were around last time with "Green Man" popstars with guitars were quite a rarity and now there's Busted, Darius and Avril. The pop landscape has changed quite a bit hasn't it?
A: I suppose so. With "Green Man" it was quite a different move for someone to come out of a band like Take That and do something like that. It was an exciting thing for me though. I recorded at Abbey Road studios with a great producer John Leckie. I don't know if music has come on since then because you can put guitars on a song and it can still be crap song to be honest.

Q: When the album was released it was critically acclaimed as a great album whereas Robbie's was pretty much forgettable apart from "Angels". Does it still amaze you how it went for both of you?
A: No, I think that's the beauty of life and magic of life is that maybe fate takes course. The thing is when you make a record and you do the best you do, but then you pass it out it's up for other people to decide what they want in their life and what kind of thing they want to listen to. More people wanted to listen to Robbie and I haven't got a problem with that because if more people wanted to listen to me they'd have gone out and got me.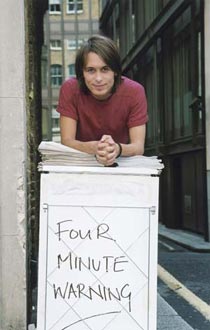 Q: You were reaching out to a new audience at the time though. As well at the Take That fans most of the people I know are indie kids and few could deny that "Green man was a great album.
A: When I listen to "Green Man now I do think there are 5 or 6 great songs on there that I'm really proud of, but when I listen to it now I still hear the guy who was in Take That who used to do the low harmonies and was then doing lead vocals - maybe other people can't but I can hear my fear.
I think the good thing about myself musically is that I song wise I only can write what I feel and after the "Green Man" album I went off a little bit into prog rock, like an early version of the Darkness for a while. I was finding my feet and it took me a few years to come round and find my feet again and find a place that was comfortable for me. I had to take it as far away from the whole Take That thing initially to come back and see where I wanted to be musically.

Q: Weren't you were working with legendary New Order producer Arthur Baker for a while in this period?
A: I went into Rockfield Studios in Wales and recorded 6 or 7 tracks. I've been very lucky and worked with some great people. Arthur's like a big lion and we spoke a few weeks ago about a track we did. It's going to be on the album in a slightly reworked version.
The Arthur stuff was sounding a little bit like a Flaming Lips kind of vibe and we had the drummer who played with Roni Size, a band called Voy from Liverpool were doing guitars for us. It was quite a assortment of musicians but the sound we were going for was quite a widescreen sound. I suppose now it's a bit more poppy to be honest and a bit more straightforward and on a hole the albums live kit and stuff with a few loops thrown in.

Q: Is that what you were listening to over the years then. The Flaming Lips through to an obscure indie band such as Voy?
A: It's kind of where my musical tastes lie. I've always been a big Radiohead fan, The Flaming Lips, Boy, Rufus Wainwright, Jeff Buckley - if you look through Q's 100 Albums of all time I've probably got them all.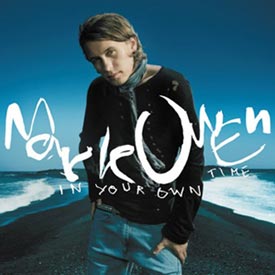 Q: I've been playing the new album "In Your Own Time" for the past week. Are we going to get a parents advisory sticker for "Kill With Your Smile" to warn of the Mark Owen in expletives shocker?
A: You don't expect that do you. I've got another track that I wanted to put on there as a hidden track and it's far worse than saying the f-word, believe me. I think when you're writing a song and you get into a vibe lyrics sometime flow so it felt like the right thing to say. The record company haven't actually mentioned it to me, I expected when I delivered it to them for them to mention maybe that's not a good idea, but maybe they haven't got to track 3 yet.

***********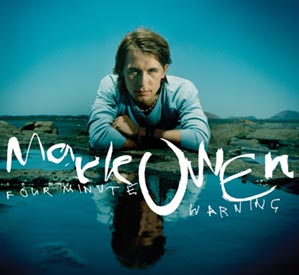 "Four Minute Warning" is out now
A short tour for September is expected to be announced soon
For more info
www.markowenofficial.com
***********
**********
Post your Mark Owen reviews / comments on the Message Board
**********