Mark Owen - Manchester Academy 3 - 31.3.05
It would have been an audacious manoeuvre, but for the first 3 songs of Owen's set it really seemed like he was going to do what Brian Wilson did with "Smile", a live rendition of the whole album from beginning to end with none of the shuffle nonsense of the IPOD generation. Despite the fact that Owen looks all of about 16, he's of the generation that still remembers the long player, which explains why the new album "How The Mighty Fall" is 10 tracks with none of the bonus tracks bollocks.
"They Do" and "Sorry Lately" are quiet affairs with Mark looking nervous and afraid. Up close & intimate with nowhere to hide it shows as he cradles the mic and contorts his face like an uber-cute version of Thom Yorke. On the 3rd track, an energized version of the single "Makin' Out", the crowd erupt and Owen feeds off their energy. The barbershop harmonies of the verses lead up to the spacial chorus where Owen's arms start flailing. "Clementine", a golden oldie at this stage of his career, raises the temperature further before leading into the classic "Kill With Your Smile" from the "In Your Own Time" album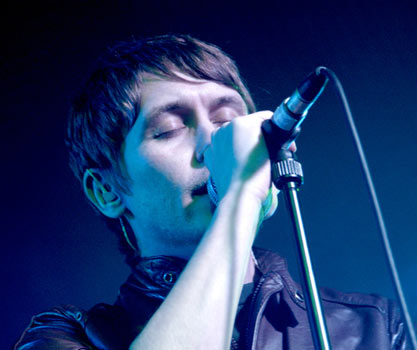 Earlier in the evening when I met Owen, he was laughing about the fact he'll always be uncool. To look at him now it couldn't be further from the truth. With a haircut as cool as the Killers or the Bravery and a tight leather jacket befitting of the Strokes he's the sort of indie pin up boy you'd see strutting round an city centre. Musically he couldn't be more different though. Newer tracks are eclectic but fit together, whether it's a country twang on the ballads or indie funk. While on record it reminded us of an organic Scissor Sisters in spirit, live the closest reference point is american singer songwriter Jason Mraz.
The only criticism is he left out classic Mark Owen moments such as "I Am What I Am" and the Jeff Buckley-esque "Baby, I'm No Good". Still like all the great's, he left us wanting that little bit more. At this small intimate gig Owen shone and there's no reason why he can't rise again and work his way up to larger venues with time.
Words: Alex McCann
Photos: Shirlaine Forrest www.shirlainephotos.co.uk
*****************
Click here to leave your Mark Owen comments on the Message Board
(NB: The message board opens in a new window so please disable your pop-up blocker to view)
*****************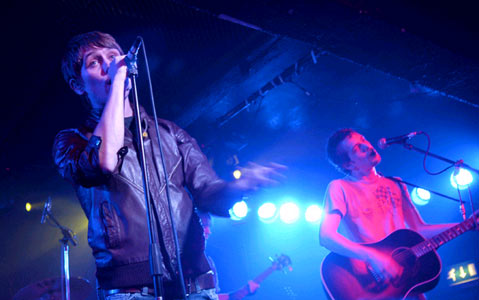 (Pic: Is it Mark Owen and Chris Martin sharing the same stage?)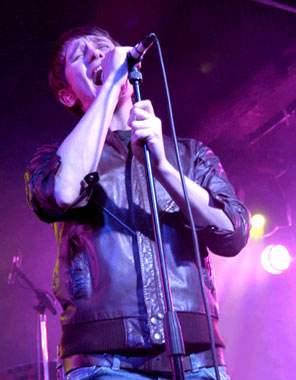 (Pic: An emotional moment for Mark)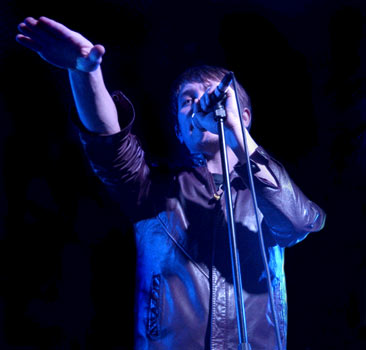 (Pic: Kylie's about this tall)