McFly - Manchester Apollo - 1.10.04
McFly aim for the heights of the Beatles and the Beach Boys, but sadly the live experience comes off somewhat more akin to that of the Bay City Rollers and Showaddywaddy. It's just a little too nice and whereas Busted have that unpredictable pop-punk edge with a twist of irony, Danny, Tom, Harry and Dougie look like they've been transported straight out of a Ready Steady Go TV Performance.
Still when you're 13 this is all irrelevant. John Lennon is probably seen as a bit like Gary Barlow, the serious songwriter type when all you wanted was the bit of fluff of Paul McCartney / Robbie Williams. McFly are barely audible from the moment they walk on stage with the crowd drowning out much of the brief one hour set. Working their way through the "Room On The Floor" album they deliver the hits "Obviously", "That Girl" and tonight's closer "5 Colours In Her Hair". Local boy Danny Jones moment in the spotlight for "Not Alone" is one of the highlights of the set. The song is perhaps bigger than the band know themselves and whereas the rest of the set is perhaps a little too derivative to be taken serious by "real music" fans this song is a classic rock song which the likes of Def Leppard, Bon Jovi or Whitesnake would chop their right arm off for. Harking back to what they know best the band take on the Beatles "She Loves You" and come out sounding more convincing than the Bootleg Beatles ever have.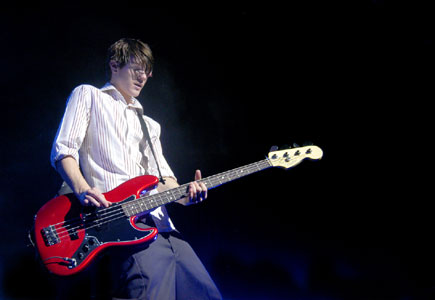 The problem with McFly is not the songs themselves, it's the fact that they've been thrust into the spotlight so quickly that they haven't had the chance to let their personalities shine. The boys look dumbfounded half the time as to exactly how they've got to this stage so quickly and hence what we get is this affable but bland display on stage typical of any other boy band. When Busted we're at this stage of their career they wore jeans with "rock & roll suicide" daubed down the legs and started off fights with Girls Aloud or anyone else in their way. Similarly V seem to be a bundle of energy and you have to ask how far will good songs and interest in Dougie's "poynter" take McFly before the interest begins to wane
Words: Alex McCann
Photos: Shirlaine Forrest www.shirlainephotos.co.uk
*****************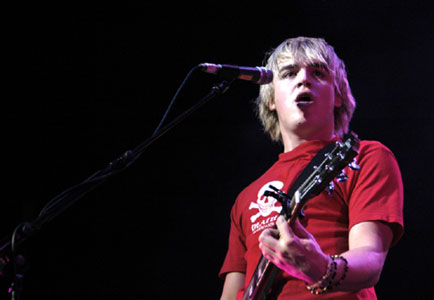 Post your McFly comments / reviews on the Message Board
(NB: The message board opens in a new window so please disable your pop-up blocker to view)
*****************
V - Photo Gallery
The Might V supported McFly on selected dates of the McFly tour, so Designer Magazine sent photographer Shirlaine Forrest down to the Newport date to capture the best of the boys in action. Here's a small selection of photos from the night.