(Arctic Monkeys vs Scritti Politti)
Nationwide Mercury Music Prize 2006
On the eve of the Nationwide Mercury Music Prize winner being announced Designer Magazine brings you an exclusive interview with the prize's Director Kevin Milburn. Prior to being involved with the Prize he started off writing reviews for Manchester University Newspaper before getting involved in music PR and sub-editing trade magazines.
Below he explains how the Mercury Music Prize comes together, the myths and fallacies behind the prize and why he's personally backing a virtual unknown to the younger generation of music fans above the likes of Arctic Monkeys and Thom Yorke of Radiohead. There's also the tantalizing tease that in a number of years we could see the Unsigned Nationwide Mercury Music Prize
Q: What does the Director of the Nationwide Mercury Music Prize do?
A: Essentially bits of everything. Obviously we just had the shortlist announced a few weeks ago so the whole production side goes into that. There's a team of four of us here who all share the tasks out, but essentially there's the launch of the 12 albums, the production of the main show on September 5th and before that working out way back there's the actual getting the albums in from all the record companies, appointing the judges, having the meetings leading up to the shortlist being announced and once the shortlist is announced there's the media side of things, the retail campaign with the record companies and your HMVs and Virgin getting behind the 12 titles.
And when we're not doing that during the winter months we do an art competition for students which is run with all of the university's and art colleges and encourages artists to come up with a painting or sculpture inspired by the theme of music. Of the 50 finalists from that we set up an exhibition in London so it's pretty good fun doing that as well.

Q: And what did you do before you got involved in the Mercury?
A: I did a bit of subbing on the music trade mags. I worked on a music industry exhibition and conference that ran for about 6 months or so doing marketing and PR on that. Before that I did a Media Culture Masters and specialized on "The Political Economy & Aesthetics Of Popular Music" and did a dissertation on David Sylvian of Japan. That was post-grad and before that I did a load of music reviews for University of Manchester newspaper. I've always been involved in music it must be said.

Q: The thing about the Mercury Music Prize is that the judges have always been shrouded in secrecy haven't they?
A: (Laughs) I'm not so sure about secrecy. We tend to keep it fairly quiet before the actual announcement is actually made because we don't want them being hassled by labels and media asking who they like and all the rest of it. But it's on the compilation CD we put out and we announce them at the show which is on BBC4 on the night with highlights on BBC2. So it's not so much secrecy - we just don't tell people at the exact time they'd perhaps like to know. A lot of them do interviews on our behalf, like Lauren Laverne from XFM.

Q: How do you decide who is on the judging panel each year?
A: We usually keep some of the judges from year to year for some continuity in the process. But essentially we tend to get people on there that listen to a wide range of different music, that are very open and receptive to a whole range of styles. They can't have direct involvement in the records so it can't be anybody from retailers, record companies or music publishers.
It's different people who have different tastes / different backgrounds so there will be some who are more into indie, some who are more into folk and jazz. It tends to be a good spread on there and we tend to make it not too London centric so we have people from the Glasgow Herald, a guy called Dean Jackson who does a really good show for BBC Nottingham, people involved in music teaching and academia and then we have some execs from Radio 1.

Q: Looking at this years shortlist of albums would you say it's more streamlined, more NME friendly list for the indie kids with the likes of Arctic Monkeys, Muse, Thom Yorke, Editors, Guillemots, Lou Rhodes?
A: I'm not sure about Lou Rhodes. I'm sure Lou would love to be in NME to be honest. I think different people interpret the list in different ways. To be honest the criticism we've had this year is the opposite, that there aren't enough bigger names that are known to NME readers and we've gone for the Zoe Rahman's, Lou Rhodes and Scritti Politti's and so on. Perhaps slightly lesser known artists compared to some of those bigger bands that are playing all the festivals.
Last year certainly it was, to use a phrase, NME friendly when you had about 5 or 6 indie bands in there when you has Magic Numbers, Hard Fi, Bloc Party and Kaiser Chiefs. It was a really strong year for indie guitar last year and I think this year it's slightly more singer-songwriter based if anything. Isobelle Campbell, Richard Hawley and Thom Yorke.
I think it's quite fun to have a slightly different flavour to the list each year. I think if it was of a type each year then it would lose some of it's appeal and element of surprise and so on.
As long as it gets people talking about not just what is on the list, but what isn't on there it can only be doing a good thing cos essentially we're trying raise the profile of music itself as much as anything, because obviously there's increasing competition from DVDs, games and so on, so I think as long as people are saying why is that one there and not this one at least people are engaging with it and talking about music and the albums. That's what it's all about - from beginning to end do these actually work as complete albums and the album as an artform.

Q: How many albums is the shortlist whittled down from?
A: It's was just about 200 this year. A few more than the normal. I think at this stage last year Antony & The Johnsons was relatively unknown so I think the fact that he went on to win it probably encouraged a few people from that type of music to have a punt. And also Seth Lakeman did very well out of the process last year as well.
I just think in terms of how the industry's working as well. It's becoming much more straightforward for people to record relatively cost efficiently these days and to actually get albums out there compared to how it was 5 or 6 years ago.

Q: How do you feel the prize is relevant to one-off download singles and Ipod Shuffles. Younger people don't necessarily listen to an album from beginning to end anymore?
A: I don't know because album sales still seem to be going pretty well despite all that. I think what is actually coming out of that is increasing people are discovering tracks, but then there discovering tracks and wanting to know more about those people that have done those tracks. People might come across Joy Division for the first time on an MP3 that someone's sent over to them and I think people are finding out for themselves a lot more about these artists and becoming a lot more curious about what's out there. People not being dictated by quite so much about what certain gatekeepers might want them to listen to.
There's so much music out there. I think A) It's increasing their curiosity and B) Something like the Nationwide Mercury Music Prize is quite helpful in that respect because people are spoilt for choice right now so anything that provides a list and provides some guidance and assistance. People walk into record shops right now and are bombarded by so much stuff and the list takes an overview of the previous 12 months and isn't hung up on midweek's or what's come out in the last 6 weeks. So we can go here's this record by Richard Hawley that came out last September, you may have missed it when it came out, but give it a go cos it's really good stuff and it may not have been picked up by radio.
So people might download a couple of tracks by Richard Hawley or Scritti Politti, like it and then going out and buying a full album. Whereas before perhaps some of those artists if there wasn't a single around people wouldn't have actually been willing to take that chance of that album because of the price of an album.

Q: We had a debate on message board recently about music have become devalued in comparison to other things. Previous generations would literally save dinner money or pocket money up for an album, whereas now kids will download music for free but think nothing of spending £20 for a belt instead of a CD?
A: I think that's a separate discussion, but yeah I think that is a problem. I think in terms of what we have here they are slightly more grown up records if you want to put it like that. I think they are records that people would want to own the album with beautiful artwork and a lot of effort that has gone into these recordings. It's really shows as the saying goes that it's not just a couple of singles and a lot of filler, these are really good records from beginning to end.
I think if you are giving people, it's a horrible phrase, but a decent product, then they will be willing to pay. In the past there has been an attempt to fob people off with 2 or 3 songs and rush things out. If you do that obviously it does devalue it and mark down the price and so on. These one's though - they're well worth a tenner of anybody's money!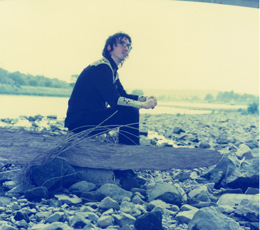 (Richard Hawley and Lou Rhodes)
Q: Going on to the recent Independent article on "The Curse Of The Mercury Music Prize"?
A: (laughs) We've had two or three in the Independent. We had a couple a fortnight before praising us because one of our judges works for the Independent and I think the Curse Of The Mercury was trying to balance out their editorial stance. I went into XFM recently and did some interviews with them and talked about how this so called curse has been lifted with bands like Franz Ferdinand who have done pretty well since they won and Antony & The Johnsons recently headlined the Latitude Festival. And people like Primal Scream, Suede and Pulp and so on it didn't seem to do them much harm.
It's one of those tricky ones isn't it? All were saying is that these artists have made a great record, if they then go on to make subsequent great records then brilliant but perhaps this may be the best album that that artist ever does. It's the same with the Booker or the Turner. We're not clairvoyants and we're not saying this is an album to watch for the next 25 years. We're just saying here is an album and our judges think it's really good and we'd recommend you listen to it.
Certainly anyone who's ever won is still making music. Invariably they're doing music that might be slightly hidden from the mainstream view. People like Talvin Singh are still doing interesting creative work, but someone like Talvin was never going to command a huge mass audience. There's no reason for that artist not to win a prize such as this because we're just judging the music not the sales.

Q: Is there anyone over the years that have been nominated by the judges that you've thought shouldn't be in there?
A: Erm.....yes. But I think that's the whole joy of it really. You look at lists such as this and again i'd widen it out to the likes of the Booker, Turner, Whitbread, Grammys and you think why is my particular favourite not in there. I think that the ones that have come up on the whole have been pretty stimulating. You can usually see why albums are on there and sometimes you can respect an album on there even though it isn't to your particular taste.

Q: What's the tension like on the night itself trying to pick the final album?
A: On the night there is, much more so than on the shortlist because it's a fairly reductive process and you're doing down from 12 albums to 1. That does get quite fraught, but at least it shows that people care and they're suitably passionate about the different records. It's always really hard to pick one overall winner. I mean we promote all 12 as the albums of the year and then there is one overall winner but in a sense there like Man Of The Match or Woman Of The Match because we don't see them as nominees - we do see them as albums of the year.

Q: You do get the impression that is swings from one direction to it's opposite so with that in mind it does seem that the Arctic Monkeys this year is the opposite of Antony & The Johnsons?
A: Yeah, but then I guess we had 2 Urban winners in a row recently with Ms Dynamite and Dizzee Rascal. I think they won in subsequent years. I don't really think they think like that to be honest particularly as we have different judges on and Antony last year was such a one off that it's not like there is anyone this year that sounds like Antony. I think the beauty of Antony was it sounds like nothing else.
The odds this year have been the closest yet with the rank outside being at 9-1 which isn't really a rank outsider. It will all be a battle for them on the night.

Q: Have you got a personal favourite amongst the albums?
A: I'm always quite pleased when they pick one of the older acts on there. I was always a huge fan of Scritti when he was around first time round. Even his last album which was out about 6 or 7 years ago I thought was a really great record that introduced me to Mos Def and a lot of the American Hip Hop people purely because he's worked with Miles Davis and Robert Wyatt.

Q: Obviously you do the music prize and the art prize. Are there any plans to expand the brand to other fields?
A: I think we'll just stick with the music and the art for the time being. They go together very well. Jarvis Cocker's doing a series at the moment on Radio 4 about the link between music and the art schools. He goes back a long way with The Kinks and Roxy Music and in the States Talking Heads and through to bands like Franz Ferdinand. It's a proud heritage and invariably more musicians have actually gone to art school than music school.

Q: I've always felt that it would be good for the Mercury to have an Unsigned Branch of the Prize where it's strictly based on judges choices than street team voting as many of the competitions seem to be about now?
A: It's something that we've talked about and that people approach us about from time to time. Invariably some of the artists that we're dealing with are not unsigned, but they are at a level of public profile that is almost equivalent to being unsigned. Seth Lakeman was on his own label and even a band like the Delgados a few years ago was an artists owned label.
There is a glut of unsigned band competitions at the moment and we're almost remaining separate from that sphere at the moment. It's still in it's infancy at the moment, but it will be interesting to see how that path develops.
****************
More info on the Nationwide Mercury Music Prize
www.nationwidemercurys.com
****************
*****************
So who do you think will win?
Will Scritti Polittie steal it away from the Monkeys?
Click here to leave your Nationwide Mercury Prize comments on the Message Board
(NB: The message board opens in a new window so please disable your pop-up blocker to view)
*****************