Designer Magazine Xmas Shopping Guide 2004
Just take a moment to think about it. Out of all your personal possessions what defines you more than your humble T-shirt collection? Jeans are two a penny and the ones bought in supermarkets look much the same as designer labels, a coat is dumped when you go into most nightclub's or bars and the smart casual look of shirt and trousers is disqualified because it's the default look of 20-30 something males around the country
So were left back with that quandary of the T-shirt and what it says about you as a person? Wear a certain label and you're labelled a chav, wear a band T-shirt and you're either labelled a punk or an indie schmindie kid. What makes More T Vicar so special is the range of T-shirts of both diverse and original as well as appealing to a cross section of people from students to trendies.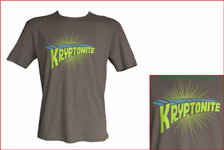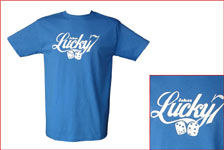 (L-R: Chunk's "Kryptonite", Jakes "Lucky 7")
MENS DESIGNER
Featuring ranges from 16 different designers to cover all tastes, the most well known of which is the Teenage Millionaire range. While many of you won't know the name itself, you'd have had to have been hibernating to escape the "Jesus Is My Homeboy" slogan over the past 2 years as worn by the likes of Madonna and Brad Pitt. If you're looking to emulate the celebrities and worship at the Temple of Beckham then the "Lucky 7" design by Jakes will be familiar to you.
Our personal favourite men's range at Designer Magazine is Chunk which takes us back to retro heaven across a variety of designs featuring Hong Kong Phooey, Gremlins, Darleks, Ant Hill Mob and Evel Knievel. Car fans will also love the Mini, Beetle, Jaguar MkII, Camper Van and Firebird t's.
Other Designers include Daddy, Dusted, Pure Evil, Rude and UniForm amongst others.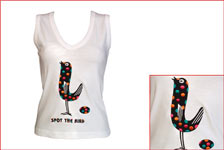 (L-R: Choosie's "Spot The Bird" Tank, Soochi "Crossroads" Vest)
WOMENS DESIGNER
With 17 different Designer ranges in the women's section the female of species have some overlap with the Teenage Millionaire, Chunk, Dusted, Pure Evil and Rude ranges as well as some specialist designers. Hustler has been going strong since 1974 and is still as popular as ever, while relatively new label Fugue set up in 1999 and is popular with Japanese fashionistas.
Choosi and Soochi offer something different with 2 more sophisticated set of vest designs for those who want something a little more than retro kitsch.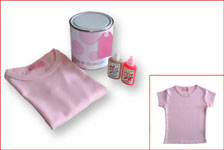 (Bob & Blossoms "Paint Your Own T")
KIDS AND BABIES
As well as catering for adults More T Vicar also have a range of T-shirts designed exclusively for kids and babies. The most exciting of which are Bob & Blossoms "Paint Your Own T" range that are meant for kids, but will probably end up being stolen by the adults and they take the can do attitude to fashion designing.

(Mickey Games Bag)
BAGS
More T Vicar also offer a range of bags from the cutesy Mickey and Donald, the retro kitsch of Portobello and the innocent Aqua Petal. Priced between £12 and £40 these bags offer more than you could possibly imagine.

CONCLUSION
With so many other T-shirt outlets offering the same old range of T's it makes a change to find somewhere like More T Vicar that offer individual T-shirts at an affordable price. Delivering within 5 working days in the UK (they also offer a next day delivery service for urgent orders), 5-10 days in Europe and 8-12 days in the rest of the world More T Vicar offers a flexible and reliable service.
Words: Alex McCann
***************
For more info and to purchase T-shirts from More T Vicar
www.moretvicar.com
***************
*****************
Post your comments / reviews about the More T Vicar Range on the Message Board
(NB: The message board opens in a new window so please disable your pop-up blocker to view)
*****************