Move Festival - Old Trafford Cricket Ground - 10.7.04
Stereophonics / The Pixies / Goldfrapp plus support
After what could only be described as one of the most depressing gigs ever the day previous at Move we needed some bands that were more uplifting that The Cure, Elbow et all. Despite its position as an Urban Festival we were desperately in need of some comedy hats, drunken louts and a bit of debauchery and although the Stereophonics crowd are unlikely to wear anything but denim, faux designer labels and the odd Welsh flag at least the place was alive rather than the living dead.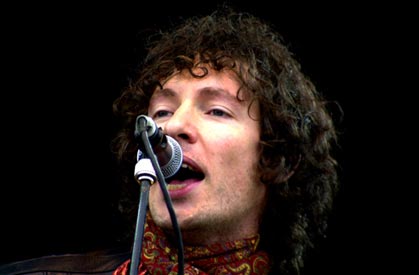 The 22/20s offer an energetic if instantly forgettable opener to the proceedings. Unashamedly retro blues that make Gomez sound like the least derivative band that walked the planet. Condensed to just 2 or 3 songs its inspiring, but when stretched out for a half hour set each song blends into another and the earplugs are duly placed firmly in ears. Enough is enough. The Stands on the other hand surely deserve more of an intro than being Noel Gallaghers favourite band. From start to finish Howie Payne had the crowd in the palm of his hands with a mix of 3 minute classics sidled next to freestyle wigouts. "I Need You" and "When The River Rolls Over You" have become modern classics in just under 12 months and while last time they appeared in Manchester supporting Jet they tried to rock things up, this time they truly played to their strengths - lightly picked melodies, lush harmonies and bouncy bass lines. One of the true highlights of the festival so far.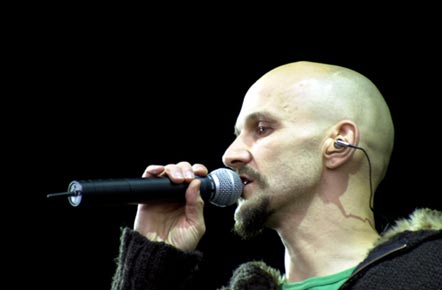 Looking like a friendlier airbrushed version of Ming The Merciless from Flash Gordon flashdancing his tantric shapes with the sort of assured cockiness you wouldn't expect for someone playing their 8th ever gig with the band of "individuals" as he so warmly describes them. It was either going to be love or hate for Tim Booth in Manchester and thankfully it was the former. James were such an institution in the city and their last ever gig at the arena saw grown men cry, so it was with great anticipation that Booth released his solo collaborative album "Bone". Immediately what was in truth a disappointing album is transformed into his best work live. "Wave Hello", a song about commitment phobia, sits next to a song about sexual desire and wanting to f*ck everybody. Booth has had almost a Moby styled make over from serious artist to dick swinging party central, but his former life survives in "Five" and "Sometimes". Two classic James songs for the fans with the latter simply featuring Booth accompanied by a piano in a beautiful ballad arrangement. Ending on "Down To The Sea" Booth had turned around a disappointing album into a fantastic live shows and here's hoping that he could release a live album or maybe give away MP3s on the website cos live its a far better representation of the songs which seem half-baked in their existing recordings.

The downpour of torrential rain as Goldfrapp hit the stage seems to perfectly suit the dramatic nature of the music. James Bond symphonies meet the modern age while Alison Goldfrapp plays a schizophrenic maiden who swings from the right side of evil to the dark side. A band seemingly out of step with the rest of not only today's line-up, but the whole festival, they can't help but bring a welcome relief from the overload of guitars. Their biggest hit to date, "Strict Machine", a track which many have tried to emulate ala Rachel Stephens, but their versions just sound anaemic and inoffensive. Goldfrapp deliver a synth and bass heavy beast of a song which threatens to blow the speaker stack throughout. On the other side it's Alisons operatic vocals on their earlier material which threatens to break glass. As the band leave the stage the rain subdues to a light shower as if Alison had planned it all so meticulously.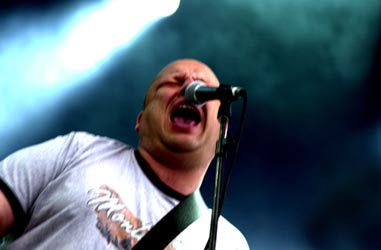 Why the Stereophonics are headlining over the Pixies has been one of the questioned asked by seemingly everyone, irrespective of age, since the line-up was announced a few months ago. In these times where image is everything, sadly even in "alternative" circles, the fact that a fat bald man can still have such an overbearing impact and create such a reaction is a revelation. From the moment they hit the stage there is a genuine feeling that the band are in it for the right reasons and strangely enough it doesn't feel like a reunion or a comeback, it just feels right and just that a band who had such an impact on the likes of Nirvana, Radiohead and countless others should come back and have their time again. "Monkey Gone To Heaven", "Debaser", "Here Comes Your Man" - if the night would have ended there and then it would have been perfect, but that just brings us to the....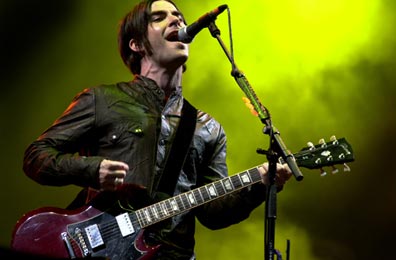 ....The Stereophonics. Throughout the day rumours were abound that there was to be a mass boycott of the cricket ground after the Pixies had played and for a while it looked like the rumours had come to fruition. The masses were leaving and the front of the stage was filled with the capacity of a venue where Michelle McManus had just announced she was going to stage dive. The headlines were running through the press room: "The Stereophonics are over", "Who The F*ck is Kelly Jones?" - but then a strange thing happened. As soon as the Stereophonics hit the stage, the arena started to fill up slowly and surely and Kelly Jones was saved at the last minute. Where it was truly worth it is up for debate because while the band deliver what they've always done - just straight up lowest common denominator rock n roll - you can't help but being underwhelmed after the Pixies. Kelly has the confidence by the bucket load, they play as well as they've ever played and this show is up there with the mind-blowing arena shows they played last year. But ultimately its just not enough tonight and in truth if the band had just played the best show of their lifes it was going to disappoint. It's one of those facts of life i'm afraid.

Alex McCann
Photo's by Karen McBride - www.karenmcbride.com

**********
Post your Move Festival 2004 reviews / comments on the Message Board
**********
---
Move Festival 2004
Photo Galleries
Thursday - Madness / Ocean Colour Scene / Jimmy Cliff / The Strangler - Click Here
Friday - The Cure / Elbow / Keane / Longview / The Cranes- Click Here
Saturday - The Pixies / Stereophonics / Goldfrapp / Tim Booth / The Stand / 2220s - Click Here
Sunday - Morrissey / New York Dolls / Beta Band / Ordinary Boys / James Maker - Click Here

---