Move Festival - Old Trafford Cricket Ground - 11.7.04
Morrissey / New York Dolls plus guests
You've got to ask why Morrissey's disciples weren't down the front of the stage to see James Maker open up for the Mozfather himself. Then again maybe they knew just how bad he was and despite the fact he's one of Mozzers closest and dearest friends they weren't prepared to suffer this fool lightly. Maker is in short all Morrissey's fantasy's rolled into one. The Elvis rockabilly references played out by a man who desperately tries to claw at being at a bit of rough while coming across as a Stars In Your Eyes version of Morrissey meets Marc Almond. It really is an embarrassing sight to watch, which isn't made any better by the aural atrocity coming out of the speaks. James Maker is a man who terrorizes all the senses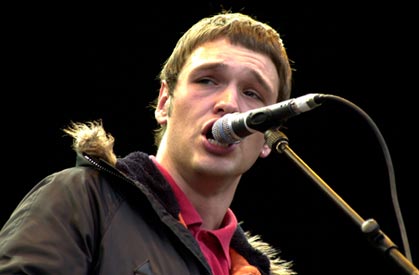 For some unexplained reason Linder pulls out her performance at the last minute. We could hazard to guess but its probably due to convulsions after seeing James Maker writhe around on stage. Although Linder was an unknown quality she must surely have been better than The Ordinary Boys who are the worst band to grace the face of the planet. Maybe Morrissey's growing old and his judgement can't be relied on as much as it used to be, but when you consider his Meltdown bill featured the likes of Gene and the Libertines you have to ask does the Ordinary Boys moniker really flatter him that much. Sub Jam, substandard Britpop pastiches played several times over with a vocalist Preston who mistakes surly for just being plain irritating. Even a cover of Eddie Cochrans "Summertime Blues" is at best passable. Can someone please do us a favour and kill the Ordinary Boys?
The best thing we can say about the Beta Band is that amongst the Ian Brown aping vocals and trippy tuneless dirges they actually had one great song that featured dog barks. Potentially the greatest song featuring dog barks since "How Much Is That Doggy In The Window" and much better than the Baha Mens "Who Let The Dogs Out?", but dog barks alone will not save the Beta Band from being one of the worst bands ever. Such a shame when the initial "3 EP's" collection showed such promise.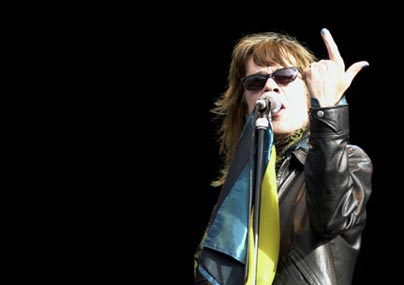 The New York Dolls were one of those bands that we'd been waiting for all day, but apart from a few standout moments they failed to shine. Still an overbearing fascination for Morrissey after all these years, it was Morrissey who persuaded them to reform for these set of gigs and as the band take to the stage you can just about make out a shadowy figure lurking in the curtains. Still walking around the cricket ground itself the general consensus seems to be that although its great to see these grown men on stage looking like a bunch of dandies they sadly sound like a poor relation of the Rolling Stones. I can't help but agree when the initial excitement of the first few song wears off and you're actually faced with the truth that though they might have once been a pivotal force in their heyday, there's now nothing remarkable about their sleazy rock n roll posturing.
So after a disappointing day its time for our saviour Saint Stephen Patrick of Morrissey to save the day and that's exactly what he does. "Good Evening Wetherfield. I'm a local boy made bad" he flippantly remarks before launching into "Don't Make Fun Of Daddy's Voice". For many people there was a sense of what can Morrissey pull out of the bag to make this show special after the homecoming of the MEN Arena show back in May and although the setlist remained much the same, same songs different order at least, Morrissey seemed as jovial as ever. Introducing "The Headmaster Ritual" with a tale about his former school St Marys. "Thank God the Headmaster is dead" he utters equally to shock and laughter in a statement of Morrissey's continued death list which started over in Ireland with him wishing Bush had died instead of Reagan. Although its his older material which often receives all the attention "The First Of The Gang To Die" is a song which is amongst the best Mozzer has put his name to. Such an instant and memorable tune, which musically if not lyrically sits up there with "There Is A Light That Never Goes Out" and "Everyday Is Like Sunday". Another highlight from "You Are The Quarry", "The World Is Full Of Crashing Bores" is introduced with "I could go on and on about Tony Blair, David Blunkett and Gordon Brown...its easier to say the World Is Full Of Crashing Bores".
Despite what many people called a disappointing show at Glastonbury a few weeks earlier, back on his home turf Morrissey is more at ease than ever. The Manchester MEN Arena show was one of those life defining moments and at the closing night of Move it was hard to separate the two. So many classic moments from the Smiths songs "Shakespeare's Sister" and "Rubber Ring" through "Such A Little Thing Makes Such A Big Difference" to the closer "Irish Blood, English Heart". A truly magnificent finale to a fantastic weekend, but Moz, I have one last request - Let Me Kiss You!!!
Alex McCann
Photo's by Karen McBride - www.karenmcbride.com
**********
Post your Move Festival 2004 reviews / comments on the Message Board
**********
---
Move Festival 2004
Photo Galleries
Thursday - Madness / Ocean Colour Scene / Jimmy Cliff / The Strangler - Click Here
Friday - The Cure / Elbow / Keane / Longview / The Cranes- Click Here
Saturday - The Pixies / Stereophonics / Goldfrapp / Tim Booth / The Stand / 2220s - Click Here
Sunday - Morrissey / New York Dolls / Beta Band / Ordinary Boys / James Maker - Click Here
---