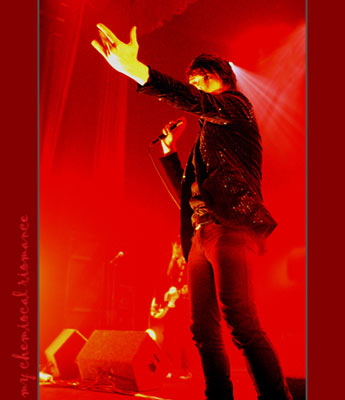 My Chemical Romance - Manchester Apollo - 8.11.05
The cult of My Chemical Romance is taking over the youth of the world faster than Kabbalah is taking over the world of celebrities. Once in a generation a band connects with an all consuming generation and speaks out to the outsiders. In the seventies it was Bowie, the eighties the Smiths, the nineties Nirvana and in the noughties that band could be none other than My Chemical Romance.
It's an image their all too happy to play up to. "Three Cheers For Sweet Revenge" is an album full of symbolic imagery and there's talk of the third MCR album being a concept album of redemption and how the band saved Gerard Way's life. The backdrop is stained windows and a church pulpit and we're his disciples hanging off his every word. And hang on his every word we do, in fact we sing most of tonight's set for Gerard Way and he simply holds out his mike to the baying audience. "Helena", "I'm Not Ok (I Promise)", "You Know What They Do To Guys Like Us In Prison", have been firm faves since the album was released nearly 12 months ago and while musically they've lost that tightness they had on earlier shows, the little intricacies are lost, but perhaps that's more to do with the fact that it's 3500 people singing along rather than 300.
The one new song they play tonight offers a glimpse of the future and it's a song that's already dividing the fanbase within the first minute. Hushed tones around the venue gasp that it sounds like the Backstreet Boys, but to us it's one of those ballads which will take them to the masses ala Hoobastank's "The Reason". Compared to previous material its the most straightforward song they've ever written.
The last few years have been a revelation for the MCR disciples and while they may not be "our band" anymore, it's testament that a band with integrity and passion can reach the masses without compromising. Sure, there may be a small number of fans here because they think Gerard Way is "OMG, he's so f**king hot", but there were people who thought the same with the Manics. After tonight you get the impression that the next My Chemical Romance album is going to be as big a leap for as it was from "Bullets" to "Revenge", and this time the leaps going to be one of epic proportions
Words: Alex McCann
Photos: Karen McBride - www.karenmcbride.com

*****************
Click here to leave your comments on the Message Board
(NB: The message board opens in a new window so please disable your pop-up blocker to view)
*****************