Mystery Jets - Soup Kitchen Manchester - 20.9.10
In an alternative universe you could say that Mystery Jets are sticking 2 fingers up to the man and taking their money and running ala Johnny Rotten with Countrylife Butter. In this case the man is Willy Wonka and this chocolate shape endorsement saw sets from Scouting For Girls and The Hoosiers performing for Kit Kat Chunky, so Manchester is blessed that we don't have to witness a cheese & chocolate combo.
All is not well in The Mystery Jets camp though, Blaine is absent today after losing his passport and while the rest of the band are up North he's running around the capital trying to sort out a last minute replacement. That said once the band hit the makeshift stage on this stripped down, almost folky set, Blaine apart from the odd assortment of pots and pans he'd normally have surrounding him on stage is hardly missed as William Rees and Kai Fish handle joint vocal duties.
"Flash A Hungry Smile" bereft of the synths and 80s production actually sounds like a lost song from Ray Davies back catalogue. These are classic songs from what are fast becoming over 3 albums one of those classic British bands. "Young Love" naturally without Laura Marling has the band doing their own talent search in Manchester for a replacement vocalist and find a very able replacement who got to debut her vocals to the whole of myspace in one go, expect her to launch her own band off the back of this random and somewhat unexpected appearance.
"Show Me The Light" we're informed is the next single of the "Seretonin" album and has a video which apparently they spent 24 hours in a Gymnasium bouncing on trampolines - so expect it too look something like Spellbound meets Indie pop. Subtle and slightly sparse in comparison to the full on recorded production, which steals the intro to Tiffany's "I Think We Alone Now" before launching into slide guitar overload. Ending the short set on a double whammy of "The Girl Is Gone" and recent single "Dreaming Of Another World" its over far too quickly and we're left wanting more from such a rich catalogue. But for the fans in the room tonight, many of whom are new students to the city, they'll be heading straight for tickets for the Manchester Cathedral gig their doing next month
Alex McCann
Photos: Katy Baker - www.katybphotography.co.uk

Mystery Jets perform an exclusive free gig at Soup Kitchen in Manchester today as the band teamed up with Kit Kat Chunky to perform a one off pop up gig. Visit www.myspace.com to view the gig

Were you the Mystery vocalist below - if so email us on designermagazine@hotmail.com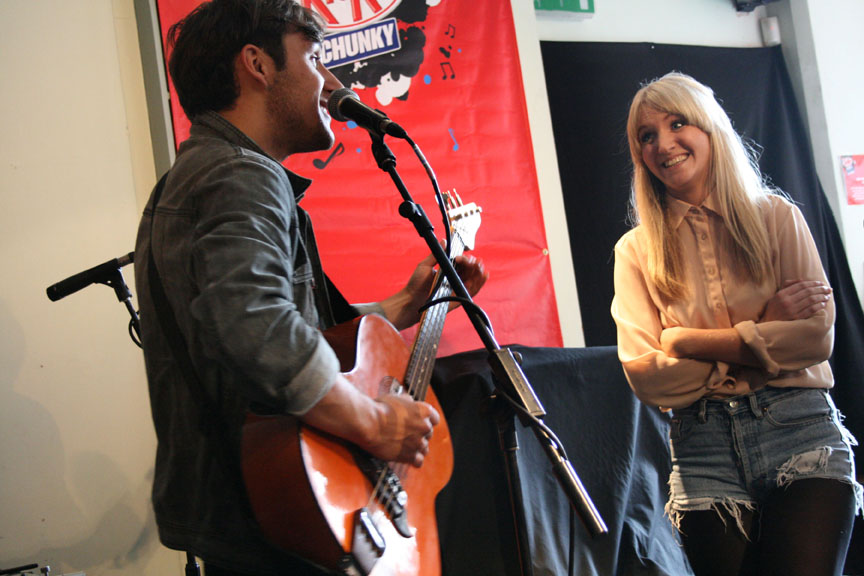 © 2000-2010
Designer Magazine unless otherwise stated.

All Interviews by Alex McCann unless otherwise stated
NB: Please seek permission before using any articles within this site
Contact us: designermagazine@hotmail.com