Never Heard Of It
When Bowling For Soup toured the UK towards the end of 2003 they brought with them a band which nearly blew them offstage every single night of the tour. That band ladies and gentlemen is Never Heard Of It. Working on a DIY Punk ethic the band have built it from the ground upwards releasing records on their own label and spreading the message through word of mouth the band seem to be picking up legions of fans everywhere they go, which has included a 2 year stint on the Warped Tour where they were the only unsigned band who played the whole tour. Strangely enough a twist of fate could see them breaking through to the major league with help of American Idol. We found out from NHOI's Jeff to find out about this incredible journey.

Q: As you said just before this is your second time over to the UK. There must be a fanbase building up now if the reaction on the Bowling For Soup tour was anything to go by?
A: It's definitely been really good. It's been pretty mad. It always ends up like a big family when you've been on the road for so long, you're with someone 24 hours a day, 7 days a week. When we did Bowling For Soup we had done the Warp tour on the States for 45 Shows, did a US Tour with them for like 6 weeks and then we came out here and did 2 weeks in the UK...so we were with them like several months straight
Were a little bit more toned down than everybody else I think. We go in cycles I guess. Some days are definitely more crazier than others. We'll have a few days of none stop partying and then you need a couple of days just to just chill on the bus and watch videos.

Q: It is quite interesting how you've had a DIY ethic to building up the fanbase. Tell us about it?
A: We are always promoting. On the Warped tour for the past 2 years we've been the only band not signed to a major label that has played the whole tour and that's kind of down to the fact that they know we've got an audience out there waiting to hear us. After each show whether it's our own tour or the support slots we'll go out and meet the fans before hand or after we've come off stage cos that's what it's about at the end of the day, connecting with your audience, and you find that a couple of people will come over and next time we play they'll bring their friends and so on.
What we do in every town as well is go out to the mall and promote ourselves. After this interview were all gonna head out into town and and play the kids some tunes on the stereo. They might not of heard of us before, but after they hear us you'll usually get quite a few wanting to buy the CD. It's just about spreading the word and most bands aren't prepared to do that - we're working all the time to make this band breakthrough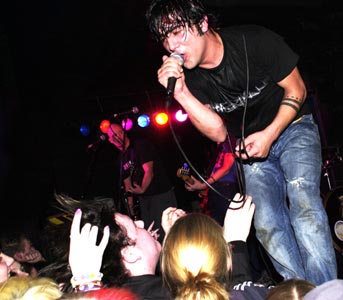 Q: Why not sign to a major and get the exposure you deserve?
A: Well, we've built up a fanbase through hard work and doing it independently allows us to cut out the middle man. Of course sometimes it's difficult, but we can record and tour when we want and that's all we need.

Q: I was looking on your website and I believe that one of your mates is on American Idol?
A: Yeah, Matt Rogers. He's made the finals and he just this really laid back guy that we used to go to school with. He's this big American football playing jock and the last kind of guy you'd expect on the show, but I think a few of his mates joked that he should go on the show and typical him he went for it not expecting he'd get so far.
We've kind of said that whether he makes it or not to be the American Idol were going to do some songs for his album and he'll probably guest on our next one as well. It'll be weird, but it could bring us our biggest song to date.
**********
The album "11 Days" is in stores now
For more info
www.neverheardofit.com
**********
**********
Post your NHOI reviews / comments on the Message Board
**********