NEW BANDS FOR 2006

Each year Designer Magazine reviews the upcoming new bands earlier than most and 2005 was no different than any other year.

Take James Blunt for example, one of the biggest selling singles and albums of 2005 and we'd reviewed him back in March 2004 supporting Katie Melua....or Nizlopi whose album we looked at in August 2004 and we reviewed the following month at an intimate Manchester show during In The City.

Prior to that we'd tipped bands such as The Darkness, Scissor Sisters, Bravery and Keane and that's only the tip of the iceberg.
Here are a few of the bands we've reviewed in 2004 / 2005 that are going to be the most talked about bands of 2006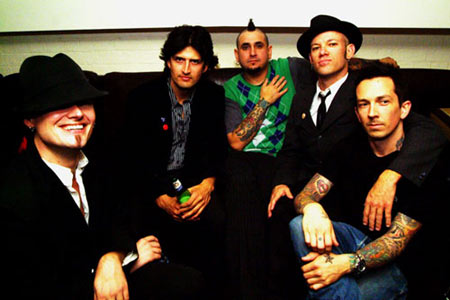 ORSON
Since they signed their deal a couple of months ago at In The City, the band have been filming the video for debut single "No Tomorrow" and whisked onto the European tour with Duran Duran. When you consider that their only UK show to date was to 150 record execs downstairs at 14 Lloyd Street it's an unbelievable feat. Still it comes after 4 years hard work where they've honed their sound to the one we know now and while they jest about starting off as a country band who've gone through disco and death metal phases, the tattoo's adorning their arms points to a background in something considerably more hardcore.
"Bright Idea" starts off with roots reggae rock before launching into a huge 80s Hall & Oates chorus with Johnny Bentjen's bass line underpinning it. "Trying To Help" is stadium soul with Jason Pebworth coming across as a white Stevie Wonder to the rest of Orson as U2 with tight riffs exploding into epic grandiose statements. "Happiness" starts off like classic Jagger / Richard's composition before launching into the sort of chorus that the New Radical's Greg Alexander used to write ad infinitum towards the end of the millennium.

Website: www.orsonband.com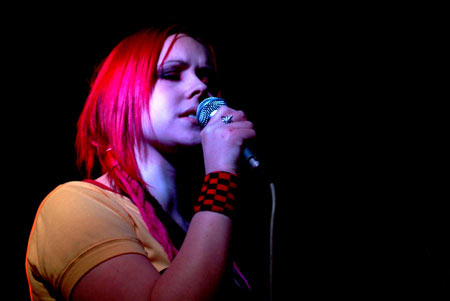 THE HUSSY'S
If one member of The Hussy's look familiar it might because James McColl happened to be in the Britpop band The Supernaturals who hand the enormo hits "Smile", "Day Before Yesterdays Man" and "I Wasn't Built To Get Up At This Time". Stepping away from frontman duties the focus is now on ex-folk vocalist FiFi who gives the glorious Hussy's pop songs the sort of harsh afterbite that Cery's Matthews used to give to Catatonia. After winning over the Scottish fans with residence's in Glasgow and Edinburgh and gaining fans such as Radio 2's Janice Long and Shane McGowans Butler (don't ask) this gig is their first on English soil. Each song the Hussy's play is pop-par-excellence dipping into whichever musical genre they feel like and wrapping it into a bonafide contemporary pop song ala Scissor Sisters. "Marty" starts off sounding like the best bits of every Xmas song ever written and then manages to put Elvis Costello, Madness and Chas and Dave into the mix. "Tiger" a 1930s style Charleston sounds like it could have come off the Grease soundtrack and "We Expected" is a romp through mid 90s indie. The Hussy's have got a bright future head of them and this won't be the last time they come to Manchester.

Website: www.thehussys.com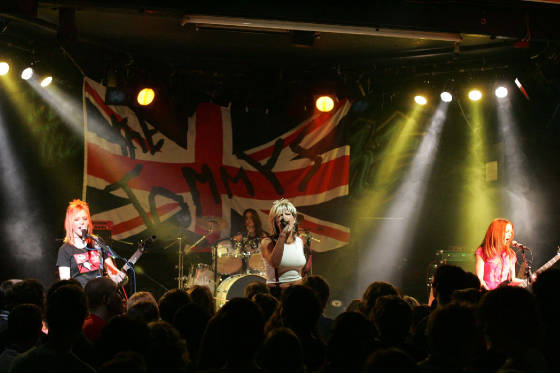 THE TOMMY'S
It would be all to easy to call The Tommy's a female Busted, and indeed the pop hooks are there, but perhaps the most justifiable comparison is they could well end up selling as many records as James Bourne & co. Closer inspection reveals them as a sugar-coated romp through the back catalogue of Hole & L7. Obvious and direct the songs titles say it all. "The Day The World Turned Chav", "Five Queen Star Of The Back Street", "17" are sneering look at what it's like to be young and female. "Did It Again" the most musically and lyrically evolved of the songs is a song that proves The Tommy's are more than just another rock band.

Website: www.thetommys.com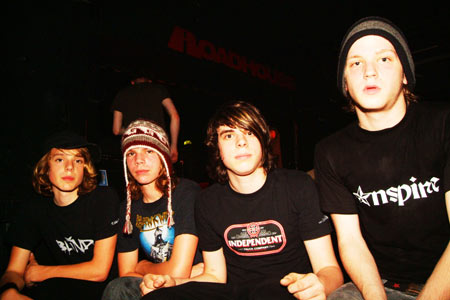 LINCHPIN
The last time Linchpin played Manchester we declared them "Britain's Best New Rock Band" and everything about tonight's show looks set to prove us right for backing them early on. Whether it's an intimate gig at the Manchester Roadhouse, or the sell out Fightstar gig they played earlier in the year, Linchpin approach each gig with intent and confidence of veterans doing their 10th worldwide stadium tour. Opening with "Jesus Had Long Hair" and segueing straight into "Crazy Girl" the band cross the same barriers as Lostprophets, instant pop hooks but at the same time could play on the same bill as a screamo band and still blow them off stage. "Apple Of My Eye" is one for the girls and an obvious future single in the vein of Simple Plan's "Addicted". In the past few months Linchpin have had their debut EP produced by the Madden Twins (Good Charlotte), Dave Grohl's declared them to be "Awesome" and a few scenester kids with Toni & Guys haircuts have got the hump because Linchpin right better songs than them. The hard work starts now with 12 months of solid gigging ahead, but trust us when we say this time next year you will not be able to escape this band!!!

Website: www.linchpinrock.com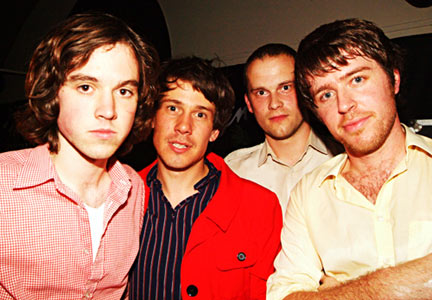 NEW SHAPES
Once in a while you witness a band so perfect that it's impossible not to fall in love with them immediately. New Shapes have tunes so undeniably catchy that they render the entire careers of Kaiser Chiefs and Razorlight redundant. It's dumb pop music about girls and going out, but all the best rock n roll tunes have always been dumb pop from the Beatles to Oasis and Blur. "You've Got Me Running Round" and "A Song About A Girl" are life-affirming songs that speak out to a whole generation. Give it a year - the public will love em, NME will have built em up to knock em down and their ridiculously young bassist will more than likely have won Popjustice's Most Inappropriately Fanciable Male

Website: www.thenewshapes.com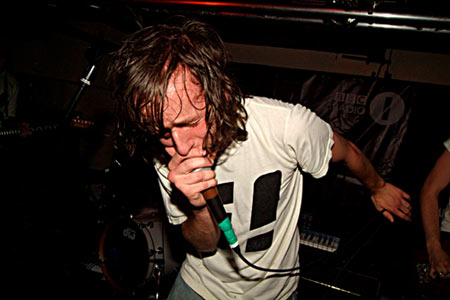 FORWARD RUSSIA
Designer Magazine first witnessed Forward Russia supporting the Bravery this time last year on their debut British Tour. Not dissimilar to where Dartz are coming from musically they take the hardcore vocals of bands such as Million Dead and Hundred Reasons and then spin the disco records for one of the most energetic bands of the weekend so far. Choosing to eschew the tradition of songtitles they simply give their song numbers in the order they were written, which makes it nigh on impossible to review. I'm sure this was their intentions so next time your at one of their gigs shout random numbers and watch each band member go off an tangent with different songs…the problem is this band are so messed up it would probably sound right as well!!

Website: www.forwardrussia.com



MISTY'S BIG ADVENTURE
Either it's too late, I've had too many drugs or Misty's Big Adventure really are what you get when you splice the Zutons with the Mighty Boosh!!! There really is no excuse for a band that has a multicoloured freakoid with 100 hands stitched to him and it really shouldn't work, but this band are right for exactly the same reason the Magic Roundabout was right. The kids just think it's an amusing romp in the vein of Teletubbies and the adults are in on the drugged up acid vision. As they sing "You need two brains to take it all in" over nursery rhyme pop you realise that Grandmaster Gareth's world is how we all should be living…. and props up to Erotic Volvo!!!

Website: www.mistysbigadventure.co.uk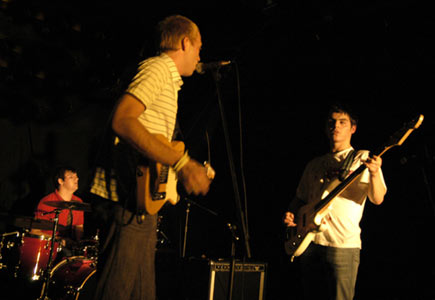 ORPHAN BOY
Just as people are about to ready to write off Pete Doherty & The Babyshambles as man who squandered his talent away in the smack dens of London along come a band that remind us of everything the Libertines used to be. Orphan Boy sound like Joe Strummer and Jam-era Paul Weller jamming on a tip with a battered guitar that they lifted from a porn shop. The fact that the look like Gonch and Tucker Jenkins from old skool Grange Hill only adds to the fact that Orphan Boy are the only band you should be watching right now.

Website: www.orphanboy.co.uk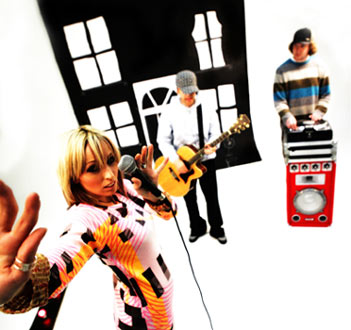 DEAR ESKIIMO
It was last years ITC slot that saw Dear Eskiimo sign a 5 album deal with Mercury Records, but since them you'd be forgiven for thinking they'd quietly crept away while no-one was looking. A low-key release on label My Dad Records has set them up for a plethora of positive reviews that have taken the label aback for what is essentially an indie release at this stage.

The sets essentially the same one we saw last year. The Outkast pilfering "Don't Wanna Feel", the moody atmospherics of "Patience" and what now seems to be a Ziggy-fied version of "Jack And Jill". What's different now if the performance has been taken to a new level where it's not just a group of people playing at being popstars, it's now 3 people who were born to be on stage. Katie looks iconic, Jules has gone on a fitness regime and taken off about 10 years and Simon has grown in confidence rocking his heading to the beat.

A welcome break from skinny boys with guitars and prove that Britain can still make great quirky pop music.

Website: www.deareskiimo.com



LUCKY SOUL
All the best bands follow their own route and it's why Lucky Soul will make it regardless of whether they sign to an indie or major label following ITC. They are not at the name temptingly suggests influenced by Richard Ashcroft and the Verve, but instead they riffle through every great Motown and Phil Spector record ever made and re-write them for the noughties.
Looking like they've stepped off the set of Ready Steady Go they play the staples of their set "One Kiss Don't Make A Summer" and "Give Me Love". Impossible to dislike; impossible to ignore and damn near perfect. It's hard not to imagine this band walking away and unleashing one of the albums of 2006.

Website: www.luckysoul.co.uk

THE CAZALS
The Cazals seem to be boomeranging back to the Aussie's at every occasion they can. A few months ago they played a gig with Karl Kennedy from Neighbours and now they're playing an Aussie Theme Pub in Manchester. Strewth, they might as well just chuck some sangers on the Barbie and be done with it.
Like the Pedestrians, the band also supported Babyshambles on Friday night at the Academy. In frontman Phil Cazal they have a man who shuffles across the stage like Bruce Forsythe doing the Cha Cha Slide and has the sort of moustache you'd associate with a Victorian Dandy. Their guitarist Daniel Gallagher is the nephew of Irish legend Rory Gallagher and the mysteriously names Luca C is a one-man f**k machine set out to deflower your daughters.
"Poor Innocent Boys" is an ironic statement as they're completely the opposite and "Beat Me To The Bone", their debut single is a classic. Bands such as the Rakes and The Cazal's may be lumped in with the London-centric Doherty scene, but they're both a league above the tabloid fodder of Babyshambles!!!

Website: www.cazals.co.uk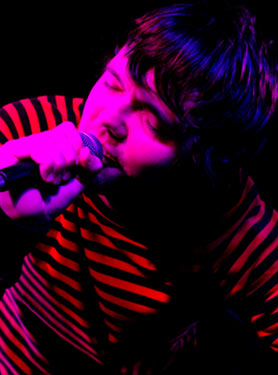 OMERTA
In their brief career they've already notched up support slots with the likes of Hard-Fi, received copious radio play on XFM and Radio 1 and sold out their debut EP in a matter of hours. What makes Omerta so special is the fact that they take from the same influences as the Killers and The Bravery and then infuse it with a gritty Northern realism with lyrics that can be as cutting as anything Morrissey ever put to paper. Vocalist Aaron Starkie shares some of his mannerisms with the bequiffed one, but he has his own signature move of the ski-bob down to a T. The singles "Everyone Is Frozen" and One Chance" are played to an enraptured audience as the machines turn against them as they deliver what they call an acoustic set

Website: www.omerta.co.uk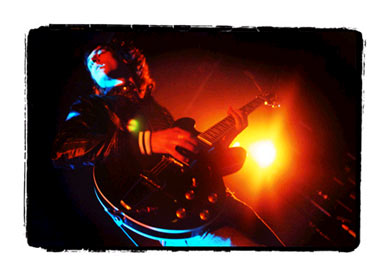 MANDO DIAO
Mando Diao are a Swedish rock outfit who like the Libertines have two singers with that bond Doherty and Barat once had. With two dynamic frontmen you'd think there'd be one upmanship and fierce competition, but this isn't apparent for this ferocious beast of a rock band. The drummer pounds away like Animal from the Muppets, the harmonies are luscious and Mando Diao play the blues on "Motown Blood" with a quick refrain from Elvis' "It's Alright Momma". With some salsa for the chicks to dance to and the mellow "Mr Moon" they win the crowd over with ease. The only mistake the band make all night is dedicating a song to Eric Cantona, but I feel our favourite new Swedes were just playfully winding up the crowd.

Website: www.mando-diao.com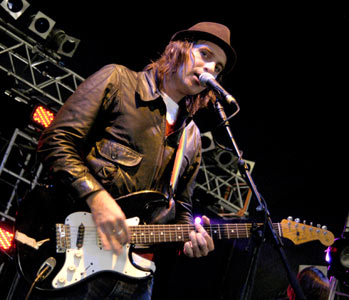 BOY KILL BOY
Boy Kill Boy mixes up the Britpop cockney chirp of Blur and the spirit of early Supergrass on tracks such as "Cheap". It an infectious riot, but you can't help but feel Dan Ashcroft would label these Nathan Barley-esque style purveyors The Idiots

Website: www.boykillboy.com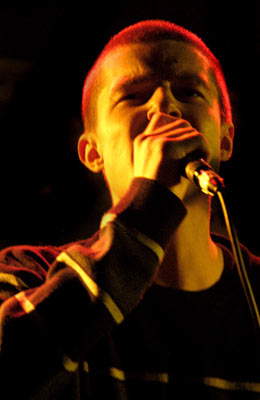 THE YOUNG OFFENDERS INSTITUTE
The Young Offenders Institute come across like a musical version of Shameless. Working class boys who would do anything for their ma, but would just as easily peddle drugs out primary school gates and break your knee caps if you dob em in. Much has been made of the comparisons with the Happy Mondays. I mean, for f**ks sake Tony Wilson's even in the audience tonight, no doubt regaling the boys with time he went to Cambridge. While it's clear they probably blew up pigeons and spent enough money on weed to fund a 3rd world country, they're more steeped in the rock classicism of Oasis than the Mondays eclectic acid fried dance vibes.

Website: www.youngoffendersinstitute.com

WE START FIRES
What's immediately apparent is how far We Start Fires have come in the last 9 months. Those Kenickie influences are still apparent, but tonight was a sign that the band are coming into their own. "Queen Bee" shows the band have a darker side with a slow meandering verse leading up to the shouty chorus of "You don't know who I am". Elsewhere quirky synth sounds which sound out straight out of Playschool or the Teletubbies and at times strangely sound like surf guitar played by Muse's Matt Belamy. There's a very definite neo-classical feel to the Melissa Marx's synths and combined with the punky stop start punk of the songs this is irresistible. Still proving that they have that pop edge, "Ruby Slippers" is played from the early demo's and reminds us instantly of Kenickie and Angelica. "When You Fall" has an unforgettable hooky chorus proving that pop runs through their veins.
Website: www.westartfires.co.uk

WORDS: Alex McCann
Photos: Karen McBride - www.karenmcbride.com
Photos: Shirlaine Forrest - www.shirlainephotos.co.uk

*****************
Who do you think will break through in 2005?
Click here to leave your comments on the Message Board
(NB: The message board opens in a new window so please disable your pop-up blocker to view)
*****************