North Star
The American agency C-Frankie have a great way with words describing North Star as "the hottest crew to enter the global marketplace since the Beatles". Overblown is the word that springs to mind, but Young Spray, Chyna, C-One representing Maffia Records as North Star are one of the hottest R&B / Hip-hop acts coming out of the UK right now and already before their debut single has been released they've attracted support slots with the likes of Rockafella. Designer Magazine caught up with North Star and Lisa Maffia at Urban In The City to find out about how they're different from the other "urban" acts around.
Q: You're coming up to Urban In the City with Lisa Maffia and Maffia Records. Fill us in with the North Star story to date
Young Spray: Chyna's been singing for the last 2 or 3 years...
Chyna: But we've known each other for years as well on top of that and plus obviously we realized we all had musical talent. So put it together and you have North Star really. We've got Young Spray who does the rapping, myself who's the vocalist and C-One who's part producer and part artist.
Young Spray: We're coming up, but we don't want to do the So Solid thing like it's a big crew. It's more like an entertainment company where there will be solo projects in our entertainment company. Not everyone's in North Star, everyone is their individual artist. We're more like a family chasing the same dream.

Q: And the name North Star...you're representing North London I guess?
Chyna: Yeah, that's one of the reasons, but there's lots of reasons behind the name
Young Spray: We're from Walthamstow in North London. (Ed: The famous home town of Blazin Squad)...and Young Spray

Q: And what makes North Star different from the other "urban" acts around?
Chyna: What's special about it is obviously you've got rappers and you've got a singer. If they're doing a song they'll get a concept which is deep, a reality concept which people can relate to (especially teenagers) and we just combine it into one with Young Spray and his rap style and my vocals. On an R&B / hip-hop level everybody can relate to it.
C-One: And it can go over in the mainstream as well. It's catchy...and we're good looking as well (laughs).
Chyna: When you listen to a song it's easy to catch on to and sing along or rap to. On the album there will be at least one song you can relate to. There's all different vibes. We've got ragga vibes, garage vibes on a few tracks, some hip-hop and some soul.
Young Spray: It's all about our life's and we think a lot of people will be able to relate to us. When we talk it's about what's out there and what we've gone through and there must be a lot of people who've gone through the same thing that we've gone through. If people can look at us and go well they've changed and are doing something better.
Chyna: It's not just depressing stuff on the album. There's uplifting songs like "Turn Around" which we're doing tonight. It's general stuff. Music's a message in so many different ways and that's why people have listened to music for so many years. Music actually makes things go by in life.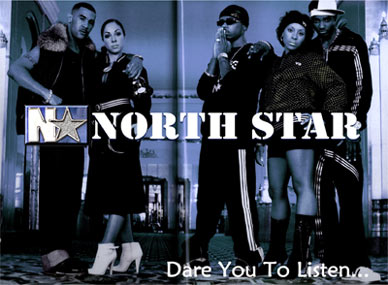 Q: I don't wanna use the word "urban" but i'm going to have to. Where do you see yourself on the Urban / Pop fence?
C-One: We're bring a whole new twist to the game so we can't put a name to it.
Chyna: In this day and age what is urban and what is pop. Pop is just one thing that is popular and it's rotating on a regular basis. And what is urban? I don't think we're urban. We're just rappers and singers with an R&B flavour. I don't understand what urban is...it's black music what they're trying to call urban music.
C-One: Urban is just a new word and a better way of saying we don't want to play that because it's too black or it's too rare. Now they've got a new word and they say they don't want to play that because it's too urban.
Lisa Maffia: They like to put everything in a category and segregate things. They've made Urban a bad name, just like the one music that the UK had was garage and they've destroyed it. It's so they can put everything in one category and it's unfair. And this is why these guys have come and given a new flava.
C-One: Even if we were a rock band they would still call us urban. They'd call us urban flavoured rock.

Q: How do you feel about a band like Big Brovaz who tread a fine line between urban and pop. They were talking yesterday about how now they've won over the pop crowd they're gonna bring it back to real music
Young Spray: They've already discredited themselves. It's too late for them to do that. Especially as a rapper, after you've done Scooby Doo what you gonna do after you've done that
Chyna: The girls they can sing. They can do their thing all day long. Individually or a band they can own the stage.
C-One: They've supported big artists like Sean Paul and Jamelia, but what you've got to remember is that to support someone is nothing - you're paying for it. It's not like Sean Paul came and asked Big Brovaz to support him. We're not paying a penny and we're supporting Rockafella.

Q: The thing about UK artists is there's a freshness and desire to experiment a little. You get an US R&B or hip-hop record through and it's the same sound by the same producer yet again
Young Spray: It's the best of British all the way. We're not trying to rap American. We're representing where we're from which is London, North London in England. But of course we want to break America though. There's money over there and it's a bigger market. We've already hooked up in America with C-Frankie which is our agency over there and we were talking to Rockafella a few days ago. 2005 is gonna be our year!!!
C-One: You've got to remember that the US was like the UK is a few years back and now you've got your Jay Z's and everyone else. Before that they had NWA and So Solid is another NWA. They broke open the doors for every act that's coming through now

Q: And you're doing it all independently aren't you as well
C-One: We don't need majors. In America you don't hear about Sony, you hear about Def Jam, Bad Boy and Murder Inc. You just hear about independent labels in America and that's how it's going to be over here soon.
Young Spray: You have to remember the pounds stronger than the dollar so why can't an English rapper be better than an American rapper. People don't understand the power movement that is moving up here. Maffia records has got it right from the beginning...we've got the plans laid down all ready. When we come we're gonna come properly.
***********
For more info and soundclips from North Star
www.cfrankie.com
***********
*****************
Post your North Star comments / reviews on the Message Board
(NB: The message board opens in a new window so please disable your pop-up blocker to view)
*****************