PANIC! AT THE DISCO
When Designer Magazine met Panic! At The Disco earlier in the year things were relatively calm...well as calm as you can expect when your debut UK tour sells out before you've released a single or album on these shores. Fast forward to April 22nd at the Manchester Academy and the surrounding roads are barricaded, security guards walk along the barriers stopping fans from getting a glimpse of their favourite new band. And naturally livejournal's and blogs are littered with ex-girlfriends and friends who say the band have changed since they made it. What Panic! At The Disco have achieved in 4 months normally takes bands 4 years and in the intervening period between this interview going to press bass player Brent has departed the band amongst rumours of him being sacked. All these scurrilous rumours can't take away from the fact that Panic! At The Disco are simply one of the best bands of the year and Designer Magazine caught up with Brendon Urie and Ryan Ross for a catch up and a game of Panic! Island Discs
Q: It's your second time out here in the UK. How's it been going?
Brendon: Better than good. It's our first headline tour. I don't think we could ask for it to be any better. The response we've been getting so far is amazing, the support bands are friends so it's all good that Men Women and Children and Forgive Durden are out on the road with us.
It was really exciting for us because the day our tour went on sale our manager was telling us they're already moving venues up. I think we were originally supposed to play to 350 people in Manchester and now we're playing to 2000.

Q: Have you seen how much tickets are changing hands for on EBAY - bout £100 a pair, which is near enough $200?
Brendon: Holy shit, that's stupid man

Q: The Academy Is... / Panic! At The Disco was a dream line-up for many. Is it important you get the right package together for a tour? What was this whole thing in America with Dresden Dolls?
Ryan: We really wanted to get a band on tour that drew a different audience, for us to branch out and for their band to branch out. We're really excited to have Dresden Dolls out on tour, we're big fans of them, and we're not the sort of band to go out on tour with a band because they pay cash or draw well or necessary makes sense. Some of our fans have been saying they shouldn't be on the tour but we've got to prove ourselves to their fans as well.
Brendon: We chose Men Women and Children and Forgive Durden to come out with us on this tour and I stand there at the side of the stage and watch them every night.
Ryan: He goes out and plays drums on Forgive Durdens last song and then we go out and sing with Men Women & Children.
Brendon: They said they'd come out and join us for one of our songs, but they haven't yet

Q: How is playing a festival like Give It A Name where you're playing with 20 different bands you have no decision over?
Ryan: We don't really fit in at all I guess
Brendon: Festivals really aren't our thing. We're not a band that fit into the Warped genre I guess and we've done Radio tours before that we don't really fit in with. I think there was one festival or TV show where we played with Nickelback, Interpol and Fall Out Boy.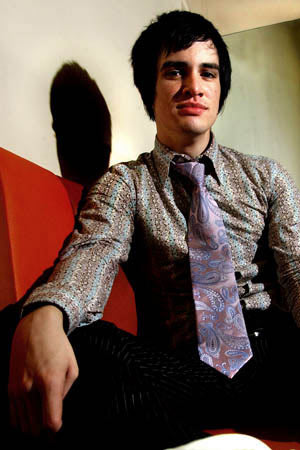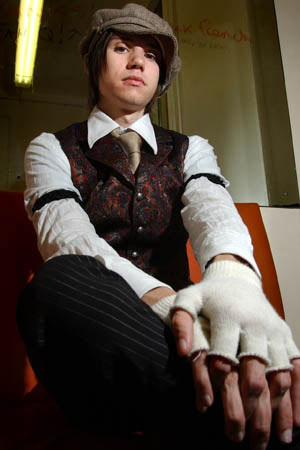 PANIC! ISLAND DISCS
Your childhood record
Ryan: One that stands out for me and I say it all the time is Third Eye Blind's first record. It's a record that I still listen to today and I was probably about 11 or 12 when it came out. They're still one of my favourite bands
Brendon: I think my record from childhood is "Help" from the Beatles. When I was a little kid I didn't really listen to radio or anything, like when I was 10 or younger than that. I didn't really know what was cool or anything so I figured my parents were cool and just listened to what they had. My dad used to listen to the Beatles all the time and I just loved that album.
I guess people would think they're really lame but I used to listen to Journey and I still love that band. People are just like that's a lame rock ballad band, but for whatever reason I'm attracted to their songs and I love all their songs. The Eagles was another band I was really addicted to
The first record you actually paid for
Brendon: The first record I bought was Bush "16 Stone" maybe. That was my first time ever getting an allowance, when I was 11 and sweet and virginal
Ryan: Mine would have been the Third Eye Blind record. I did the whole thing of saving up dinner money to get it
Brendon: I never really got an allowance. I had to go and do a job for somebody at our church so if I really wanted an album I had to go out and work for it.

Your teenage angst song
Brendon: Probably through that whole teenage angst phase I was probably listening to Dashboard and Taking Back Sunday. I listened to "Tell All Your Friends" and "Places You've Come To Fear The Most".
Ryan: Mine was "Dude Ranch". I remember when I was about 13 I discovered Blink 182

Is there any song / band you base your vocal style on?
Brendon: I don't think i've ever tried to sound like anybody. Before I was in the band and even when I've been a the band I tried to take vocal lessons because I wasn't a singer. At the time I was doing backing vocals but I thought I might as well take vocal lessons. When I used to sing it was really nasally and sounded like shit. I guess I always used to sing along to the Beatles and stuff like that but I never tried to sound like that. I still do a few of the vocal lessons each night before I go on. I do a little buzz thing with my lips which is kind of weird (Note: You had to be there - it was curiously attractive with the Urie lips)

A song that reminds you of your first kiss
Brendon: I don't think there was a soundtrack for my first kiss.
Ryan: I never did the "our song" thing with girlfriends. Maybe when I was in middle school there was Savage Garden's "Truly Madly Deeply"
Brendon: I never really understood the concept of having "our song". I wasn't attracted to that. What happens if you really like that song and then you split up it's just shit? I totally hate that Titanic song man.

The song or album you were listening to while writing the album
Brendon: I was listening to a lot of different shit. Like Ryan would be listening to Queen and then some music by Danny Elfman and then Third Eye Blind or something.

Your new record or band of the moment
Brendon: I've been listening to Mew
Ryan: Forgive Durden and The Hush Sound who are both on Fuelled By Ramen
Words: Alex McCann
Photos: Kirsty Umback www.kirstyumback.com
*****************
"A Fever You Can't Sweat Out" is out now in all good stores
Panic! At The Disco play the Carling Weekend and then do 2 nights at Brixton in October 2006
www.panicatthedisco.com
*****************
*****************
Click here to leave your Panic! At The Disco comments on the Message Board
(NB: The message board opens in a new window so please disable your pop-up blocker to view)
*****************