PHIXX
When "Hold On Me" blasted on to TV earlier this year it was a shot in the arm of pop - a genre which had been floundering for the best part of 2 years with half-arsed boy bands larding their arses on stools and the younger kids pretending they'd always had an urban vibe and flexing the bling bling attitude. Phixx on the other hand took us back to the glory days of Take That, stripped off as all great boy bands do and took the cynics by surprise just as they were writing off the reality TV format. Designer Magazine caught up with Chris Phixx to let him know they'd come in the Top 3 Best Pop Singles of 2003.
Q: First of all we've got to say congratulations for coming in the Top of our Best Pop Singles Of The Year alongside Black Eyed Peas and Sophie Ellis-Bextor. How does it feel?
A: We're really pleased with that. Especially to be up there with Black Eyed Peas. We were driving yesterday in the bus and we that the Black Eyed Peas are in the Top 100 Singles of all time, so to be featured next to a single like that is just amazing.

Q: And thanks for bringing some sex back to pop in 2003. Who's idea was it to strip off for the video?
A: We were just sick of seeing videos in night-clubs that were nothing to do with the song. We knew we wanted to do something that was us and something that stood out and made people take notice. We knew we were taking risks doing what we were doing and it could have totally backfired at the end of the day. But everyone's talking about it cos' it's not your usual pop video. What we always do is come up with a story line for the video and this idea came up between us and the directors.

Q: Taking it back to the beginning, the nucleus of the Phixx phenomena. Didn't Pete Waterman want to manage you guys after One True Voice.
A: It was offered us about 2 weeks after the TV Show. People made out that he offered us the deal after One True Voice were dropped, but it wasn't like that at all. We could have made a lot of money by accepting Pete's offer, a lot more money than we've got now cos we're still skint, but he would have had total control and artistic control was something we really wanted. I wouldn't say were not interested in money cos were always complaining about being broke, but I think there are more important things that just taking the largest amount of money you can get for the shortest amount of time. Basically we wouldn't have been able to what we did if we would have signed with Pete.
It was a shame what happened with One True Voice. You could just tell their hearts weren't in it from the start and the song really did sound dated, whereas Girls Aloud at least went for something fresh. Anton, Daniel and Keith have got talent and I think they still will do something in the industry and they've got to be grateful for being one rung up on the ladder from where they were. The other two to be blunt just don't have the talent to make it.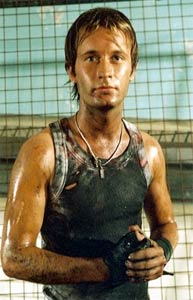 Q: And then Nathan Moore offered to manage you. For those readers too young to know, Nathan was the singer from 80s pop band Brother Beyond - possibly one of underrated pop acts of the decade?
A: Nathan's given us a lot of advice because he was an artist as well. I know it's a cliché, but he's been here as well so he knows what were thinking and let's us take a lot of control and decisions ourselves.

Q: If you type in Nathan Moore Brother Beyond in google the first page that comes up is Nathan with his arse out. Admit it, was it Nathan who really decided you got your kit off then?
A: Serious, it was us. But I didn't know that so we'll be ripping it out of him later.

Q: When you first formed everyone was doing R&B - didn't you want to get down with the b*tches and go bling bling?
A: We just weren't into R&B, it wasn't into us and as I said before people could see with One True Voice that they weren't into it. We'd grown up listening to electro music like Duran Duran, Gary Numan and Depeche Mode cos we all had older brothers about that age who would listen to it. I think we always had this idea we were going to be an electro pop band.

Q: You gonna get the make up out and go New Romantic on us then?
A: I don't think were going to go that far, although Mikey's got his Flock Of Seagulls haircut going on. (Laughs). He's giving me the daggers about it now so the least said about that the better.

Q: I guess the whole stool dwelling of Westlife wasn't going to happen either then?
A: We won't slag off Westlife or Blue cos we've written tracks with Bryan (McFadden) and Lee (Ryan) , but we didn't want to be seen as the next whatever. We wanted to be seen as Phixx and that's why we did the video.

Q: And finally the 2nd single and the albums due next year tell us a bit about them?
A: The next single is going to be darker, but still electro pop. We've got 2 choices and were giving it 3 weeks to decide cos we don't want to master a load of singles only to find we have one new track that blows it away. That's going to out around February with the album to follow for about easter time. On the album we've worked with loads of people, Roger Taylor from Duran Duran was just amazing cos were all fans of the band.
**********
"Hold On Me" is out now with a new single to follow in Feb
The album is expected in April
For more info
www.phixx.info
**********
**********
Post your Phixx reviews / comments on the Message Board
**********