Plain White T's / Boys Like Girls – Manchester Academy 1 – 19.1.08
It is rare to come to a concert and find that the majority of the audience have arrived in time for the support acts, but openers CARTEL and BOYS LIKE GIRLS have achieved such an attraction. There is a buzz in the air for tonight's supports, even though neither band have toured the UK previously (bar an appearance at the 'Give it a Name' festival for Boys Like Girls) or received any radio and television airplay. Their success is undoubtedly down to Myspace, obviously still proving an invaluable resource for US bands breaking the UK (and vice versa).
The latter of the two supports playing tonight 'Boys Like Girls' have a very present teenage female fan base, of which their screams can be heard from the back of the venue. 'Boys Like Girls' provide a well-structured, musically tight and energetic performance but unfortunately their music, whilst being enjoyable, has no real distinction of its own and blends in to the background amongst other pop/punk/emo contemparies such a Fall Out Boy, The Rocket Summer, All Time Low, Hit the Lights, Valencia…
Tonight's headliners PLAIN WHITE T's hit the stage with second single "Hate. I really don't like you" to a background of ear piercing screams and tiny rock hands. They play a perfectly tight set, with singer Tom Higgenson effortlessly hitting every note with a great deal of charisma to boot. It is obvious though that Higgenson is not the only talented singer in the band as both the bassist and guitarist provide backing vocals, producing amazing pitch perfect harmonies in numerous songs including "Breakdown" and acoustic number "I will write you a song".
Nobody would deny that the bands success is hung on that one radio-friendly song, 'Delilah' and the band even acknowledge it themselves by introducing the song by saying "I'm pretty sure this is why we're here" and ironically it appears that this song alone is why a lot of tonight's audience have shown up. The song (unlike the more generic emo remainder of the album) obviously has an appeal that spans all ages and tonight's audience reflects this, with young teenage girls at the front and a more mature looking group of mixed sex 20-somethings at the back. I even spotted a couple who must have been in their late 50's thoroughly enjoying themselves (whether they were chaparones to their grandchildren at the front is another matter). As soon as the acoustic guitar appears it is obvious the crowd are aware that 'Delilah' is next on the set and the screams begin to get louder, with the crowd creating a sea of light with their mobile phones and cameras and out singing the band. Unsuprisingly as soon as the song finishes, people start making their way out of the builiding even though the band continue to play their closing song "Take Me Away".
PLAIN WHITE T'S are undeniably talented but I couldn't help but think that without 'that song' they would just be another pop-punk band occasionally selling out 300 capacity venues instead of the string of 1000+ ones they are currently playing.
Words / Photos: Mark Forrer - www.markforrer.co.uk
*****************
Click here to leave your comments on the Message Board
(NB: The message board opens in a new window so please disable your pop-up blocker to view)
*****************
PLAIN WHITE T'S GALLERY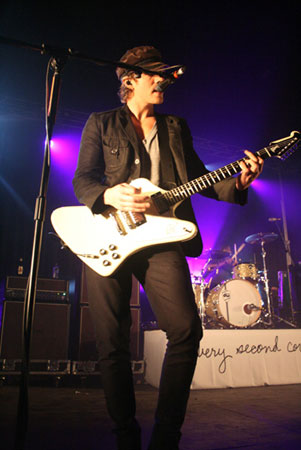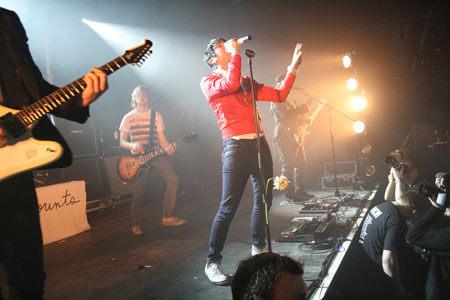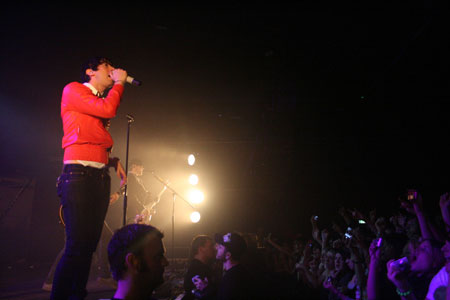 BOYS LIKE GIRLS GALLERY