REM - Manchester LCCC - 24.8.08
REMís Accelerate 08 tour sees the band showcasing their latest, and more on par release, Accelerate, which features a heavily punk spirit rather than their traditional, pioneering alt rock sound.
First up are the Guillemots, who bring with them an assortment of tunes from all corners of the genre spectrum. Their hair spasming, for the most part indie, often resembles the Fratellis and other such bands but they keep it interesting with a slight of tranquil ballads, full of sensitivity and a guitar tone of dense delay, a la U2.
The Editors and their no frills, musical workmanship, fill the air aplenty with their instantly recognisable shimmering guitar screams, clean cut, baritone vocals and simple but colossal rhythm section. Black clad frontman, Tom Smith receives a heroís welcome from the audience and moves like a graceful shadow during the bandsí glitteringly frenetic, hour long set featuring the singles All Sparks and An End Has a Beginning.
Suited and booted, Michael Stipe and his entourage take to the stage as the sun sets and to a tongue in cheek upbeat hip hop sample. The playful oddball tears around on stage, striking contorted poses under lights of purple, red and gold as the band explode into a handful of hard and fast, epic punk rock renditions, representative of their most recent release. As Stipe enjoys some physical banter in the form of zombie attacking guitarist Peter Buck, it certainly appears that he and Mike Mills are having trouble in keeping up with their frontmanís charismatic energy as their performance is precise but lacklustre at best. No matter though, as the band wind down a little with a powerful and insightful performance of the classic single Drive, which sees the audience raising their mobile phones and lighters in the air, respectfully.
The set is long and career spanning with a good selection of material from REMís early days - Pretty Pursuasion, Nightswimming and The One I Love being particularly memorable - although it is primarily orientated around newer, more vigorous tracks. The band remain as politically minded as ever and maintain their textbook song writing skills with plenty of palm muted powerchords and zingy arpeggios.
A four song encore with the two stellar singles Losing My Religion and Man on the Moon, brings the evening to a tasteful close. After some unfortunate sleepy times, REM prove that they are still able to write and perform great songs with impressive passion and dexterity.
Benicio Herbert
Photos: Mark Forrer www.markforrer.co.uk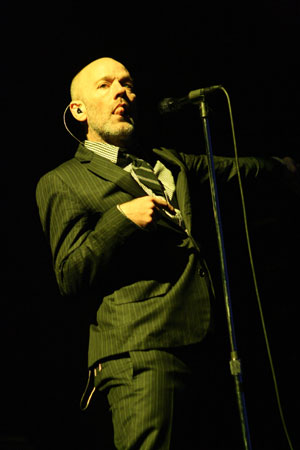 *****************
Click here to leave your comments on the Message Board
(NB: The message board opens in a new window so please disable your pop-up blocker to view)
*****************