Razorlight
Very few new bands have attracted the levels of love and hate that Razorlight have. Hailed by some as the Best New Band In Britain's and one set to piss on the Libertines parade. By others they're cited as everything wrong about contemporary music. Designer Magazine caught up with Bjorn (guitar) and Christian (drums) to find out what they really think of the NME, their contemporaries such as Kings Of Leon and the latest news on the debut album
Q: You finished last year with about 3 months of touring, solid support slots which ended up with you opening up for Suede on their final tour.
Christian: I think it seems more than it is. A lot of bands, but not that many dates with each of them...
Bjorn : ...we got around though. We became a regular band at King Tuts. I think we played every Friday for three fridays on a row with a different band each Friday. I think it's good though that we played with so many different bands cos if you go and see 3 similar bands by the time the third ones on you're a bit bored. It was good with Hope Of The States cos we play short energy packed songs whereas they play long intense songs. I thought that was a really good dynamic.
Christian: I think people did look at that bill as a double headline tour and they might not have particularly liked each one but they went to check us both out anyway.

Q: It must have been quite daunting on the final tour of the year with Suede. How was it?
Christian: That was amazing. I found it really fulfilling to be finally supporting a really big band. The band we've been in is quite new, but we've musicians for a long time and playing to thousands and thousands of people is just amazing. I remember Suede being around as well just when I started playing the drums.
At Brixton Academy it was strange cos I saw the end of the first band and I was a bit disappointed cos it was like a festival with groups of different people and I thought were in London and were f**ked. I just went away for a 15 minute break before we came on and i've never seen it before, but in 15 minutes it was swelling.
I think it said in one magazine that it was Suede handing the baton on their final tour ever

Q: In the 3 or 4 months you've been in the public eye you really have attracted this love and hate faction. People either declare you to be the best new band in Britain or they really take a hateful dislike to you. I guess it's good to cause such a reaction?
Bjorn: I'd love to see one person who hates us and one person who loves us battle it out and see what the arguments are back and forth.
Christian: I think a lot of people think we're like Busted yer know. They really think were a boy band who've been put together and that were not really a real band.
Bjorn: Although that's such a lame way of dismissing a band.
Christian: But can you blame them. The amount of shit that's been stuffed down peoples throats for years and then a band comes out like us at a particular time. I'd be wary and like oh no, not another band of that genre.
Bjorn: Especially with a band like Kings Of Leon. It seems like such a pre-packaged thing. I've never seen such a put together thing. They all look exactly the same way.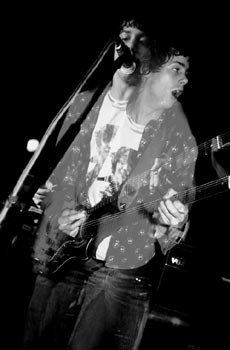 Q: You must have had a pre-conceived idea of how you wanted Razorlight to sound and look?
Christian: Not really. I've been a bit of a slut. I've been in loads of bands and I still intend to be in loads of bands. In fact i'm in another band, we released an album last year so technically I have a side project but it doesn't work because we don't play live while i'm concentrating on Razorlight.

Q: I think what people do dislike about you is that they see you as an "NME" band. Would you agree?
Christian: It's even worse for us because we've got those people who don't like us cos were in NME quite a lot, and were not in NME that much to make us that successful that quickly. There are quite a few journalist in the NME that don't like us at all. It seems the NME is split right down the middle and maybe we'll be the band that tears them apart and Melody Maker will come back.
People are buying our singles and they don't really like us. They just think that they're limited edition and they'll be worth loads. And they're are people coming to our signings with about 10 copies. It's so obvious that they just live down the road and they're cashing it in for a pension.

Q: People don't really concentrate on the music with you guys, but if you do actually listen to the single or the forthcoming album you realize that you're not afraid to leave a bit of space on the recording
Bjorn: I've always been a fan of minimalism. We've got that over so many bands cos most bands can't do that. It's not cos they're stupid. They just don't have the songs. And the thing is when you strip a song right back to the basics when you go full tilt people really do notice it.
Recently i've become quite a big fan of Krautrock and I do like the flat where it goes on and on. That's the thing, we're not really afraid of doing different things in this band. There might be a song that will just go swoosh and have a little rise at the end.
Christian: We've recorded the album, but we think that we can do better. The songs deserve better. The first two singles were a really obvious introduction to the band, but the third one is impossible. There are songs that stand out as singles, but it has been really difficult. I think I speak for everyone in the band, which ever way we go it is still very much Razorlight. In the live shows we go from here to there and here again, but each song is very much still Razorlight.

Q: What's your ambitions for the album when it's released in May?
A: We could be so big that we tour it for a year, but the minimum is 3 months in America, Australia, Japan, Britain and Europe. We might flop and they might not even want us to tour this album. Suddenly everything could fall apart.
Words: Alex McCann
Photos: Karen McBride - www.karenmcbride.com
***********
"Stumble And Fall" is out now on Mercury Records
The album is expected to be released in the UK in May
For more info
www.razorlight.co.uk
***********
**********
Post your Razorlight reviews / comments on the Message Board
**********