Richard Ashcroft / Razorlight + guests - Old Trafford -
On what initially seemed like quite a pedestrian line-up, two men that should be at the forefront of British music open up a summers day of music at Old Trafford.
Aziz, who is primarily known for replacing John Squire in the Stone Roses second coming but should be known as a musical genius, does what he calls his Indian White Stripes thang with Jimi Hendrix riffs over organic bollywood tabla beats. And today it works away from the sweaty pits he's used to playing and out while the rays shine down and these riff get sent into the stratosphere. Next up Akala, the Uk's answer to Chuck D or Jay Z as opposed to Eminem meets Necro pretensions of lauded upon white boy rapper Plan B. Clash sampling, bouncy as f*ck and the set closer "Bullshit" which should have been an anthem up there with Dead Prez's "Hip Hop". The reality of course is much of the crowd don't know how to take to a hip hop artist on stage and although Richard Ashcroft embraces the greats his fanbase are somewhat narrow-minded. It's a sad state of affairs but this could probably all been solved had Akala brought on a guitarists to mime the riffs that are spinning from the decks, but while Designer Magazine leaves thinking we've just seen the best hip-hop artist the UK has seen since Credit To The Nation, this audience still sees hip hop as one dimension and void of talent.
The Feeling's ELO style MOR has managed to bag them a number 2 album behind the heinous PR whore Sandi Thom and they're already a household (or housewife's) name, but how will they fare on the hallowed turf of Old Trafford, a venue where Oasis have fallen flat on their face on homeground. With enough singles to make Hard Fi's 6 singles of one album run look
pitiful, The Feeling could release every single song of their album and still leave people wanting more. It bodes well for their performance today which goes down a storm and sees the shirted straightmen of rock strip off into casual vests. "Love It When You Call", "Fill My Little World" and "Sewn" all soothe and shimmy in the sun and we're faced with the dilemma of how do we choose between the smooth and polished world of the Feeling and the rough angular world of the Monkeys. I think many here today finally made up their mind and chose the former.
Its hard for Designer Magazine to admit it, but Razorlight are one of the UKs finest bands right now and a far cry from when we saw them supporting Hope Of The States on their debut uk tour. It's almost as if Johnny Borrell has talked himself up so much with his proclamations that their debut album was better than Dylan, that anything less than being the best band in the
world would be failure. When they supported the Manic's back at the MEN Arena it was the first sign of greatness, but Live 8 last year where Borrell provided a performance which although hanging in the shadows of Doherty was still one of the most incendiary rock and roll shows of the day. Today with an abridged set they play the classics "Rock N Roll Lies", "Golden Touch" and "Somewhere Else", but the best moment is "In The Morning", a song which takes the Razorlight template and pumps it with steroids.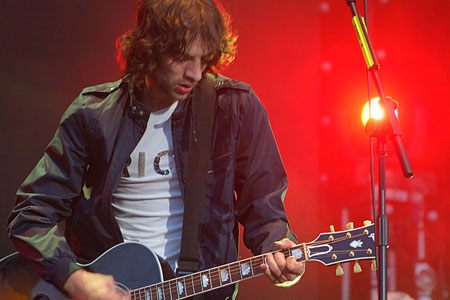 Richard Ashcrost has had his highs and his lows, some might say its been a lot of lows recently up until the moment at Live 8 where Chris Martin brought on the greatest singer-songwriter of a generation to sing "Bittersweet Symphony". Since then its been back to one of Ashcrofts earlier statements in the mad richard phase - if you believe you can fly you can fly - and that's something that Ashcrofts been doing ever since his comeback single dropped. Today is seen as a homecoming show and like the Verve's Haigh Hall show post-Urban Hymns breakthrough success there's a real sense of anticipation as Ashcroft comes home for his Third Coming, for most musical messiahs a second coming is another but Ashcroft ever the mystical shamen has to take it one step further.
With a solo back catalogue to shame most as well as his work with the Verve, Ashcroft could literally play B-sides and everyone would go home happy, but tonight was never about that. It was always about the big songs that take over your soul and inspire your mind to greater things. Ashcroft like Gallagher manages to capture that inherent male spirit of bottling up your feelings and then letting them gush out, but rather than do it on a friday night bloodbath around town Ashcroft has the literacy to be able to turn his experiences into something tangible.
"Music Is Power" is pure soul, pure Northern soul if you like from the dips and turns of Wigan, but for those fans who came on board early nothing will ever surpass the genius heartbreaking moment of "History" with is tugging strings. Not even "The Drugs Don't Work" or "Bittersweet Symphony" matches it tonight, nor does the underrated "Science Of Silence" which since we heard it in it's full glory at the MEN Arena last year has remained one of his finest moments to date.
This is well and truly a homecoming for Ashcroft that puts him at the top of his game. Like at Haigh Hall you get the sense that bands will be formed off the back of this gig and Ashcrofts influence will shine on much longer than the littering of Pete Doherty clones we seem to accept as talent nowadays
Alex McCann
Photos: Karen McBride www.karenmcbride.com
*****************
Click here to leave your Richard Ashcroft reviews / comments on the Message Board
(NB: The message board opens in a new window so please disable your pop-up blocker to view)
*****************
Check out the full photogallery from this gig including all support bands - click here