Scissor Sisters
(Baby Daddy)
When you're old you'll reminisce about 2004 as the year the Scissor Sisters brought a sense of grand theatre to brighten up the Pleasantville world of dull garage rock and faceless emo bands. We first interviewed Jake Shears from Scissor Sisters (click here) back in April and since then our photographer Karen McBride has been taken across the UK as their tour photographer. Designer Magazine Editor Alex McCann phoned up Baby Daddy during Thanksgiving to talk about The Year Of The Sisters and their plans for 2005.
Q: A year in the life of the Scissor Sisters. This 2 week break you're on over Thanksgiving must actually be the first time you've had chance to sit down and think about it. How is it looking back and reflecting on what's been happening to you guys?
A: It's the first time we've had more than a week to sit down at all. This year we've seen it from nothing to beyond all our expectations. We can definitely say it was all really 2004, it was an entire arc over this year and it's been great. There's no greater gift than being able to play your music. We'd be doing it anyway, it's just a matter of how many people to now (laughs)

Q: Looking at those key moments over 2004. Previously you'd played your first Manchester show @ TVOD in 2003, but it was really that intimate Academy 3 gig that you started to realize that this was going to go massive.
A: That early tour was the beginning of something, but we were still doing a lot of recruiting and people were maybe waiting to see if we could prove ourselves. It's amazing, we've built up to this last tour that we did and nothing has compared to this in anyway. Now suddenly there's this acceptance of what we do and maybe people can relax a little bit more and enjoy a concert. On this last tour we were finally able to do the production and longer show that we really wanted to do. We felt like we paid some dues, at least in the UK, and we're finally getting to enjoy what it is. It's a bit of cliché, but it has been a bit of blur this whole year. We've been on the road pretty much all year. It's been non-stop.

Q: One of the things you do notice seeing you go from playing on that first tour of 2004 to the theatre tour is the Scissor Sisters have become very much a band rather than just Jake out front
A: Yeah. Absolutely. I think we have gained a lot of confidence as a band. It's funny because you probably know the origins of the Scissor Sisters and where this all grew out of. It was me and Jake and a home studio, it wasn't 5 people in a rehearsal studio trying to be a rock band. It's grown in a bit of a backwards way as far as the rock n roll cliché goes. For us, we got thrown on stage as a band with not as much experience under our belts as some others. It has grown and everyone has more confidence and everyone has excelled at what they do. We feel like a band now, for sure!!!

Q: Did you find it quite amusing on the last tour. With the origins of the name Scissor Sisters and the 8 year old kids and SS inflatables?
A: Unbelievable. It's pretty trippy. It goes beyond the name with kids singing along to "Tits On The Radio". But even on those early tours we would have moms and dads bring their little kids. We've got these lovely fans that bring their kids along, one's like 10 and the others one's 7, and they brought their girl along first and she was singing "Tits On The Radio" at the top of her lungs. I was a little shocked myself, but at the end I was like it's much better than her singing along to Avril Lavigne - it's much more positive (laughs)

Q: When we think of a band that's grown so quickly from that initial flurry of success you can't help but think of the Darkness and the backlash they suffered. In the last 12 months I haven't read one single bad review of SS, somehow you've avoided the usual detractors that most bands encounter
A: They've got a year on us though. You just wait (laughs). I think 2005 we'll see a little bit more of the press trying to bring us down, but in the end it doesn't really matter. We're trying to make smart decisions. We've made a decision to stop touring now and it is early. From a business model and the way the industry works we are cutting ourselves short on this album. It's more of a career decision than going on possibly too long - we'd rather take that risk and make another great album and go out there when it's ready.
Can we fight the backlash? If there's anyway to do it then this is what we're trying to do. I understand people getting sick of seeing your face. I know I did when the Strokes hit it big. I didn't buy the Strokes album at that time because I was wary of seeing them everywhere and then finally I did give it a chance and realized it was something great. We're trying to put ourselves in the shoes of the consumer maybe a little bit and understand that we don't want to outstay our welcome.

Q: So you're not supporting U2 on their forthcoming tour then?
A: No, that's a rumour. There's never been an indication. Would we accept? It depends on the timing and we'd love to do it, but we're not going to let the biggest tour in the world get in the way of making another album. It's a weird one. We know it would sell a lot of records and it would really get our name out there if we toured with U2, but creatively we'd be stuck on the road and wouldn't have a lot of opportunity to write and record the next record. I guess ideally we'll just jump on the road with them for 2 or 3 weeks.
Q: You've been doing 2 new songs on the recent tour. "Forever Right Now" and what's been known around fans as "The Weather Song". What can you tell us about the direction for the next album?
A: We're keeping really new songs under wraps for the time. Over the last 2 weeks we've been writing and if you've heard reports that it sound similar to the first album you've heard wrong. There's been no comments made about the new album because we don't even know what it's going to sound like. As soon as we know you'll know. We're really at the most basic level at the moment, we've got no expectations.

Q: Obviously you've talked in-depth about working with Kylie this year. Would you consider in the future working with the more underground acts from New York such as Kiki & Herb?
A: We haven't talked about any collaborations yet, but we love touring with these guys and letting them do what they do. Right now we're really being a little selfish and spending time on our own stuff. What will usually happen is we will write stuff for ourselves and at times it won't seem right, so we'll send it on and see if its right for something else. That will probably end up happening a lot more in the future, but right now the goal is more music for us.

Q: And finally we're going to go through a couple of the categories you won in the Designer Magazine Best Of 2004 issue. Best New Band Of 2004 ahead of Do Me Bad Things and The Departure - have you heard of those guys?
A: I've never heard of them, but you know we'll take it, for sure. There's been a lot of great stuff out this year and I hope that next year there's more choices that people have to think about. I feel in the last 5 years I couldn't tell you 3 great new bands, so it excites me that people are doing exciting things. Thank god for that, cos it's a lot worse in America - it's an ugly time for music here!!!

Q: And the other category you've been confirmed in - the toss up between you guys and Morrissey for Best Live Act of 2004
A: Really. I have to say I didn't see Morrissey this year and I really would have liked to. Del saw him and thought his set was really short and was a little bit disappointed in that regard. But he's a legend, how can we even compete

Q: Who would you choose for those categories if you were voting?
A: We always prop up Franz Ferdinand just because I think they're one of the most exciting new things - the attitude and the music. But are they considered a new band? If so i'd definitely give it to them.
Best Live Act? Who have I seen that as really blown be away? I though The Bees were amazing, but I couldn't compare them to Morrissey because I didn't see him this year. I saw the Zutons three times this summer and they were amazing.
Words: Alex McCann
Photos: Karen McBride www.karenmcbride.com
***********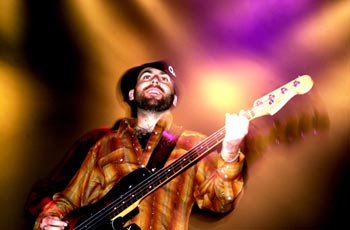 "Filthy/Gorgeous" is released on January 3rd 2005
The Scissor Sisters album and live DVD are in stores now
For more info
www.scissorsisters.com
***********
*****************
Post your Scissor Sisters comments / reviews on the Message Board
(NB: The message board opens in a new window so please disable your pop-up blocker to view)
*****************

---
Best Of 2004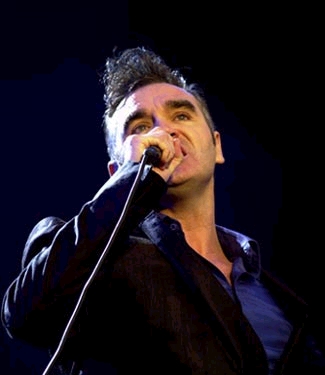 FULL RESULTS - CLICK ON MOZZER

---