Scissor Sisters - Manchester Apollo - 23.10.04
What must it be like to be a fully fledged member of the Scissor Sisters right now? In a meteoric rise which has dwarfed that of the Darkness they gone from the fashionista beginnings playing to a handful of people a TVOD to sell out UK tour, outlived the one hit wonder accusations of "Comfortably Numb", worked with Kylie and got average job public questioning whether "Mary" is an Elton John cover. Perhaps more than anyone in recent history the Scissor Sisters have ingratiated themselves in the minds of the general public. At the first of two Manchester dates everyone from grannies to children, much of the audience are unaware of the origins of the name, wave plastic Scissor Sisters inflatables around in the air as if there here to see Disney On Ice. The fact that the Sisters are as bright and technicolor camp as any Disney movie perhaps explains the breadth of their appeal.
Previously the Scissor Sisters could have been labelled the Jake Shears show, but over time Ana Matronic has gone from token fag hag to front woman extraordinaire. Shears, despite his glittering gold and silver outfit, has almost turned into a wallflower while Miss Matronic recalls her favourite bands from Manchester and it's refreshing to note amongst the obvious Oasis and Stone Roses there's also mentions of the Inspiral Carpets and Charlatans. Behind the showmanship there's a real love of music with the Scissor Sisters and that's why the debut album is a such a melting pop of influences taking in sleazy disco and countrified pop.
Amongst old favourites "Take Your Mama Out", Laura" and "Comfortably Numb", it was the new songs that people were really waiting to hear. On first listen we're not sure whether "Forever Right Now" is genius at work or a flawed track which will be resigned to a future B-side or the lost vaults of the Sisters. If you imagine the sort of cod white boy reggae that Culture Club used to fall back on when times got hard. Another song about the weather, which for the time being is untitled. fairs better with that infectious quirky pop we'd expect from the Scissor Sisters. And of course there's cover of Franz Ferdinand's "Take Me Out" that they've re-arranged as a lounge-core classic.
The closer "Music Is The Victim" ends in chaos with support act Kiki and Herb joining the band on stage. With Kiki and Jake rolling around the floor as if they're in a bedsit in New York rather than playing to 4000 people in Manchester it's clear than you can take the boy out of performance art, but you can't take the performance art out of the boy. The Scissor Sisters are the worlds biggest mainstream underground band the people have. Bring on the new pop revolution!!!
Words: Alex McCann
Photos: Karen McBride www.karenmcbride.com
*****************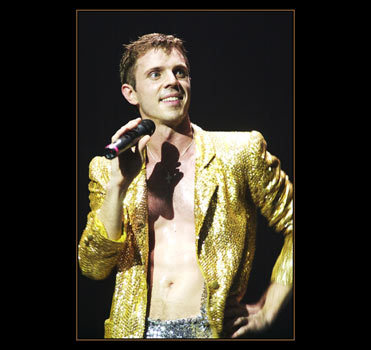 Post your Scissor Sisters comments / reviews on the Message Board
(NB: The message board opens in a new window so please disable your pop-up blocker to view)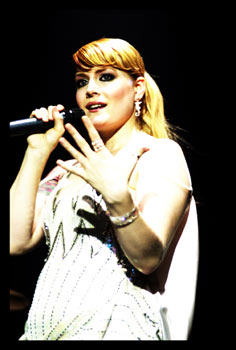 *****************