Selfish C*nt / The Permissive Society - Night & Day Cafe Manchester - 29.6.06
Selfish C*nt gig have been spectacular events that have gone down in Manchester folklore and while last time Designer Magazine was talking to their frontman Martin Tomlinson about his ambitions to cover Madonna's "Material Girl" C*nt style on early morning CDUK they're destined to become an arthouse curiosity alongside the likes of Minty rather than a notorious
combo such as Babyshambles.
First up though Manchester's very own Permissive Society make a racket of their own and while recent photoshoots have seen them dressed up as victorian dandy's and unpublished shoots make frontman Sean Gregson look like Jesus meets Orlando Bloom there's nothing shiny or polished here. A raw blues rock sound more akin to the Jon Spencer Blues explosion playing acid fried covers of Led Zeppelin are the order of the day with the beefiest riffs imaginable. By the time Gregson is sliding across the stage in a Ross Noble stylee you realize that The Permissive Society are the coolest uncool band on the planet who live in their own world with their own rules and while they'd love to say F**k everything every time they play a gig devotees join their little cult. With tracks such as "Fighting Crime" making waves across the net it has to be said the Permissives have to be experienced live to be fully realized.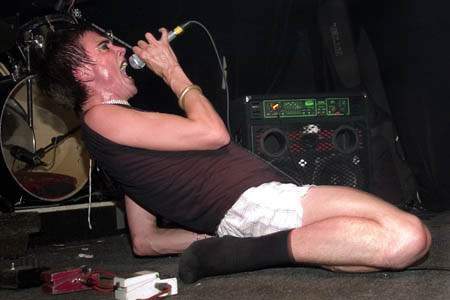 Throwing glass bottles into the audience, starting on the biggest b*stard in the audience and sending railings crashing round Jabez Clegg have all been the things of Manchester folklore during Selfish C*nt gigs and that's not even approaching swinging halfway around Dry Bar from the bar at their legendary first headline show. This time it's more sedate with a burlesque oriental stripper providing the focal point of attention while frontman Tomlinson does what can only be described as punk ballet and ends up stripping to his underwear.
Now aimed with an arsenal of tunes from the forthcoming second album (who'd have thought it?) and full time drummer the band are very much a full functioning unit rather than situationist slogans set to start electronic beats which would make Peaches sound polished. Like the Permissive earlier there's a huge debt to John Spencer Blues Explosion rather than just another 3 chord punk band and each track rattles along with blues soaked riffs and the spirit of revolution in the air. The problems lies in the fact that their reputation precedes them and rather than the revolution encompassing the crowd they watch from the sidelines at the spectacle unfolding.
When Selfish C*nt next return to Manchester with the 2nd album on shelves they'll be respected for the music as much as the art terrorism.
Alex McCann
Photos: Kirsty Umback www.kirstyumback.com
*****************
Click here to leave your Selfish C*nt reviews / comments on the Message Board
(NB: The message board opens in a new window so please disable your pop-up blocker to view)
*****************