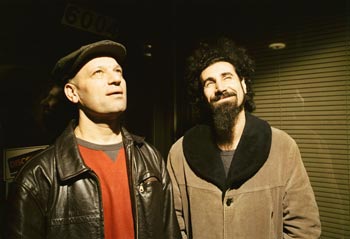 Serart
Serart is a the first release on Serjical Strike Records and a collaboration between System Of A Down frontman Serj Tankian and avant-garde multi-instrumentalist Arto Tunc Boyaciyan. The pair met at the Armenian Music Awards in 2000 before collaborating on SOAD's platinum selling "Toxicity" album. It wasn't until Serj founded his record label, which is distributed internationally through Columbia Records, that the pair decided to hook up for 6 days and record what became the Serart album. Designer Magazine caught up with Serj to discuss what it was like working with an artist who'd previously appeared on over 200 records and loved the art of improvisation rather than carefully structured soundscapes.
Q: You first hooked up with Arto Tunc Boyaciyan at the Armenian Music Awards three years ago and through that you went onto collaborate on "Toxicity" and it was then that Serart came to be. It was a real revelation in the studio for you wasn't it?
A: It took us 6 days to make the record and it was pretty out there because we didn't go in with any plan or intention. There were some written songs that i'd brought in and constructed, but generally most of it was just written on the spot so it was really a case of entrusting in the moment. It was a real pleasure meeting him and he's an amazing artist. He's so real and improvisational. He can play anything, man - the guy could pick up a little piece of furniture and play it like you've never heard it before.
A lot of the songs I write, not just for System, but a lot of the songs I write I perfect over years and try and change them and end up rearranging them based on whatever I feel. This was totally different from that.

Q: Did you revel in the freedom of this set-up or was it quite a stressful process?
A: It was really fun. The fact that you just didn't know what was coming up next was really exciting. Not knowing what I was going to do next was exciting, but not knowing what he was going to do next at the same time. You can hear something and it turns something on in you and you'd go in and do something based on that and just build up on that.

Q: Arto comes from a totally different direction than yourself in terms of playing and performing. This is a guy who has played on over 200 records. It's facts like that that must blow you away?
A: The guy's worked on a lot of collaborations and done many movies and all sorts of records. He's a real studio cat and very weathered in that sense - he knows everything!!!

Q: Is writing and collaborating outside the band something you feel compelled to do?
A: What I am compelled by are amazing artists. Serart is not something I intentionally planned on because it's not a solo project or a side project. It was just a case of seeing this amazing artist and thinking this guy is so out there I've got to do something with him. I was compelled by his artistry to do the record rather than thinking of doing a solo project or whatever.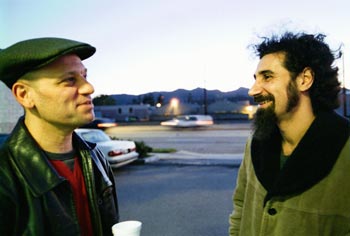 Q: The Serart album is the first release on Serjical Strike Records. Is it a good indication of what's to come or is each release going to be it's own entity?
A: I'm not necessary sure it is a good indication because each release is a different genre of music altogether. Serart is what it is and then we have Kittens For Christian that are an art rock band, very gothic with an 80s influence, Bad Acid Trip - which is a thrashcore band, and then we have Slow Motion Rain which I'm producing at this time and are kind of like a Britpop Beatlesque type of band.

Q: When you're collaborating or producing do you go back and take what you've learnt to System or do you keep everything strictly separate?
A: I haven't really thought about it, but everything I learn from in life usually goes with me wherever I go.

Q: If just before we go, we could touch on the Axis of Justice organisation that you set-up with Tom Morello from Audioslave and Rage. There hasn't really been a political organisation set up by a musician on this scale before. Would you agree?
A: I don't know. I think there have been a lot of organisations that have been set up by artists to help people in different ways and during the times I don't think this is the only one. The Axis of Justice is different because it's an organisation that helps sponsor other organisations instead of reinventing the wheel. So in that sense it might be different.

Q: From what I know and obviously looking at the website I think what Axis of Justice does is not only provide the theory and education, but also puts these ideas into practice. Was that always the idea?
A: We've done some activist work and we've got a radio network we've just started which interviews activists and playing politically and socially viable music. It's a good to get out to those people who want to be involved. Were all gonna die, if we can't live and tell the truth then what is the point. I think it's really interesting to see what the next 10 or 15 years bring.
***********
Serart is out now on Serjical Strike Records through Columbia
For more information
www.serart.net
www.axisofjustice.com
***********
**********
Post your Serart reviews / comments on the Message Board
**********